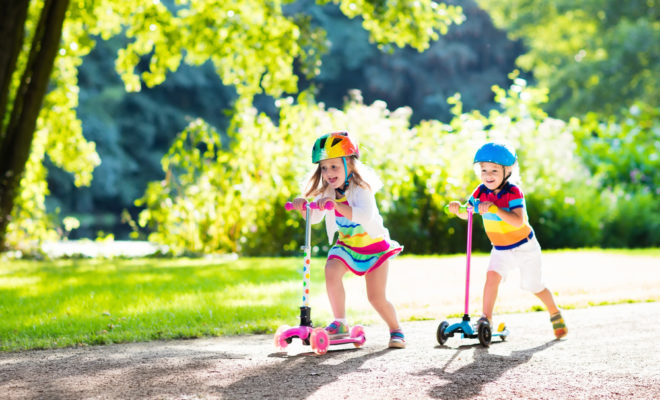 Health
Summer Safety Tips
By |
THE WOODLANDS, Texas – Summer is in full swing, with families enjoying all types of summer fun, including swimming, biking, camping and outdoor sports. While the focus should be on having a great time, it's equally important for both parents and children to remember the potential dangers that come with many summertime activities.
Alfred "Dr. Freddy" Martinez, M.D., medical director of pediatric emergency services at Memorial Hermann The Woodlands Medical Center, shared some tips to help ensure a safe and fun summer.
Sunburns
One blistering sunburn as a kid can double the chance of developing melanoma (skin cancer). Do your best to avoid sunburns by:
1) Keep the time
Apply sunscreen 15 to 30 minutes before sun exposure to allow the formation of a protective film on the skin.
Wait 10 to 20 minutes following sunscreen application before dressing.
Reapply sunscreen at least every two hours. Because all sunscreens are washed off upon swimming or sweating, reapplication after each water exposure (swimming) is needed even for sunscreen products labeled as "water resistant" (SPF maintained after 40 minutes of activity in water or sweating) or "very water resistant" (SPF maintained after 80 minutes of activity in water or sweating).
2) Follow the "teaspoon rule"
Apply approximately one teaspoon of sunscreen to the face and neck area, two teaspoons to the front and back torso, one teaspoon to each upper extremity and two teaspoons to each lower extremity.
3) Look for shade
Umbrellas, wide-brimmed hats and loose, long-sleeved clothing should be considered when spending time outdoors this summer.
For children six months and younger, use shade as much as possible. If shade is not an option, only apply sunscreen to exposed skin. Ideally this should only be the face, back of hands and top of feet.
Learn more sun and heat safety tips.
Drowning
Approximately 800 children drown every year. Drowning can occur silently and quickly, especially in children, and is often preventable. Remember these tips when you are around the water:
1) Swim with a buddy – never leave a young child or poor swimmer out of arms' reach.
2) Use U.S. Coast Guard-approved life jackets for young children and poor swimmers when around the water.
3) Install pool safety covers and/or pool alarms at your home pool.
4) Know the signs and symptoms of secondary drowning:
Usually occurs after struggling in the water
Trouble breathing, chest pain, cough
Extreme fatigue
Although rare – secondary drowning comprises only 1 to 2 percent of drowning cases, it can be deadly.
5) If a child is missing, check the water first.
Learn more water safety tips.
Stings and bites
Logging more outdoor time can increase your chances of encountering insects that sting and bite. To keep them at bay, remember:
1) Brightly colored clothes and sweet, sticky hands attract bees and wasps.
2) Use insect repellent with 10 to 30 percent DEET, but do not apply to face or hands. If you don't want to use DEET, try repellents with pincaridin or oil of lemon eucalyptus. However, do not use DEET on children less than two months old.
Read more about how to prevent stings and bumps.
Heat and Dehydration
Houston heat is no joke. In humid and hot regions like ours, water loss and dehydration can occur extremely rapidly. Keep your kids cool with these tips:
1) Offer lots of fluids. Don't wait for your child to ask.
2) NEVER leave a child or pet unattended in the car. Rolling down the windows is not sufficient.
3) Wear light colored clothing.
Bike Safety
More than 400,000 kids get hurt every year riding bikes, scooters, skateboards and skates or rollerblades, according to a report last year by Safe Kids Worldwide. While parents can't prevent every scrape and bruise, children can be protected from serious injuries by following these tips:
1) Wear a helmet
Cyclists who wear a helmet reduce their risks for head injuries by an estimated 60 percent and brain injuries by 58 percent.
Know the proper way to fit a helmet
The helmet should rest just above the eyebrows and not slide around on the head. Use the foam pads to raise or lower the helmet or pad the side space if necessary.
The straps of the helmet should be adjusted to form a Y just under the ear of the child.
The chin strap should be snug enough to pull down on the helmet when the child opens his or her mouth wide.
2) Buy a bike that is the right size, not one your child has to "grow into." Oversized bikes are especially dangerous.
To find the perfect fit, have your child sit on the seat with hands on the handlebars. Your child must be able to place the balls of both feet on the ground.
Straddling the center bar, your child should be able to stand with both feet flat on the ground with about a 1-inch clearance between the crotch and the bar.
When buying a bike with hand brakes for an older child, make sure that the child can comfortably grasp the brakes and apply sufficient pressure to stop the bike.
Dr. Freddy and his team of pediatric specialists in the pediatric emergency room see patients 24/7 at Memorial Hermann The Woodlands. Find more information on pediatric services here, or call (713) 897-5959.