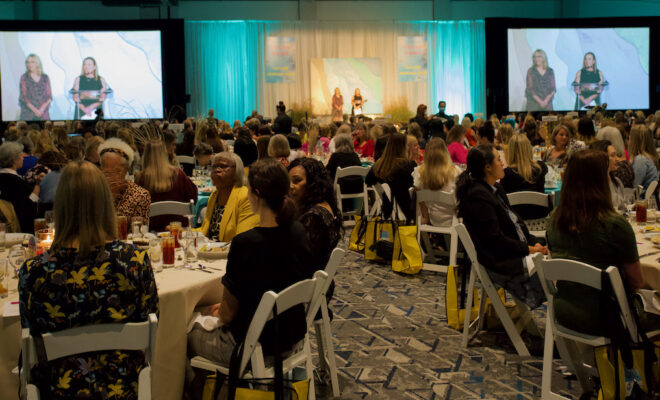 Photo Credit: Jennifer Bruse, Hello Woodlands
News
Taylor Jenkins Reid and 18 Visiting Authors at John Cooper's Signatures Author Series
On Friday, December 3, The John Cooper School hosted the 17th Annual Signatures Author Series featuring Bestselling Novelist Taylor Jenkins Reid and 18 Visiting Authors at The Woodlands Waterway Marriott.
As a tradition, a portion of the proceeds from each Signatures event is given to a local non-profit. The beneficiary for this year's event was Children's Books On Wheels, a local nonprofit that provides educational and community resources to a diverse population in Montgomery County. Located in the Tamina community, east of The Woodlands, CBOW serves a population that is predominantly at or below the poverty level.
Bestselling Novelist and Author Taylor Jenkins Reid was the featured author and keynote speaker. Reid wrote New York Times Bestselling novels Malibu Rising, Daisy Jones & the Six, and The Seven Husbands of Evelyn Hugo that were available to purchase at the event and VIP reception. The event's beautiful decor mirrored the theme and setting of Reid's newest historical fiction novel, Malibu Rising, that follows the four famous Riva siblings who throw an epic party to celebrate the end of the summer of 1983.
View photos from the event on the Hello Woodlands Facebook page:
In a press conference held prior to the event, Taylor Jenkins Reid answered questions from local media and The John Cooper school students, sharing her adventures in Hollywood, writing, and upcoming works. Reid shared how she grew up being obsessed with Hollywood, first fell in love with actresses like Lucille Ball, and in her early career worked in Hollywood in casting then pivoted to writing novels. Currently, her novels Daisy Jones & the Six and The Seven Husbands of Evelyn Hugo are in the works of adapted to television series. Reid stated that she considers the first four books that she has written (the fourth hopefully being released soon) as a set. Reid was excited to share that the fourth book will follow one more famous (yet fictional) woman, like her three prior books, and then Reid plans to go in a different direction.
Reflecting and continuing with the theme of her works featuring the lives of famous fictional women, Taylor Jenkins Reid shared in her keynote speech to the luncheon audience "why I care about fame and why you should too." Her compelling speech shared how we as the audience must pay attention to what glitters and must ask ourselves, "What are we being sold" and highlighted the "game triangle" of Hollywood which includes Celebrity, Media, and Audience. As the audience, we have power – spending attention on the media and investing time and energy in following the lives of celebrities. Reid shared the stories, love triangles, and celebrities through the ages like the once-again and back-again beloved Bennifer. Reid shared her love of stories and the latest magazines and couple breaking news – like so many of us – but also stressed the importance of that the audience must ask ourselves "What have we exchanged to hear their stories?"
The Visiting Authors segment of the Signatures Author Series offered the unique opportunity to attendees to visit with a variety of authors – from Children's books to Cookbooks and from Fiction to Non-fiction novels – who were available before and after the luncheon to sign, sell, and discuss their books. 18 Visiting Authors were in attendance including: Sabrina Amell, Wendy Isaac Bergin, Tonya Duncan Ellis, Christie Eubanks, Jacqui Francis, Pamela Franks, Kathryn Lane, Susan K. Langlois, Mandy Muir, Carmen Pate, Veronica Perry, Kenny Rodgers, Paula Herman Smith, Sasha Summers, Valerie Sweeten, Anna Marie Johnson Teague, Teri Wilson, and Phillip Woods.
The 2021 Signatures Author Series was co-chaired by Charlotte Cloninger and June Kolesar and produced by The John Cooper School Fine Arts Council.
The John Cooper School is an independent, non-sectarian, co-educational, college preparatory day school. The School's mission is to provide a challenging education in a caring environment to a diverse group of select students, enabling them to become critical and creative thinkers, effective communicators, responsible citizens and leaders and lifetime learners. Learn more about The John Cooper School, visit www.JohnCooper.org.