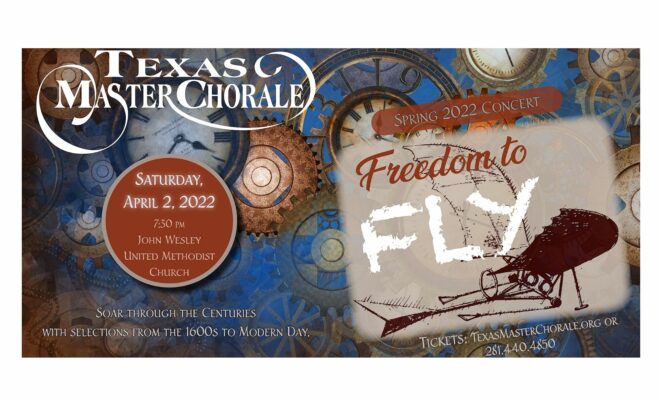 Art & Culture
Texas Master Chorale Presents "Freedom to Fly" on April 2
By |
HOUSTON, TX – Texas Master Chorale will present their spring concert, "Freedom to Fly," on Saturday, April 2 at John Wesley United Methodist Church.
The concert will feature an eclectic mix of music from the 1600s to modern day. Guests will travel through time with classic Baroque, lush Brahms Romanticism, poignant poetry, music by Grammy-winning composer Eric Whitacre, pop melodies, and roof-raising spirituals.
"Freedom to Fly" will take place at 7:30 p.m. Saturday, April 2, at John Wesley United Methodist Church, 5830 Bermuda Dunes Drive in Houston, 77069. Tickets are $20; students are free with school I.D.
Tickets may be purchased online at TexasMasterChorale.org, through the box office at (281) 440-4850, or at the door. The concert is generously sponsored by Houston Methodist Willowbrook Hospital and Texas Commission on the Arts.

Founded in 1986, Texas Master Chorale is a mixed choral ensemble of 100 auditioned singers who perform a variety of choral masterworks including classical, contemporary, sacred and secular. The chorale is led by Brad Bouley, founder and artistic director. Bouley served as the Director of Choirs for Tomball High School for 20 years and was the Director of Fine Arts for Tomball ISD for 15 years until his retirement in 2015. He was one of four people to receive the 2018 Texas Choral Excellence Award, presented by the Texas Choral Directors Association.
To learn more, please visit texasmasterchorale.org.