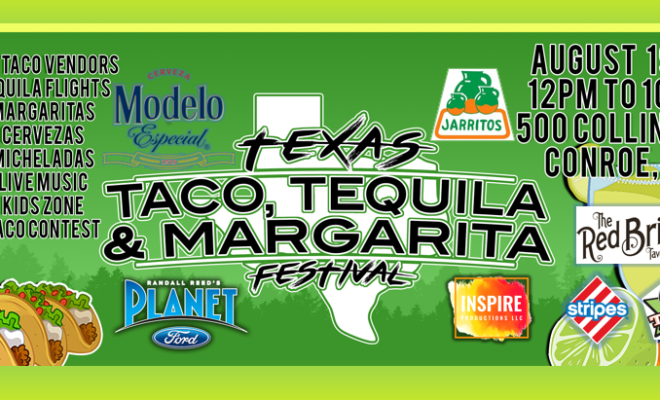 Calendar
Texas Taco, Tequila and Margarita Festival in Conroe August 19
By |
The Texas Taco, Tequila and Margarita Festival returns for its second event of the year on Saturday, August 19 in Conroe at Heritage Park from 12 p.m. to 10 p.m. The festival will include over 35 taco vendors, a taco competition, tequila flights and tastings, margaritas, a kids zone, vendors, live music on two stages and entertainment.
Inspire Productions hosted the first ever Texas Taco, Tequila and Margarita Festival on Saturday, June 10 in Old Town Spring at Preservation Park where Chef Austin Simmons of Hubbell & Hudson won the title of "Best Taco" and will return as a judge at the upcoming event. Hello Woodlands​ Jenny Kelley​ and WoodlandsHits.com​'s Holly Boss​ talked with Chef Austin Simmons​ of Hubbell & Hudson Kitchen​ about the upcoming The Texas Taco, Tequila and Margarita Festival​ on August 19th as well as upcoming events and new menu items at Hubbell & Hudson​.

The taco contest will return where judges, including Chef Austin Simmons, will select the "Best Taco" of the festival based on presentation, uniqueness, and taste. Atom Smasher and Holly Boss of WoodlandsHits.com will host the taco judging with a panel of 16 judges.
Food Vendors at the festival include Mi Patio, Coreanos, Cousins Maine, El Topo, Freebirds, Happy Endings, Mingo's Latin Kitchen, Oh my gogi, Pincho'z, Refill station, Sticky's Chicken, Stripes Laredo, Waffle Bus, Maine-ly Sandwiches, Texas Funnel Cakes, Tacos del Julio, La Palma Mexican restaurant, Planet Kidz, Ujima Unique Cuisine, Big 6 BBQ, JBW vending, Mary's Salsa, Moyz, Taco Street And Grill, El Gualjillo, Kountryboigrill, Texas Kebab, Big Judy's, K&J Roasted Korn, Tonadas, and Red brick tavern.
Event and Music Schedule
MAIN STAGE
12-1:30 – Lil Zac
1:30-2:30 – Shayne Porter
2:30-3:00 – Lil Zac
3:00-4:30 – Underage
4:30-4:45 – Best Taco Award Announcement
4:45-5:00 – Lil Zac
5:00-6:00 – Gio Chamba
6:00-6:30 – Lil Zac
6:30-8:00 – Los Superfornicos
8:00-8:30 – Lil Zac
8:30-10:00 – Master Blaster Sound System
SIDE STAGE
12:00-1:00 – DJ
1:00-3:00 – Taco Contest
3:00-4:00 – Mariachi Autlan de Houston
4:00-5:00 – Tequila Tasting + Mixology hosted by Z Tequila
5:00-6:00 – Mexican Dancers
6:00-7:00 – Grupo Folklorico (dance)
7:00-8:00 – Monkey Comedy Show
The Texas Taco, Tequila and Margarita Festival is sponsored by Modelo, Jarritos, Kevin Brady, Christensen Building, Red Brick Tavern, Templer Electric, Stripes Laredo Taco, Topo Chico, Planet Ford with media sponsors Hello Woodlands and WoodlandsHits.com
Tickets are available online and at the gate on the day of the event. General admission tickets are $7 and Tequila Mixology Happy Hour Tickets are $25 online. Kids 12 and Under, Teachers, Police, Military, and First Responders are free with a valid ID.
The festival is located at Heritage Park at 500 Collins St, Conroe, Texas 77301.
For more information and to purchase tickets, visit www.thetexastacofestival.com.