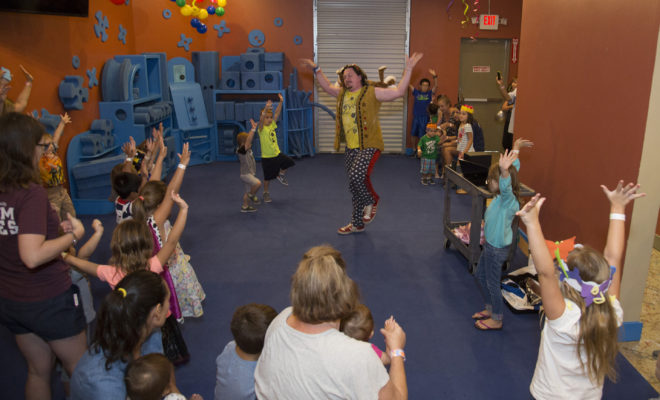 Calendar
The Woodlands Children''s Museum Devotes Day to Summer Silliness
By |
It''s almost time to stock up on school supplies and load up the backpacks. But before children shift into the back-to-school mode, they'll have a chance to devote at least one more day to pure summer fun.
That's the idea behind The Woodlands Children's Museum's annual Shake Your Summer Sillies Out, a day of live entertainment, games, face painting, snacks and art projects.
KSBJ FM-89.3 will add to this year's excitement by doing a live broadcast from the museum.
The celebration is set for 10 a.m. to 5 p.m. Friday, August 11, at the museum, 4775 W. Panther Creek Drive, Suite 280.
""Many parents have special memories of their childhood summer vacations,"" Angela Colton, Executive Director of the museum, said. ""We want to help families give their children a wonderful summer memory of their own: a final summer hurrah full of laughter, silliness and fun.""
With special memories in mind, the museum has lined up a photo opportunity for guests during Shake Your Summer Sillies Out. Children will have a chance to pose with capuchin monkeys — known for their small size and baby faces — and a tiger cub.
Also that day, children will be able to play on the Houston Rockets' inflatable basketball game.
The entertainment line-up during Shake Your Summer Sillies Out will include Straws the Clown's magic show for children. Straws, who's been a clown since 1988, has performed at countless birthday parties, churches, day care centers, public schools, company picnics and community events and also teaches others how to be a clown. His shows are scheduled for 10:30 to 10:50 a.m., 11 to 11:20 a.m. and 11:40 a.m. to noon.
Brock McRock, a former U.S. Air Guitar regional champion, will invite children to rock out with him from 12:10 to 12:30 and 1:10 to 1:30 p.m.
Noah Mauldin, known for his balancing juggling tricks, has appeared twice on "America''s Got Talent." He will perform from 12:40 to 1 p.m., 2:10 to 2:30 p.m. and 3 to 3:20 p.m.
Tom's Fun Band, a popular act at the museum, is an interactive musical group that specializes in entertaining children ages 2 to 8. The band will perform from 2:40 to 3 p.m., 3:20 to 3:40 p.m. and 3:50 to 4:10 p.m.
Trudy Hula Hoops will show off some of her best hula moves and encourage guests to join the fun during her performance from 1:40 to 2 p.m.
The event is included in the cost of admission of $6 per person 1 year and older. The museum is recommended for ages 7 and under.
For a complete schedule of the day's events, and to learn more about The Woodlands Children's Museum, its hours of operation and ways to support the nonprofit, visit woodlandschildrensmuseum.org or call 281-465-0955. The museum is always looking for sponsors or partners for events. Follow the museum's Twitter handle @thewoodlandscm.