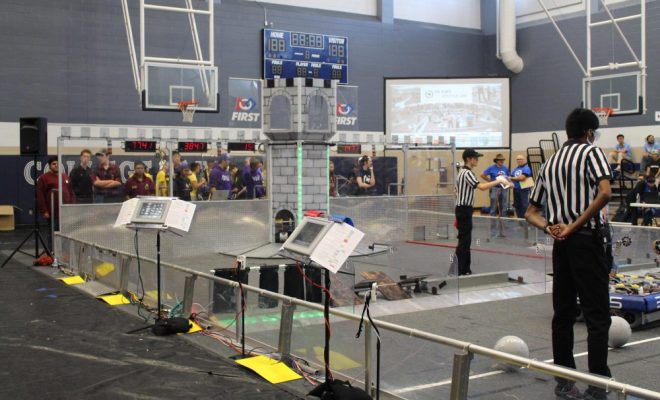 Events
Texas Torque to Host Remix Robotics Competition at College Park Oct. 26
By |
THE WOODLANDS, TX – The Academy of Science and Technology and Conroe ISD's world championship winning robotics competition team Texas Torque invite the public to attend a space-themed robotics competition. The competition, free to spectators, will be held Saturday, October 26 from 8:30 a.m. to 4:30 p.m. at The Woodlands College Park High School in the gym.
The event, FIRST Destination: Deep Space, is an off-season FIRST (For Inspiration and Recognition of Science and Technology) competition celebrating its sixth year. Each year, the event is planned and organized by FIRST Robotics Competition Team 1477 Texas Torque, based out of the Academy of Science and Technology at The Woodlands College Park High School, with assistance from the Houston Robotics Community.
Thirty-two teams from across North America will be participating in this event. The competition is funded by the registration fees paid by the participating teams.
The competition is set on a 27 by 54 feet field. The two teams of three robots compete to grab disk shaped "hatch" panels to place on a "rocket" or a "cargo ship," then place "cargo" kickballs afterward. In the first 15 seconds of the game, a sandstorm, or black curtain, is lowered in front of the drive teams, instead of the autonomous periods in past years. At this time, teams can control the robot using visual feedback from the robot and its cameras and sensors.
After the initial sandstorm, the curtain is then raised for the tele-operated period. In the last 20 seconds of the match, teams return their robots to the habitat platform and scale different levels of steps to gain additional points. This years game is full of exciting strategies, making it an interesting and fun game for everyone to participate in and watch.
In addition to organizing and participating in the competition, Texas Torque is collecting new bedding sets for Angel Reach, a program for young people who have aged out of the foster care system. The team is also collecting small Lego sets to take to patients at a local children's hospital. Funds remaining after expenses are met will go to the Montgomery County Women's Center.
Texas Torque will also be offering tours of its multimillion dollar district robotics facility. Learn more about the facility here: www.hellowoodlands.com/robotics-facility-located-woodlands-college-park-high-school.
Texas Torque provides students with an opportunity to see that a career in science, technology, engineering, or mathematics can be enjoyable and rewarding. Mentors encourage students to develop innovative solutions and take pride in their work. Team members work in a supportive environment and learn valuable life skills including teamwork, integrity, leadership, and communication. For more information, visit www.texastorque.org.
FIRST (For Inspiration and Recognition of Science and Technology) was founded in 1989 to inspire young people's interest and participation in science and technology. Based in Manchester, NH, the 501(c)(3) not-for-profit public charity designs accessible, innovative programs that motivate young people to pursue education and career opportunities in science, technology, engineering, and math, while building self-confidence, knowledge, and life skills. For more information, visit www.firstinspires.org.
Sources: Texas Torque, FIRST