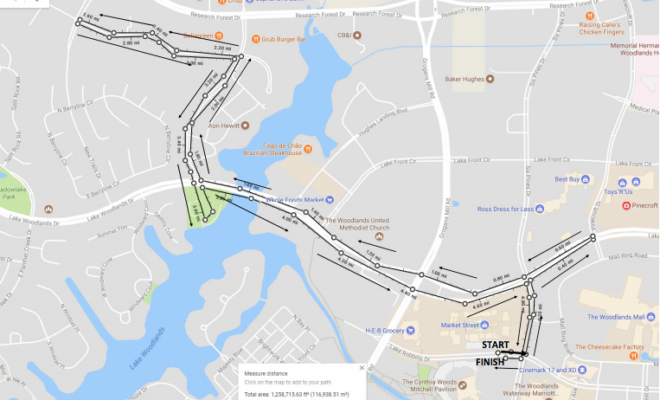 News
Thanksgiving Day Traffic and Road Closures
By |
A local Thanksgiving morning tradition, YMCA Run Thru the Woods, supports local non-profits with the goal of strengthening The Woodlands, Spring and Oak Ridge communities for 27 years. The event brings thousands of community members together for entertainment and runs/walks designed for all ages.
The race includes multiple courses including the 1 Mile Children's Race, 3 Mile Race, 5 Mile Race and 3 Mile Walk.
Road Closures on Thursday, November 23
4:30 – 11am: Lake Robbins between Six Pines and Grogans Mill closed
5:15 – 10am: Six Pines between Lake Woodlands and Six Pines closed
7am – 10am: Lake Woodlands east and west bound between Pinecroft and Lakeside Blvd closed.
7am – 10am: Lakeside Blvd closed between Lake Woodlands and Research Forest
7am – 10am: Technology Forest Drive closed between Lakeside BLVD and New Trails
The 5 Mile Race starts at 8:15 a.m, starting on the Market Street Side of Lake Robbins. The course will continue on Six Pines, Lake Woodlands, Pinecroft, Lake Side Blvd, Technology Forest, New Trails. The finish Line is in front of CWM Pavilion with post race festivities, pancake breakfast, and Awards Ceremony will be held in the CWM Pavilion Plaza.
The new course for 3 Mile Runners and Walkers will follow the same course as the 5 mile race. The 1 Mile Course will start on the Market Street Side of Lake Robbins, continue north on Six Pines, east on Lake Woodlands, turn around at Pinecroft, head west on Lake Woodlands Turn, head south on Six Pines and then west on Lake Robbins to Finish Line in front of Cynthia Woods Mitchell Pavilion. Click here to view map
Race participants will be parking at The Mall parking lot and the parking garage on Six Pines adjacent to the Pavilion. Due to road closures, visitors can access The Mall from the I-45 Feeder Road or access the Parking Garage from Timberloch.
Learn more about the traffic conditions and Run Through the Woods at https://runthruthewoods.org/course/