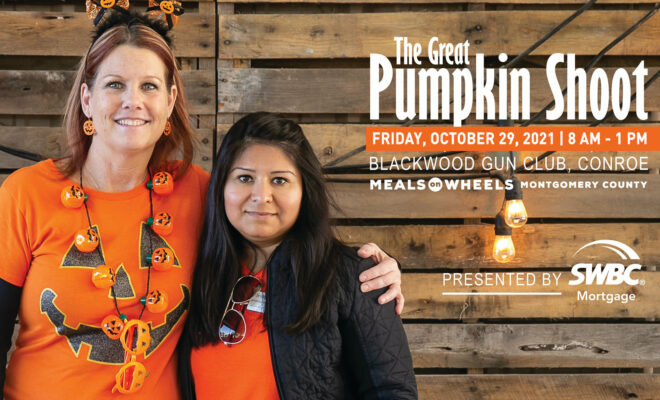 Events
The Great Pumpkin Shoot Feeds Local Seniors
By |
CONROE, TX – Meals on Wheels Montgomery County (MOWMC) is preparing for their largest fundraiser of the year, the sixth annual "The Great Pumpkin Shoot" sporting clays tournament on October 29, from 8:00 a.m. – 1:00 p.m. at the Blackwood Gun Club in Conroe, TX, to benefit the homebound elderly of Montgomery County.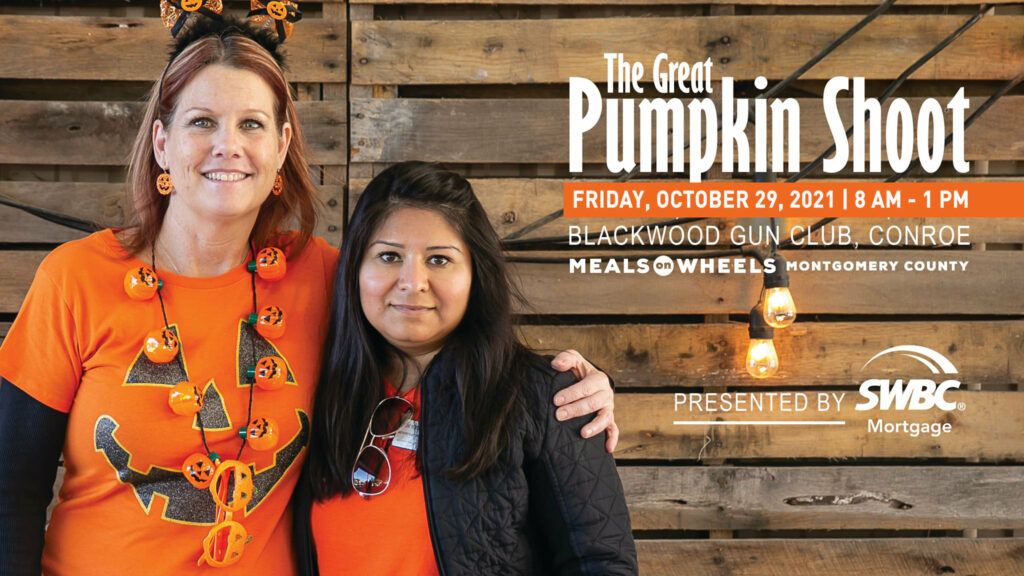 Community sponsorships help defray expenses and feed more seniors. SWBC Mortgage is the Presenting Sponsor and has been the Presenting Sponsor since the inception of the event. Other sponsors include B Sloan Law, Teligistics, Insperity, Woodforest National Bank, Caliber Solutions, Caldwell Companies, Planet Ford -Spring, The Howard Hughes Corporation, Entergy, Strike, LLC, Exloc Instruments, Western Midstream, #LiveLikeJack, Cowboy Kia, Randy and Denise Essenberg, Haynie & Co, Underwater Technology Services, Hoover Real Estate, Fair Claims Roofing & Construction, and others. Openings for Sponsorships still available.
MOWMC has worked diligently to plan a safe event for everyone that includes breakfast, lunch, a shirt, swag bag, team golf cart, 72 shooting clays, and 12-gauge ammunition for each registered participant. Adult beverages will be served after the shoot. Registration still available online at www.mowmc.org/great-pumpkin-shoot or contact Carrie Watkins at carrie@mowmc.org. All levels of shooters are invited to attend and sign up!
The Great Pumpkin Shoot includes a raffle for volunteers and participants with 100 tickets available for $100 each to win an aged whiskey barrel with a leather horse saddle. In addition, there are Auction Boards with items that include a Beretta A400 Xplor Action Semi-Automatic 12 gauge a Sig Sauer handgun (P365 XL) and a wine journey adventure.
"This is our largest fundraiser fun event with a fun spin on a raffle encouraging both shooters and non-shooters to participate in an event that makes a significant impact on our underserved vulnerable senior population," said Summer Day, President, MOWMC. "Our waitlist continues to grow as the amount of our senior population increases. Every donation matters!"
Each $125 dollars donated feeds a senior for an entire month. MOWMC can deliver meals to a homebound senior for an entire year lower than the cost of one day in a hospital or ten days in a nursing home. Donate online at https://www.mowmc.org/donate.
Volunteers are always needed to help with delivering meals, events, prepare mailings, and assist with program needs. Start a food drive, decorate breakfast bags, create personalized birthday cards, or host an office workday at the Meals on Wheels office. Email Carrie Hymen at carrie@mowmc.org or view www.mowmc.org/volunteer for details.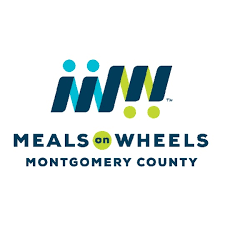 Since 1973, MOWMC has had a successful track record of delivering meals to local homebound seniors, delivering 31,000 meals monthly. Volunteers deliver meals along 90 routes throughout the 1,000 square miles of Montgomery County. Additionally, MOWMC's curb-to-curb transportation service provides more than 17,000 rides to the disabled and seniors annually. With a mission to foster independence and maintain the dignity of each homebound senior by providing nutritious meals, transportation, and caring connections, MOWMC can always use additional volunteers and donations. More information about Meals on Wheels Montgomery County can be found at www.mowmc.org or on the Facebook page: www.Facebook.com/MealsonWheelsMC.