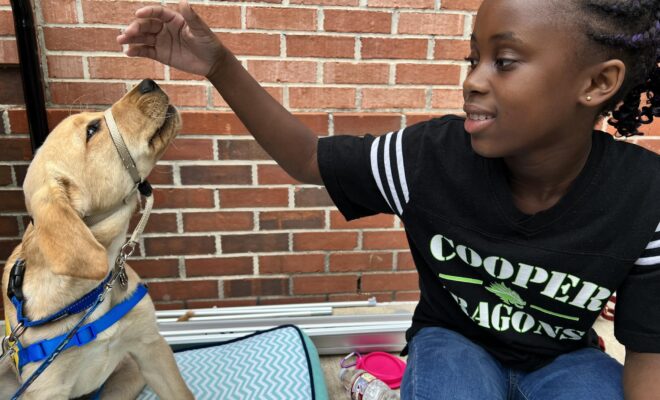 Health
The John Cooper Lower School hosts Wellness Week
By |
THE WOODLANDS, TX – The John Cooper School recently had an entire week dedicated to the wellness of its Lower Schoolers (grades Pre-K through 5th). "Lower School Wellness Week" was an intentional focus on wellness coordinated by Linda Donald, Lower School Counselor.
Each day brought a new tool for students to use to improve their well-being – be it a nice walk, a funny joke, or showing gratitude for a friend.
Ms. Rigia, who teaches 4th and 5th grade history, noticed a marked change for the better in her classroom, especially during Zen in Ten Tuesday.
"It made such a difference," Rigia said, explaining how a particularly charged class was filled with a sense of calm after doing mindful art. "It was especially good after Spring Break, which can be a hard transition back."
Like many teachers, Rigia thinks it's just as important to model that same calm by participating too.
Each day brought a new activity for the students:
Mindful Monday (a grounding nature walk) – Students took a nature walk with their homeroom during the school day and activated their five senses to focus less on stressful feelings and more on the present moment.
Zen In Ten Tuesday (take a pause and create) – Students paused during their school day for 10 minutes to create mindful art while listening to calming nature sounds.
Wacky Wednesday (laughter is good for the soul) – Students shared a joke or a riddle in homeroom during Morning Meeting (all jokes were teacher approved and G-rated).
Thankful Thursday (develop an attitude of gratitude) – Students created a gratitude acrostic poem, designed a thankful poster to be displayed in the hallway, or wrote a letter of gratitude to someone at home or at school.
Furry Friends Friday (make a new friend) – Emotional support service dogs from Canine Companions visited 4th and 5th grade homerooms.
The week brought wellness to the forefront of everyone's minds, but it's been an integral part of The Lower School all along.
"This isn't something new; it's a part of what we do every day," says Donald. "It's not a one and done thing- it's a lifelong process for kids and adults."
The John Cooper School is a PK-12 independent, college preparatory day school that has been serving The Woodlands and greater Houston area since 1988.
For more information, visit www.johncooper.org.