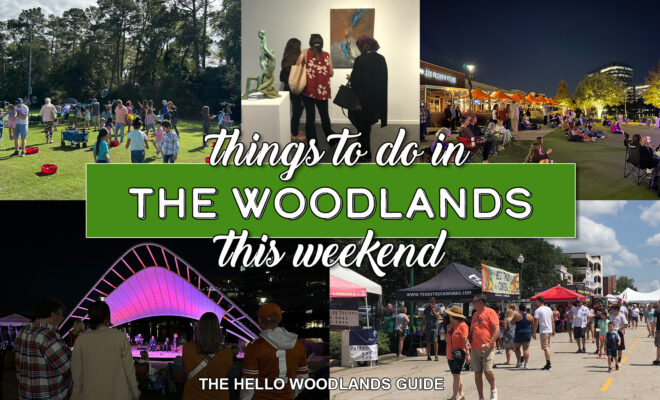 Art & Culture
Things to Do in The Woodlands Area This Weekend, April 7-9
By |
Looking for something to do in The Woodlands area this weekend? Hello Woodlands has you covered! Find out what's happening the weekend of April 7-9, including Easter activities, a safety expo, a bird show, and more!
Friday, April 7, 2023
This weekend is full of Easter events in The Woodlands area! Get a full list of local Easter events here: www.hellowoodlands.com/local-easter-events-2023.
Luminous Installation (Now Until April 14)
Open to the public and free of charge, the Luminous installation will weave vibrant elements of flora and fauna into the waterfront terrain of City Place Park, creating an enchanted garden with hand-crafted and eye-catching pieces that reflect a modern take on age-old lantern-making techniques. Illuminated nightly at dusk, the display incorporates larger than life lotus flowers, butterflies, mushrooms, flamingos and more for a whimsical experience full of imagination and creativity. City Place Park is located at located at 1250 Lake Plaza Dr, Spring, TX 77389. Learn More
EggTivities (April 7 & 8)
EggTivities is a family friendly event at The Woodlands Children's Museum that includes a visit with the Easter Bunny and photo opportunity, as well as creating a bunny mask, dyeing eggs, and embellishing egg carton baskets and a bunny box to carry eggs. The event will be held from 10:00 a.m. to 2:00 p.m. both days. Learn More
Easter Weekend Activities at Market Street (April 7-9)
Hop on over! Market Street is making sure that Easter weekend will be egg-cellent for guests of all ages with springtime fun April 7–9 in Central Park, including face painting, a special visit from a balloon artist, cotton candy, an Easter-themed photo op, and giveaways. Learn More
Starlight Swan Rides
Enjoy a spectacular Friday evening on the upper level of The Woodlands Waterway! Cruise in the comfort of a swan pedal boat while you take in the sights and sounds of nighttime on The Waterway. The Starlight Swan Ride on April 7th is from 8:30 - 9:30 p.m., departing from Riva Row Boat House. Pre-registration required. Swan boats fit up to four people; adults must be present. Learn More
Live on the Lawn at Market Street
Enjoy live music on the lawn at Central Park in Market Street with Sarah Kelly Music School from 6:30 – 8:00 p.m. Blankets and lawn chairs welcome. Learn More
Saturday, April 8, 2023
Easter at The Woodlands Methodist Church (April 8 & 9)
Beauty can flourish in dark places. From the finality of the cross to the glory of Easter, Jesus' death and resurrection offer new life and new hope in Him. Celebrate the renewal and hope of Easter with The Woodlands Methodist Church on one of two campuses, offering contemporary, traditional and modern worship services for the whole family. Learn more at thewoodlandsmethodist.org/easter. Find a full schedule of Easter week services and activities at thewoodlandsmethodist.org.
Run and Done 3.1 5K
The Run and Done 3.1, a chip-timed USA Track and Field (USATF) sanctioned event, will take place along the scenic Woodlands Waterway beginning at 7:00 a.m. The 5K race is open to runners of all abilities and recommended for participants ages 10 and older. After the race, registered participants and their guests can enjoy an egg hunt in Town Green Park! Egg hunt participants must be accompanied by a registered athlete with a race bib. The egg hunt will begin at 8:00 a.m. Baskets/buckets not provided. Learn more and register today at https://bit.ly/RunandDone
Bird Expo
Bird Events in Texas will be hosting a bird expo from 9:00 a.m. – 4:00 p.m. at the Lone Star Convention Center, 9055 Airport Rd in Conroe. The event is open to the public to shop pet birds and bird supplies. Learn More
Eggstravaganza
Celebrate Springtime with your family at the Eggstravaganza! Enjoy coffee, donuts, and fruit! Play classic games with the bunny, go on an egg hunt and work on a fun craft to take home. Eggstravaganza is held at Rob Fleming Recreation Center from 10:00 to 11:30 am. Remember to bring your baskets! Learn More
Montgomery County Safety Expo
Montgomery County first responders will share information about their agencies and jobs. Join the fun, watch demonstrations, and learn about safety in the county. If you have a little one who loves firetrucks, police cars, ambulances and the first responders who drive them, this is the event you won't want to miss! Join the first responders at the Woodforest Stadium parking lot from 11:00 a.m. to 2:00 p.m. Learn More
7 Acre Wood's Easter Egg Hunt & Vendor Market
Celebrate Easter with barnyard friends at 7 Acre Wood at the 18th Annual Free Easter Egg Hunt & Vendor Market. Hunt Easter eggs, visit the petting zoo, play mini-golf, play in Tombstone the mini western town, zip down the zip-line, play on the playground, and so much more. 7 Acre Wood is located at 4401 N Frazier St, Conroe, TX 77303. The event is from 10:00 a.m. to 3:00 p.m. Learn More
Waterway Nights – Spring Series
Enjoy live music by local and regional performers in the picturesque setting of Waterway Square at Waterway Nights from 6:30 – 8:30 p.m. Taking place in the spring and summer, Waterway Nights makes for an eventful night out in The Woodlands Town Center. Coolers, picnic baskets, blankets and lawn chairs are permitted. Glass is prohibited. All entertainment is weather-dependent and subject to change. Learn More
Sunday, April 9, 2023
Easter at Margaritaville Lake Resort, Lake Conroe | Houston
Hop on over to paradise for a fun and festive Easter Brunch on Sunday, April 9 from 10:00 a.m. to 3:30 p.m. at Margaritaville Lake Resort, Lake Conroe | Houston! Every bunny is welcome at for a fun and festive Easter brunch. Enjoy holiday classics including rosemary lamb, slow-roasted pork, and a Southern-style grits bar with all fixings. Then make your way along the bunny trail to hunt for Easter eggs and take pictures with the Easter Bunny. It will be an Easter with a tropical flair! There also will be a petting zoo complete with donkey rides, miniature horses, rabbits, chicks, ducks, and goats! Learn more at https://www.bit.ly/MargaritavilleEaster
Easter at the Pavilion
Join The Woodlands First Baptist Church to celebrate Easter together at The Woodlands Pavilion! No tickets required. Gates open at 9:00 a.m. Event starts at 10:00 a.m. Learn More
Easter Brunch
Gather the family, put on your Easter best, and celebrate Easter at brunch! These local restaurants will be serving special dishes and drinks just for Easter: www.hellowoodlands.com/local-restaurants-serving-easter-brunch-2023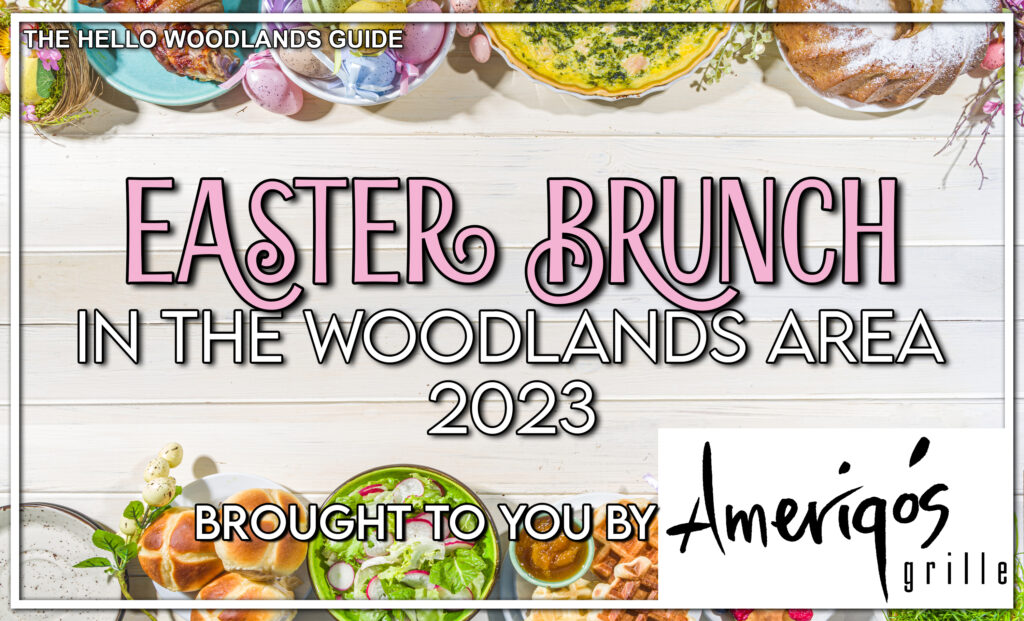 Plan Ahead: Upcoming Events
The Woodlands Waterway Arts Festival
Purchase your tickets now for the Fidelity Investments The Woodlands Waterway Arts Festival, returning April 14, 15 & 16, 2023. Celebrating its 18th year, this renowned event brings 200 fine artists, live music, craft beer, wine and so much more to life along The Woodlands Waterway and in Town Green Park. Produced by The Woodlands Arts Council, a 501(c)(3) non-profit, funds raised from the arts festival directly impact arts students, educators, programs and organizations across Montgomery County! Learn More
Conroe Crossroads & Crawfish Festival
Conroe Crossroads & Crawfish Festival is coming to Margaritaville Lake Resort, Lake Conroe | Houston on Saturday, April 15 from 2 to 5 p.m.! Conroe Crossroads, a four-day live musical extravaganza, runs April 13-16 and features shows at 40 venues throughout the area, including Margaritaville Lake Resort, Lake Conroe | Houston. Listen to tunes from Cedryl Ballou and the Zydeco Trendsetters as you feast on crawfish, sip on a cold beer, or enjoy a glass of wine. Discover handmade goods crafted by dozens of local artisans and vendors as you browse the Margaritaville Market. Purchase tickets at https://bit.ly/MargaritavilleCrawfishFestival
---
Check back on Hello Woodlands' Calendar Page and the monthly 31 Things to Do list for more events as they come up!
Have an event coming up or want to highlight your business? You can sponsor one of these popular weekend guides! By sponsoring a guide, your company name (organization or event) and logo will be included on the featured photo of the article published on the Hello Woodlands website. Your company name will also be included within the article along with a paragraph sharing more about your business with your logo and a link to your website. Email info@hellowoodlands.com for more information.