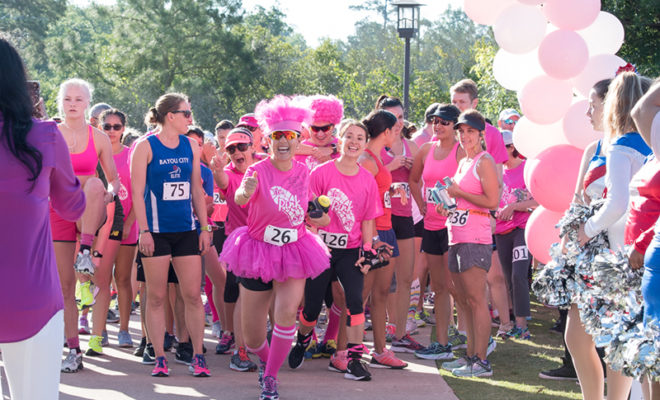 Events
The Pink 5K Kicks Off Breast Cancer Awareness Month This Saturday
By |
THE WOODLANDS, TX – The Pink 5K is returning for the 5th consecutive year and is kicking off breast cancer awareness month this Saturday, September 29 at Rob Fleming Park. "We are very excited to have Kendra Pratt DDS back as our presenting sponsor for The Pink 5k this year," said Erica Johnson, Founder/CEO of The Breast Cancer Charities of America. "This event has continued to grow every single year since its inception and we couldn't be more excited to see the community's response to honoring breast cancer survivors and thrivers!"
Online registration will be open until 12:00 p.m. on Friday, September 28th and onsite registration is available on Saturday morning starting at 7:30 a.m. (pending availability). Online registration provides each runner with the official "The Pink 5K" hot pink DryFit shirt to wear (sizes limited), bib number, and a customized medal for race finishers. Register online at www.ThePink5K.com individually or as a team and honor the women in your life.
The Pink 5K, presented by Dr. Kendra Pratt, DDS is open to all families, friends, children, strollers, and even dogs. Proceeds from The Pink 5K will go to help The Breast Cancer Charities of America's mission to eliminate breast cancer, while empowering and educating women to prevent and survive the disease.
Event sponsors include: Dr. Kendra Pratt, DDS, MD Anderson – The Woodlands, Christian Brothers Automotive, Four Seasons Vet, Avanti Senior Living, Venture EMS, HEB, SpeedPro Imaging, TOPS Comprehensive Breast Center, Orange Theory Fitness, Camp Gladiator, KIND Snack Bards, KSTAR Country, Bin There Dump That, Creekside Elementary, New Haven house of Prayer, Tara Flannery Photography, Alastor Grey Co, Crown Trophy, Boballoons 360, Quadvest, Green Layer Shirts, and Hello Woodlands.
The Breast Cancer Charities of America (BCCA) is a non-profit organization with new global headquarters in The Woodlands, Texas.  BCCA is dedicated to educating and empowering women to prevent and survive breast cancer. Through their numerous program services and resources, BCCA is able to partner with over 450 hospitals nationwide to serve women. For more information on iGoPink/The Breast Cancer Charities of America visit www.iGoPink.org.