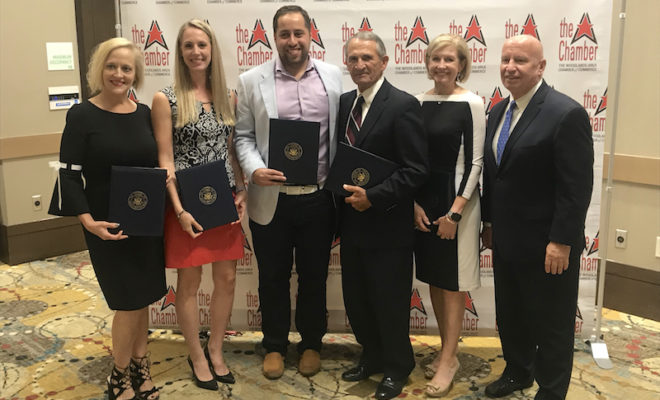 Business
Chamber of Commerce Celebrates 40 Years at Awards Luncheon  
By |
The Woodlands, Texas  – The Woodlands Area Chamber of Commerce brought more than 200 business leaders together on Friday, Sept. 21 at the Holiday Inn & Suites – Shenandoah for its 40th Annual Meeting and Awards Luncheon.
Chamber members and guests gathered to celebrate the year's successes and honor volunteers who have showed exemplary support to help further The Chamber's mission and bolster the business community.
Speakers for the event included J.J. Hollie, president and CEO of The Woodlands Area Chamber of Commerce; 2017-2018 Chairman of the Board Frank Holmes of Sam Houston State University; and U.S. Congressman Kevin Brady who served as the president of The Chamber from 1985 to 1996.
Hollie referenced accomplishments of The Chamber over the past fiscal year and shared his commitment to serving businesses, driving economic growth and advancing The Chamber's role in the community.
"My vision for The Chamber is to ensure we are equipped to win the next generation," Hollie said. "In the coming year, you'll see an exciting evolution within The Woodlands Area Chamber and how we serve the business community."
Hollie and Holmes recognized the 2017-2018 Board of Directors and Team Leaders for their leadership to The Chamber in the past year. Members celebrating anniversary milestones also received recognition.
The highlight of the event was the announcement of The Chamber's annual award recipients.
Community Citizen of the Year: Julie Martineau, Montgomery County Community Foundation
Chamber Volunteer of the Year: Jennifer Majors Bacca, JMB Insurance Solutions
Chairman's Award: Linda Nelson, Memorial Hermann The Woodlands Medical Center
Legacy Award: Dr. David Gottieb
Congressman Kevin Brady presented Congressional Commendations to Martineau, Baca, Nelson and Gottieb's family to recognize their service.
The Chamber also recognized Jennifer Majors Bacca as Diplomat of the Year, noting she has been an active volunteer serving on numerous committees including the Business Advocacy Council, Community Relations Team, Putt, Pass & Chip Golf Championship Team, Transportation Education Council, Cards and Cocktails and Networking Breakfast Team.
"We see this annual tradition as a great opportunity to honor our outstanding members, volunteers and supporters," Cyndi Alvarado, vice president of membership, said. "This year's honorees really stepped up and helped to make a difference in our community."
Now in its 40th year, The Chamber owes much of its success to the countless number of businessmen and women who have donated their time and talent to the betterment of South Montgomery County. The Chamber created a special video highlighting its legacy of leadership, including insights from founder J.R. Moore, Jr., Past Chairman of the Board Coulson Tough and Congressman Kevin Brady.
As the largest business organization in the Houston region, The Woodlands Area Chamber of Commerce is committed to advocating for businesses, creating marketing and networking opportunities, serving as a professional and community resource and supporting charitable causes. For more information, please visit www.woodlandschamber.org.