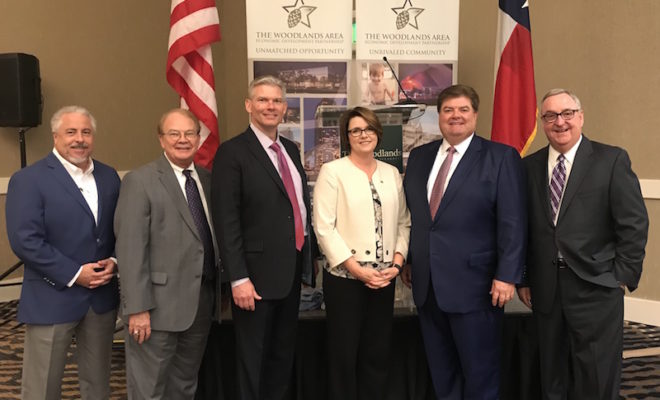 Business
HARC speaks with EDP Partners, announces Net-Zero Energy Building
By |
The Woodlands, TX – The Woodlands Area Economic Development Partnership (EDP) held their Quarterly Partner Luncheon at The Woodlands Resort & Conference Center on Thursday, September 20, 2018.  Over 100 partners and guests heard from Lisa Gonzalez, President and CEO of the Houston Advanced Research Center (HARC).
Founded in 1982 by George P. Mitchell, HARC's mission is to provide independent analysis on energy, air, and water issues to people seeking scientific answers and to operate as a research hub finding solutions for a sustainable future. Their headquarters building in The Woodlands was the first Platinum LEED-certified building in Montgomery County, achieving the most environmentally stringent certification issued by the U.S Green Building Council. Coming this fall they will have the first commercial net-zero energy (NZE) building in the Greater Houston area and one of first in the State of Texas.
HARC provides science-based resilience solutions to communities resulting in proactive, collaborative action to ensure the economic, ecological and social vitality of a changing Gulf Coast region. HARC's resilience research is driven by the importance of problem solving with a systems approach. They bring together HARC's multidisciplinary air, energy and water expertise in a way that provides practical, science-based solutions to communities to identify and mitigate risk to increase sustainability.
For the past twelve years, the EDP has held their luncheons for Partners in order to keep them informed of important issues facing businesses today.  Past topics have included Economic Development, Regionalism, State of Education, Law Enforcement Update, Center for Houston's Future Scenarios 2040, Anadarko's Current and Future Projects, State Economic Development and Tourism, Banking Executives Update, Life Science Update, State of our Economy, Local Tourism and Healthcare.
Gil Staley, CEO of The Woodlands Area Economic Development Partnership, said, "It was a pleasure to hear from Lisa Gonzalez, President & CEO, of the Houston Advance Research Center (HARC). As the original research center in The Woodlands' Research Forest area, HARC is a significant contributor to sustainable development across the U.S. We are fortunate that HARC calls The Woodlands home and we look forward to their contributions to our environment for many years."
Zach Richmond of The Richmond Realty Group RE/MAX The Woodlands & Spring, shared that, "It was an honor having Lisa Gonzalez speak to us about resilience planning and how The Woodlands faired well during Harvey – in comparison to other parts of Houston – due to our green planning and foresight. But, we need to do more, plan ahead, and make changes as population increases over the next 20 years and beyond."
The Woodlands Area Economic Development Partnership (EDP) is a non-profit organization dedicated to promoting the economic development of The Woodlands Area through the support of existing businesses and the recruitment of new businesses that can bring job opportunities and capital investment to the area. The EDP is a public/private partnership with 96 funding partners active in the organization.  For further information, visit www.edpartnership.net or call 281 363-8130.