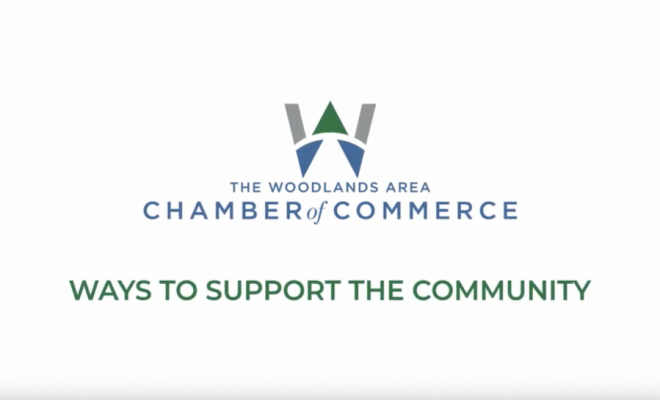 Business
The Woodlands Chamber and Nebular Films release Video to support the Community and Local Businesses
By |
THE WOODLANDS, TX (April 2, 2020) — The Woodlands Area Chamber of Commerce, along with Nebular Films, created a video displaying the power of a community joining together to support one another during the COVID-19 pandemic. 
"The challenge we face today has been both unexpected and devastating, in the form of a virus that is spreading rapidly around the globe and that is changing how we live, work and play," Lauren Joerg, director of marketing and communications for The Woodlands Area Chamber of Commerce, said. "We reached out to our members, elected officials and community leaders one week ago and asked them to share a positive message during this unsettling time — the outpouring of support was unbelievable."
"It's amazing how this community can come together to help each other, and how they go out of their way to support local businesses," John Truman, owner of Nebular Films, said. "We are so thankful for everything The Woodlands Area Chamber of Commerce has done for this community and its members. Our mission is that this video creates awareness and brings hope to our business neighbors." 
Watch the video on below and on YouTube:
The individuals, businesses and organizations participated in the video: 
ACP Enlightening, ArtFeel in Market Street, Bears Etc., Bob Milner, Bradbury Brothers, Chloe Jin, Community Assistance Center, Conroe Independent School District, Consolidated Communications, Dispute Resolution Center – Montgomery County, Education for Tomorrow Alliance, Fastr Marketing, Gregory Joerg, Heath Underwood, Hector Sosa, Hello Woodlands, I Promote You, Interfaith of The Woodlands, John Truman, Julio Resendez, Larry Beard, Leadership Montgomery County, Lorena for Texas Campaign, Meals on Wheels Montgomery County, Montgomery County Commissioner Precinct 2 Charlie Riley, Nancy Leeds Gribble, Nebular Films, Nina Ross Business Consulting, Paragon Independent Insurance Agencies Inc., PEM Consulting Group, PlainsCapital Bank, Richmond Realty Group RE/MAX The Woodlands and Spring, Spinal Chiropractic Center, Tanya Bryan, Texas State Rep. Steve Toth, Texas State Sen. Brandon Creighton, The Strong Firm, The Woodlands Area Economic Development Partnership, The Woodlands Christian Academy, The Woodlands Water Agency, U.S. Congressman Kevin Brady, U.S. Sen. Ted Cruz, Visit The Woodlands, Woodlands Home Theater and Woodlands Online.
The video is available at https://youtu.be/ynMymXj3rzQ.
The mission of The Woodlands Area Chamber of Commerce is to serve as the pathway of opportunity to the Greater Houston business community. The Chamber works to make the area better by advocating for the business community, creating marketing and networking opportunities, serving as a professional and community resource and supporting nonprofits. Formed in 1978, today, the Chamber represents a member roster of more than 1,500 businesses representing all sizes and sectors. For more information and membership information, visit woodlandschamber.org or call 281-367-5777.
Source: The Woodlands Area Chamber of Commerce