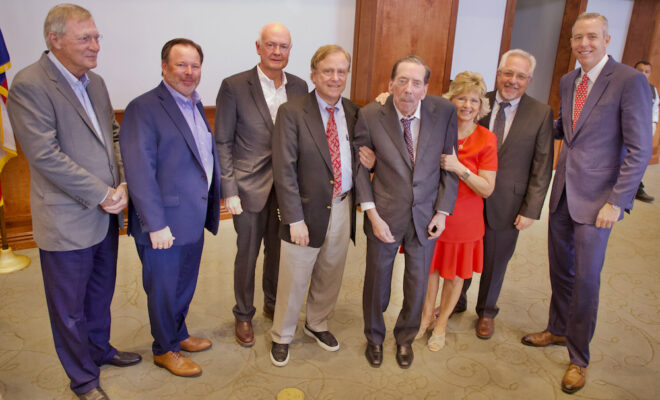 Photo Credit: Rod Prado, Hello Woodlands
Business
The Woodlands Chamber celebrated 44 Years of Leadership at Annual Meeting and Awards Luncheon
By |
The Woodlands Area Chamber of Commerce brought more than 200 business leaders together on Friday, September 30th at The Woodlands Country Club to celebrate their 44th Annual Meeting & Awards Luncheon.
View photos from the event on the Hello Woodlands Instagram page:
Members and guests of the Chamber gathered to celebrate their 2021 – 2022 year and honored volunteers who have shown exemplary support to help further The Chamber's mission and bolster the business community. 
J.J. Hollie, President & CEO of The Woodlands Area Chamber of Commerce, referenced accomplishments of The Chamber over the past fiscal year and shared his commitment to serving businesses, driving economic growth, and advancing The Chamber's role in the community. "I would like to say a big thank you to our members, volunteers, and board of directors who have helped make this year a success. It is truly inspiring to see them all serve with such joyful spirits. We continue to see our members build positive relationships with each other and advocate for the business community."
The retiring 2021 – 2022 Board of Directors and Team Leaders were recognized for their service to The Chamber.  Members who celebrated 20-40 years of membership were also recognized for their continued support. 
The highlight of the event was the announcement of The Chamber's annual specialty award recipients.
Diplomat of the year award was presented to David Deveau of Woodforest Wealth Strategies. 
The Chamber Volunteer of the year was presented to Margie Taylor of Taylorized PR.
The Community Citizen of the Year award was presented to Dr. Curtis Null Superintendent of Conroe ISD.
The Top Influencer Under 40 award was presented to Nicole Preston of Community Impact Newspaper – The Woodlands.
The Chairman's Award was presented to Ann Wolford of The Wolford Group. 
Legacy Award was presented to Michael Richmond for his role in the craftmanship of The Woodlands.
J.J. Hollie ended the awards ceremony by thanking Julie Ambler, The Woodlands Christian Academy for her year of service as our 2021 – 2022 Chairman of the Board. "This past year, Julie Ambler was a driving force in the success of The Chamber and assisted us in surpassing our annual budgetary goal," said Hollie.
The Richmond Realty Group was the Underwriting Sponsor for this year's event. Other sponsors included: San Jacinto River Authority, The Howard Hughes Corporation, The Koch Insurance Group, The Woodlands Christian Academy, Heightened Leaders, Market Street, Memorial Hermann The Woodlands Medical Center, Woodforest National Bank, Blanton Advisors, LLC., Caldwell Companies, SVN | J. Beard Real Estate, Bayside Printing Company, Inc., Community Impact Newspaper, and Hello Woodlands. 
About The Woodlands Area Chamber of Commerce
As the largest business organization in the Houston region, The Woodlands Area Chamber of Commerce is committed to advocating for businesses, creating marketing, and connection opportunities, serving as a professional and community resource and supporting charitable causes. For more information, please visit www.woodlandschamber.org.