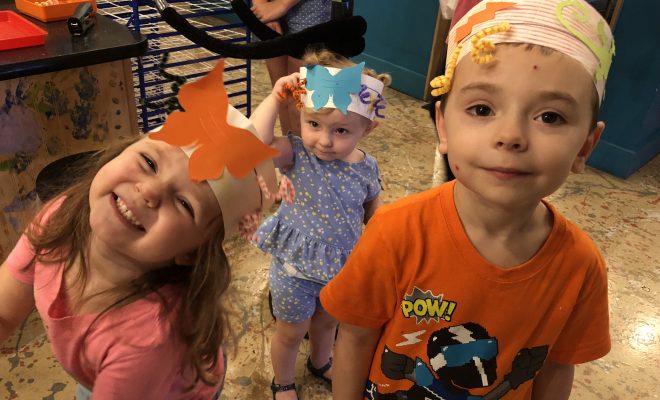 Photo Credit: The Woodlands Children's Museum
Events
The Woodlands Children's Museum plans Re-Opening Event with Milkshake Truck and More
By |
THE WOODLANDS, TX – Local children and families will, once again, have the opportunity to visit The Woodlands Children's Museum to enjoy exhibits and special events as the museum begins to re-open later this month.
On Saturday, August 22, from 11am – 3pm, the museum will host the "Shake You Up" milkshake truck, along with hot dog and nacho vendors, to welcome families back to the museum while helping children celebrate the end of summer and usher back into the new school year.
"We're very excited to begin re-opening, and to help children with the transition between summertime and school time," stated Angela Colton, the museum's Executive Director. "Typically, we host a 'Shake Your Summer Sillies Out' event each August, with activities and projects inside the museum. This year, we are "shaking" our summer sillies "outside" with milkshakes. We're hoping it brings some fun and excitement for families in our area."
A new milkshake flavor – the PB&J Shake — was created just for the event. The new shake features ultimate peanut butter ice cream, strawberry ice cream, strawberry syrup, whipped cream, and a peanut butter and jelly Uncrustables sandwich on top. A variety of other gourmet milkshakes will be offered, in addition to hot dogs and nachos. Prices range from $2.00 up to $18.00 for the most artistic shakes.
During the event, visitors will also have the opportunity to make a donation to the museum as part of a "friend-raiser." Having been closed for several months, the museum has lost almost half of its annual revenue and is asking the community for assistance as they re-open. For each donation, guests will be entered to win a variety of back-to-school raffle prizes donated by area businesses, including Vera Bradley, Teacups and Tadpoles, and a children's book gift basket.
Take-home art projects will also be available for purchase. Kits will include a picture, instructions and all of the materials needed for children to create a custom Summer Sillies Hat at home.
"Children love making the Summer Sillies Hat and it is one of our annual traditions," stated Colton. "By offering a to-go kit, families can enjoy the creative process at home and create a lasting memory."
The museum is planning to re-open to the public on Wednesday, August 26. Limited days and hours will be offered to manage capacity and allow staff to clean thoroughly between sessions. The museum will continue to be diligent about the disinfecting and cleaning processes and will continue working with a commercial disinfecting company to keep the museum germ free. Additional information on hours, timed ticketing, and mask policies can be found on the museum's website at www.woodlandschildrensmuseum.org.
Group classes are also available through the museum's Fall and Winter Workshops, which run September 9 – December 18. Birthday parties and private rentals are also available at select times. Details are available on the museum's website or by following the museum on Facebook @TheWoodlandsChildrensMuseum and on Instagram and Twitter @TheWoodlandsCM.
The museum is located in the Panther Creek Village Center at 4775 West Panther Creek Drive, Suite 280, The Woodlands, Texas 77381.
About The Woodlands Children's Museum The Woodlands Children's Museum, a 501(c)3 nonprofit organization, was founded out of a desire to meet the community's proven need for and a positive environment where children and their families can learn, play and make special memories throughout the year. At the museum, fun and learning go hand in hand, whether children are creating art, singing along to a musical performance or conducting a science experiment. The museum also has made it a priority to bring children multi-ethnic and multicultural experiences that celebrate cultural and global differences and strengthen common bonds. Programs frequently are delivered in partnership with other nonprofit organizations, always with the goal of making a positive difference in the life of a child.