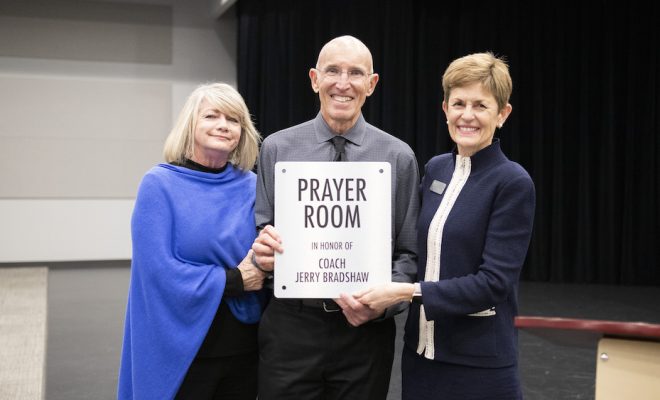 Photo provided by The Woodlands Christian Academy
News
The Woodlands Christian Academy opens Prayer Room
By |
The Woodlands, Texas – On January 22, The Woodlands Christian Academy (TWCA) kicked off the new semester with 20 Days of Prayer for 2020 – a campaign designed to further unify the school community and to celebrate the school's latest addition to their 40-acre campus. Named in honor of a long-time TWCA coach and Bible teacher, The Jerry Bradshaw Prayer Room was designed to offer students, staff and families a peaceful location dedicated to prayer.
The Woodlands Christian Academy Head of School, Mrs. Julie Ambler, feels "so blessed to have expanded our facilities to now offer a location for our school community to bring prayers before God." As to why the space was named in honor of Coach Bradshaw, she said, "for the past 15 years, Coach Bradshaw has made an incredible impact in the lives of students, athletes and staff at TWCA. He is a true prayer Warrior and his light shines bright across our campus."
The Woodlands Christian Academy is a PreK – 12th grade college preparatory school that integrates learning with biblical faith and challenges students to reach their highest potential – spiritually, academically, physically and socially. For more information visit twca.net.
Source: Melissa Kong, The Woodlands Christian Academy