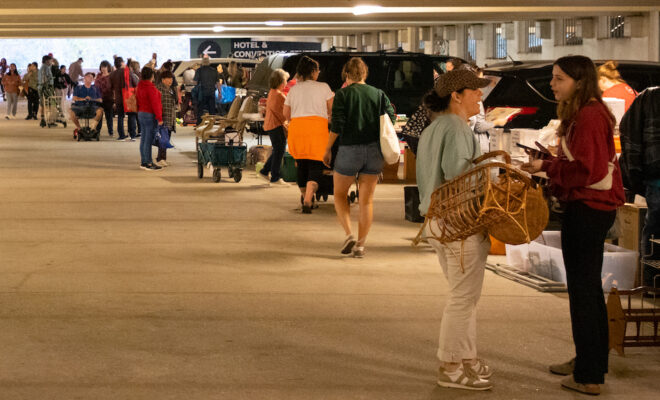 Photo Credit: Rod Prado, Hello Woodlands
Events
The Woodlands Fall Flea Market raises funds for Villages' Scholarships and Programs
By |
The Woodlands Fall Flea Market was held on Saturday, December 3, 2022 from 7 to 10 a.m. at the Town Center Parking Garage, located at the southwest corner of Six Pines Drive and Lake Robbins Drive adjacent to The Cynthia Woods Mitchell Pavilion.
View photos from the event on the Hello Woodlands Facebook page:
Since garage, yard, and estate sales are prohibited by The Woodlands Township, The Woodlands Fall Flea Market gave residents an opportunity to sell their unwanted household goods. The flea market was free to attend and open to the public. Attendees had the opportunity to purchase clothes, home decor, furniture, artwork, cleaning products, small kitchen appliances, pocket knives, and much more. After the flea market, a charity truck and dumpsters were available to collect/discard any unsold merchandise.
Interested parties had the opportunity to purchase a vendor spot through The Woodlands Township for $50 per booth space, consisting of two parking spaces and entry for two vehicles, or $100 for a vehicle and a trailer. Funds raised from booth spaces will go towards funding The Woodlands Villages' scholarships and programs.