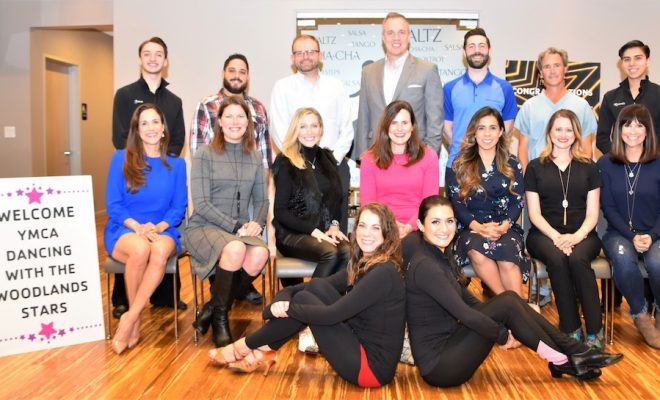 Photo provided by The Woodlands Family YMCA
Events
The Woodlands Family YMCA 2020 Dancing with The Woodlands Stars' Cast
By |
THE WOODLANDS, TX – The Woodlands Family YMCA is proud to announce the cast of stars who will be Dancing for a CAUSE at the 8th Annual YMCA Dancing with The Woodlands Stars.
Jennifer Hiser Bailey: Community Relations Coordinator, Texas Children's Hospital The Woodlands
Mandi Brown: Co/Owner and Director of Human Resources, Quadvest Water & Sewer Utility
Lupe Cuellar: Community Relations Advisor, Exxon Mobil
Missy Flanagan: Teacher, Kaufman Elementary School
Sean Foust: Financial Advisor, Merrill Lynch
Natalie Saikowski Goertz: Senior Vice President, Guaranty Bank & Trust
Tim Hickman: Financial Advisor, Merrill Lynch
Benjamin Hobgood: Sales/Marketing & Community Relations, WoodlandsOnline
Heather Lozada: MSN, RNC-OB, CHI St. Luke's Health The Woodlands Family Birthing Center
Roberto MiQuel: President/CEO, C&S Executive Transportation
Dr. Lucian Rivela M.D.: Rivela Plastic Surgery
Lisa Serice: YMCA Group Fitness Instructor and Singer/Song Writer
Shane Wise: Global Supply Chain Director, Halliburton
This unique charity event is scheduled for 6 pm on April 9 at The Woodlands Waterway Marriott and features local leaders as the live dance entertainment. The evening includes a buffet dinner, cash bar, live and silent auction, dancing and much more. Fred Astaire Dance Studio in The Woodlands has partnered with the Y to provide the dance partners, lessons and choreography for the community stars.
Each year, volunteers take to the dance floor to compete for votes and raise funds for The Woodlands Family YMCA. Every dollar raised from the purchase of tables, seats, auction items and votes goes to the YMCA Annual BETTER US Campaign, which provides community-strengthening Y programs like water safety education, after school enrichment, teen leadership, youth sports, and outreach & supportive services available to everyone regardless of age, income or background. The YMCA is committed to Empowering Youth, Building Healthier Families and Creating Social Equity for ALL.
"This event is the talk of the town, year after year," said Roxanne Davis, YMCA Community Liaison/Event Director. "Guests are eager to witness a friend, colleague or family member step out of their comfort zone and onto the dance floor for such a worthy cause. Votes can be purchased! The needs of our community are diverse and evolving, and the Y is needed now more than ever. Funds raised ensures the YMCA is available to all and that everyone has equal access to the resources and tools they need to grow and thrive. Together we are Stronger. Help us Multiply our Impact in 2020 and build a BETTER US. "
The theme for the 2020 event is "Groovy 60s Meets Disco 70s! Guests are encouraged to come dressed in their favorite 60s or 70s attire. To purchase a table or individual admission, vote for a dancer or for more details visit ymcahouston.org/dancing-with-the-woodlands-stars or contact The Woodlands Family YMCA at 281-367-9622 or email rdavis@ymcahouston.org. Sponsorships available.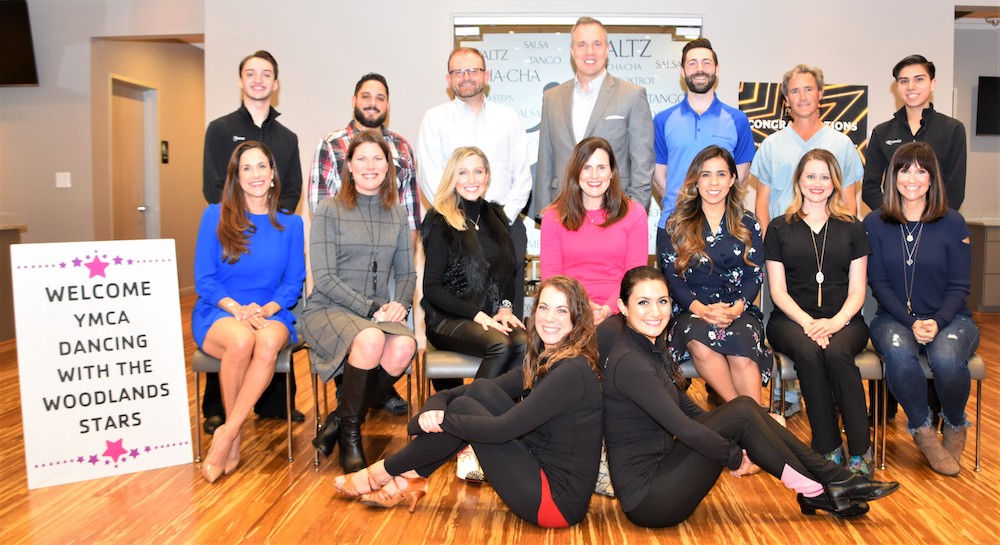 Pictured:
Front Row: Jenni Cavazos and Aiyana Cervantez with Fred Astaire
Middle Row: Mandi Brown, Natalie Saikowski Goertz, Lisa Serice, Jennifer Bailey, Lupe Cuellar, Heather Lozada, and Missy Flanagan
Back Row: Jesus Cortez with Fred Astaire, Roberto McQuel, Shane Wise, Tim Hickman, Benjamin Hobgood, Dr. Lucian Rivela, and Ricardo Santoyo with Fred Astaire.
Not Pictured: Sean Foust and Amber Seifer with Fred Astaire
First organized in 1886, the YMCA of Greater Houston is one of the city's leading nonprofits dedicated to strengthening communities through youth development, healthy living and social responsibility. The YMCA, a United Way of Greater Houston agency, seeks to serve all – regardless of age, income, faith or background and we welcome everyone. In the greater Houston area, 26 YMCA centers, one overnight camp and hundreds of program sites nurture the potential of children and teens, improve the city's health and wellbeing, and provide opportunities to give back and support neighbors. Anchored in the Houston community, the Y has the longstanding relationships and physical presence not just to promise, but to deliver lasting personal and social change. To learn more, call 713-659-5566 or visit us on the web at ymcahouston.org.