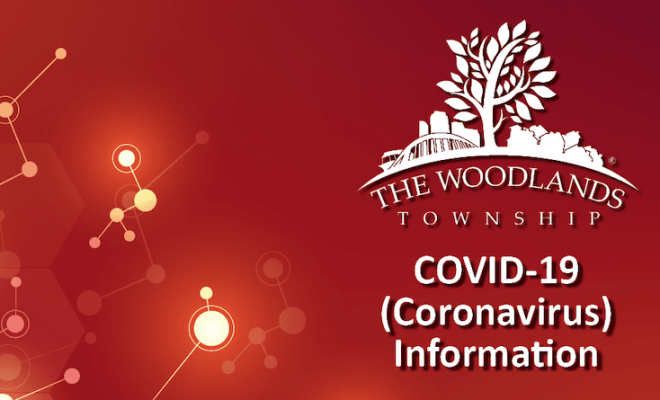 News
The Woodlands Fire Department COVID-19 March 24 Update
By |
On March 24, 2020 at 6 p.m. The Woodlands Township shared the following updates from The Woodlands Fire Department, Harris County, and Montgomery County regarding the COVID-19 crisis.
The Woodlands Fire Department Update
The Woodlands Fire Department has elevated its readiness level in response to the COVID-19 Pandemic. The Emergency Operations Center (EOC) is being staffed 7 days a week from 7 a.m. to 5 p.m. to coordinate information flow from both Harris and Montgomery County, as well as the State EOC.

We are working closely with our EMS partners at Montgomery County Hospital District and Cypress Creek EMS to coordinate response guidelines and provide the best care possible to our citizens while simultaneously making sure the exposure risks to our first responders and the general public are minimized.

The Fire Department has staffed 3 medical response units in addition to our normal on-duty resources to increase response capabilities and coverage. Our firefighter/medics have gone through several "just in time" training sessions to cover the latest assessment and treatment guidelines for possible COVID -19 patients, and the latest CDC guidelines for Personal Protective Equipment (PPE) and decontamination procedures.

As part of social distancing to decrease the spread of COVID-19, our fire stations are not currently accepting visitors. We look forward to resuming normal operations and engaging with the community when together, we defeat COVID-19.

Chief Palmer Buck, The Woodlands Fire Department
Harris County Issues Stay Home, Work Safe Order
Harris County Judge Lina Hidalgo issued a stay-at-home order on Tuesday, March 24, 2020. The order will take effect for residents of Harris County at 11:59 p.m. and expire on April 3, 2020. The order stipulates that most businesses cease operations, aside from those on an essential list including grocery stores, pharmacies, healthcare providers, government agencies, gas stations and more. The order also instructs residents of Harris County to stay home except for essential errands. Workers in the energy, transportation, construction and food service industries will be among those allowed to remain on the job during this time. 
Read the complete Harris County order here.
Montgomery County Judge Keough message after Commissioner's Court
Montgomery County Judge Mark Keough reiterated today that Montgomery County is not under a Shelter in Place order currently, but residents are asked to continue abiding by the existing orders set forth last week. Residents are asked to limit person-to-person interaction and to continue practicing social distancing. Restaurants remain limited to take-out/delivery/catering operations and bars, clubs, theaters and gyms remain closed. The public is asked to continue to limit gatherings to no more than 10 people.
Judge Keough encouraged Montgomery County residents to remain caring of their neighbor and to maintain optimism that the community will get through this difficult time together.
Read our article and watch the video here.
Board Meeting Reminder
The Woodlands Township Board of Directors will hold its first ever public meeting via videoconference tomorrow, Wednesday, March 25, 2020 to begin at 6 p.m. Central Daylight Time. The Board will be discussing matters related to COVID-19. The meeting can be viewed online at https://www.thewoodlandstownship-tx.gov/778/Meeting-Videos.
Visit The Woodlands Township COVID-19 information page for more updates from partner agencies, social distancing strategies, important links, frequently asked questions, live Twitter feeds and more at www.thewoodlandstownship-tx.gov/covid19.
Read the full March 24 update by The Woodlands Township at https://www.thewoodlandstownship-tx.gov/civicalerts.aspx?AID=2973
Source: The Woodlands Township