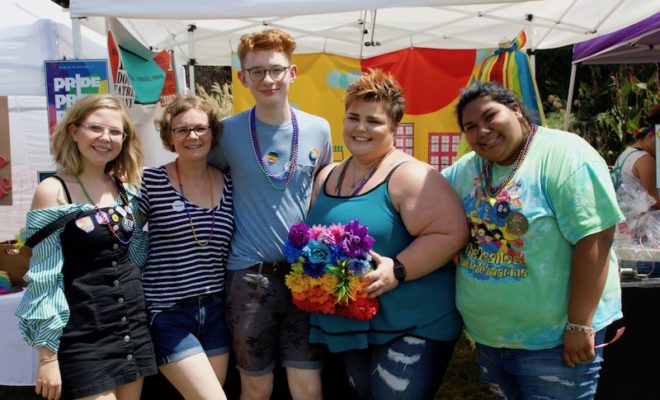 Events
The Woodlands hosts inaugural Pride Festival
By |
The Woodlands Pride organized and held the first Pride Festival in The Woodlands on Saturday, September 8, 2018 at Town Green Park.
The Woodlands Pride is a nonprofit organization with a mission to connect, celebrate, educate and foster relationships in the LGBTQIA (lesbian, gay, bisexual, transgender, queer or questioning, intersex, and asexual or allied) community while promoting equality, unity, and love in The Woodlands and beyond.
The community was invited to show their love, support, and unity for the LGBTQIA community at the event that featured a kid zone, flame throwers, DJ's, food and drink vendors, drag performances and more from 11 a.m. to 5 p.m.
View photos from the event on the Hello Woodlands Facebook page:
Watch moments from the performance on state on the Hello Woodlands Instagram page:
View this post on Instagram
Ryan Elkins, Director of Public Relations, shared the following message on The Woodlands Pride Facebook page:
"The Woodlands Inaugural Pride Festival was an absolute success! More than 4500 attendees, ZERO protestors, and ZERO arrests. Not once did I see anything that would be considered non-family friendly. In fact, there was a lot of families yesterday.

So for those people who said terrible things to me on social media nearly 4 months ago, and attacked me for being part of an amazing team that hosted The Woodlands Inaugural Pride Festival, yesterday was the day I and The Woodlands Pride proved you wrong!
Yesterday was an amazing sight to see. Seeing families, allies, and those in the LGBTQIA community all together having a good time, and the feeling of positivity and love around. This was a day that I will always remember.

I could not have been more proud to have served on the Board of Directors. Thank you to all of the volunteers and sponsors for making yesterday a success, we absolutely could not have done it without you!"
The idea of The Woodlands Pride Festival came from Jason Rocha of The Woodlands Pride after a walk along the waterway. where he envisioned a Pride event. He began making calls and reaching out to community activists in The Woodlands and surrounding areas to bring the ideal of a Pride Festival to life.
Jason Rocha shared the following message after the festival:
"Nearly five months ago, my partner and I were sitting on a bench across the water from Town Green Park in The Woodlands. I said, 'I want to have a Pride here.' In the moment, it didn't sound feasible, but that didn't stop what was to come. Within a week, I started a facebook page, picked 9.8.18 as the date, and started to talk with people about all the possibilities. Soon after, we had a board of directors and had filed our non profit status with the IRS and state. There was no turning back.
There have been many road bumps in this journey. When you put five strangers together, full of passion and ideas; well, reality tv is popular for a reason. Through it all, we had a common mission, to bring awareness and acceptance to this community. My old man spirit wisdom is, just like a road bump when driving, you slow down on the approach (sometimes they sneak up on you), keep moving slowly, and most of the time you never look back. You keep driving to your destination, and that's what we did with every single bump.

Sponsors were donating money, vendors were signing up, and people were registering to show up! It was what I imagined in a perfect world, but didn't think it would happen for our first year. That goes to show, that this area was more than ready for The Woodlands Pride.

Yesterday was one of the most joyous days of my life. Rain was forecast for the past two weeks, but not a drop (until the last trailer was pulled off the park grounds). I am proud of this town and surrounding areas for showing up. I am grateful to the board for never giving up.

Thank you Matt for your support and love through it all. To my friends and family who showed up physically or emotionally, it meant the world. And to YOU…our guests. You made this moment in history perfect!!

Our mission statement is: To connect, celebrate, educate, and foster relationships in the LGBTQIA community while promoting equality, unity, and love in The Woodlands and beyond. If you're not in 'the' community, replace your town, group, or whatever tribe you run with, with LGBTQIA, and imagine a world were we all promoted equality, unity, and love."
Learn more about The Woodlands Pride by visiting their website at thewoodlandstxpride.wordpress.com or Facebook page at Facebook.com/TheWoodlandsPride.