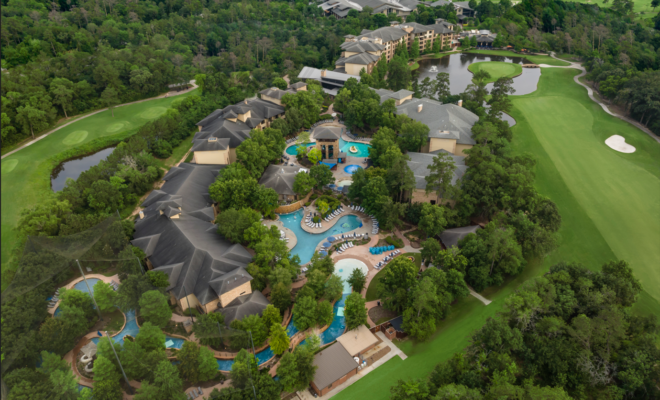 Photo courtesy of The Woodlands Resort
Business
The Woodlands Resort unveils $26 Million Property-Wide Enhancement
By |
The Woodlands Resort Curio Collection by Hilton, a landmark destination spanning an expanse of lush acreage in the heart of The Woodlands, today announced the highly anticipated, $26-million property enhancement project is nearing completion with the final details debuting this August. With touchpoints across The Resort, the reimagining was led by acclaimed, Dallas-based design firm Merriman Anderson Architects and marks a new era for the property and its visitors.
"This investment underscores an unwavering commitment to delivering an exceptional guest experience," said Gregg Harper, Managing Director of The Woodlands Hotels. "Not only does it enhance the aesthetic appeal of The Woodlands Resort, but it also elevates the level of experience and comfort for our discerning visitors, better aligning with their expectations."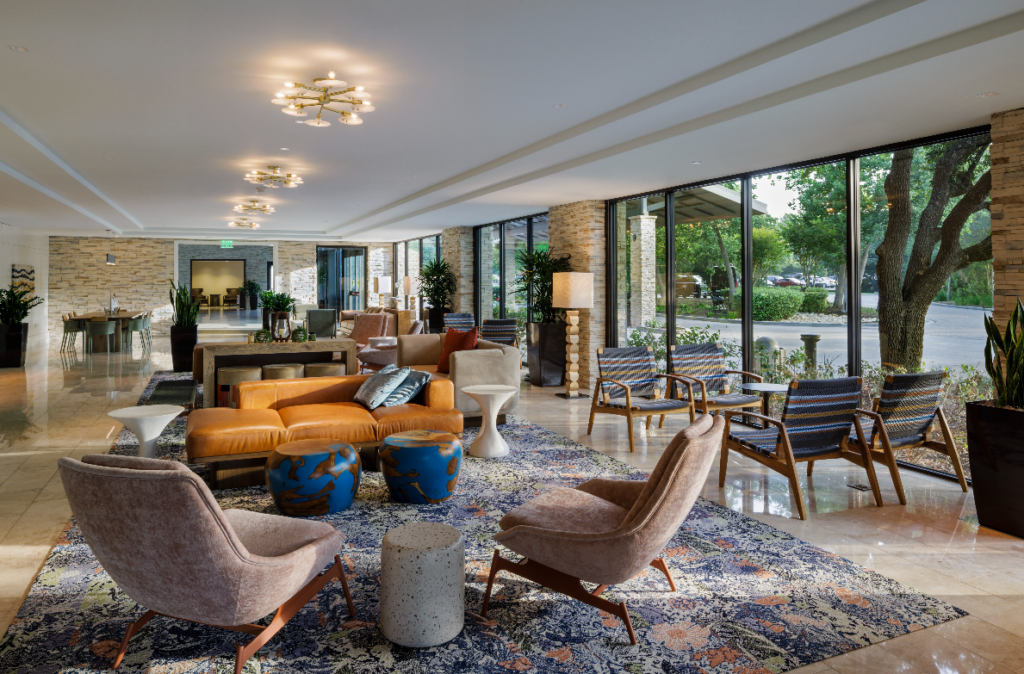 At completion, guests will notice changes beginning at check-in. Case in point is the Living Room, an integral part of the welcome experience, soon to be a more welcoming and stylish space, will be fitted with a one-of-a-kind lighting feature inspired by the local fauna and floral. That combination continues in The Resort's 402 rooms and suites, which now incorporate a fresh and vibrant color scheme in an earthy palette – paired with wood and stone – that breathes new life into the spacious accommodations. Redesigned showers and the addition of functional furniture, top-of-the-line mattresses and bedding, plush carpeting, elegant drapes, eye-catching artwork and 55-inch TVs are among the improvements. Furthermore, the suites have been enriched with premium sleeper sofas to better accommodate families and groups.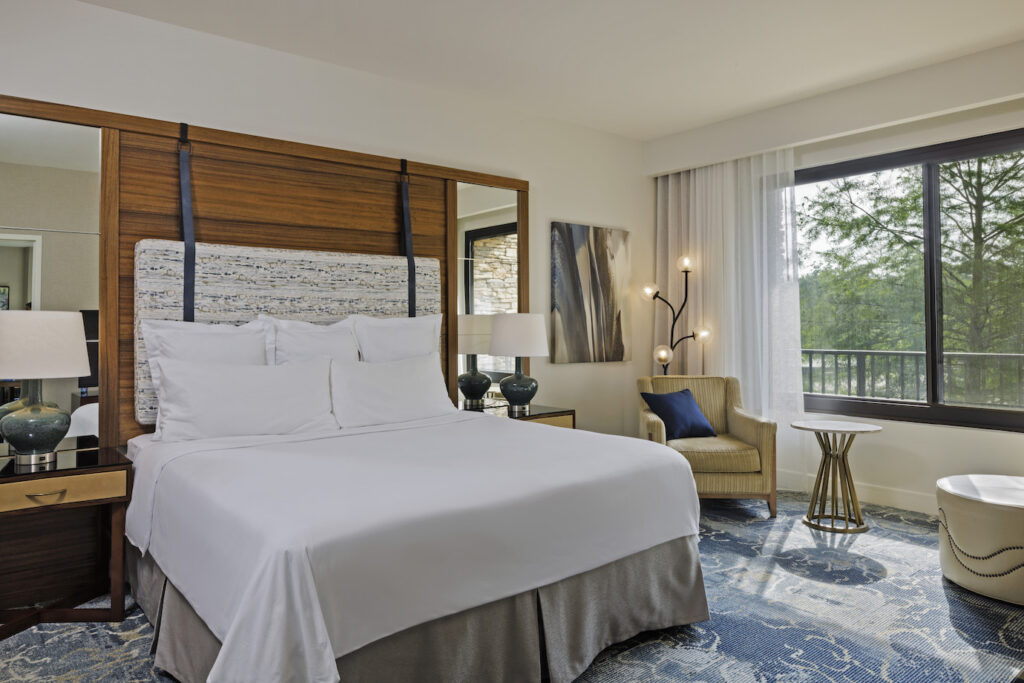 In addition to guestroom renovations, The Woodlands Resort has significantly refreshed its expansive meeting and event spaces, which combine a total of approximately 75,000 square feet. The Grand Foyer has been beautifully reimagined with cozy and contemporary seating vignettes in a comfy space sure to make a lasting impression. A captivating spot given its picturesque, waterfront backdrop, the Forest Deck is now an even more lovely option for unforgettable, outdoor gatherings and receptions.
To tantalize guests' taste buds, The Woodlands Resort has expanded its dining options to include five food and beverage outlets, three of which are a result of the renovation. Lakeside restaurant Harrison's, boasting a generous seating capacity of 216 including a spacious, wraparound patio, will soon delight guests for both breakfast and lunch with tasty and approachable culinary creations and polished service. The reconfigured and transformed space meanders over two levels with a smaller, sunken dining room that can be used for private events. Chic and airy with coastal tones and textures, the restaurant incorporates new tile flooring along with geometric wallpaper, wood beams and stone accents, plus curved and linear wood banquettes with colorful seating options incorporating faux leather, as well as blue and floral fabrics. The Spruce Market, a new café dining option perfect for morning coffee or a quick bite to eat, will soon be complemented by a 775-square-foot retail boutique offering a curated selection of snacks and sundries, artwork presented by Faulkner & Loche, plus gifts, accessories and even swimsuits from Texas makers and designers. While currently open from 7 am – 2 pm, in the coming months Spruce Market will have extended hours to feature a menu of wine and cocktails. A 1,000-square-foot Lobby Bar is also nearing completion, providing guests and locals with a relaxing space to unwind.
The trio joins acclaimed Back Table Kitchen & Bar, where creative cocktails and Southern inspired-fare are served indoors or patio-side overlooking the 18th hole of the Panther Trail Course (one of two), as well as beachy Cool Water Bar & Grill, which services The Resort's famed Forest Oasis Waterpark, a destination unto itself for multiple pools, helix waterslides and 1,000-foot lazy river.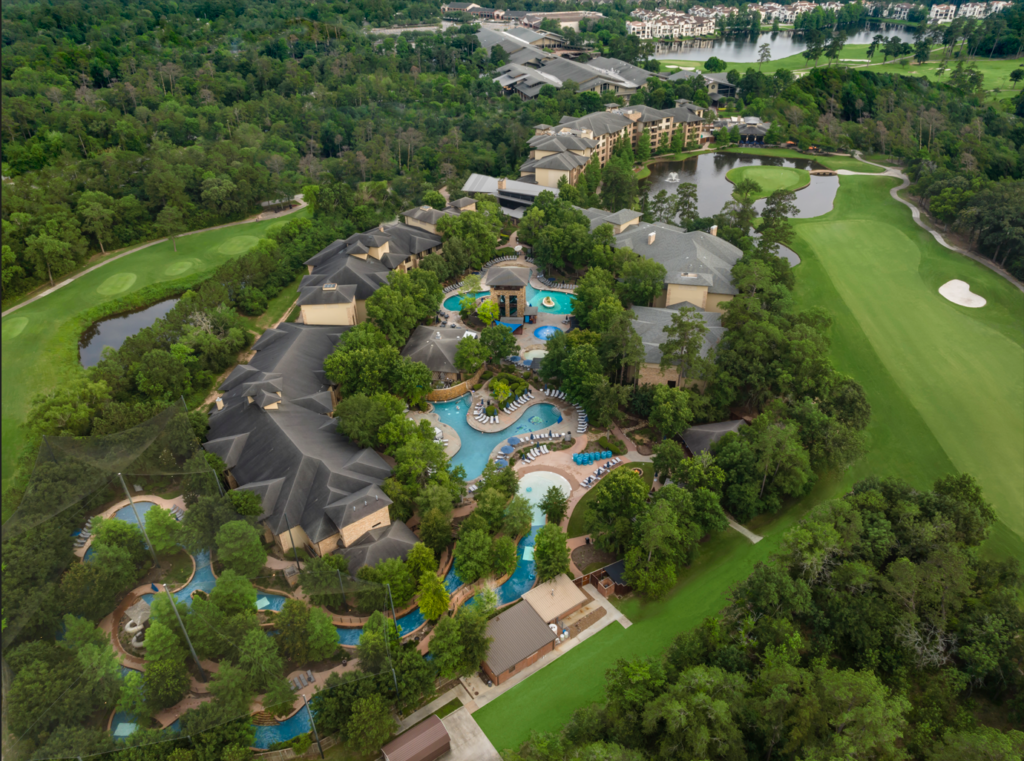 Throughout The Resort, guests will discover an array of pieces from talented Texas-based artists. The installations are rooted in discovery and designed to enhance the connection to its setting, offering pops of color, a mix of textures and bold patterns.
As the first Curio resort in Texas, The Woodlands Resort stands ready to welcome guests to a world of natural beauty, premier hospitality and a myriad of amenities that also include a tennis center with 21 courts, a Peloton equipped fitness center, pickleball, yoga, seasonal family programming, in-room spa offerings, plus bike and kayak rentals.
Source: The Woodlands Resort