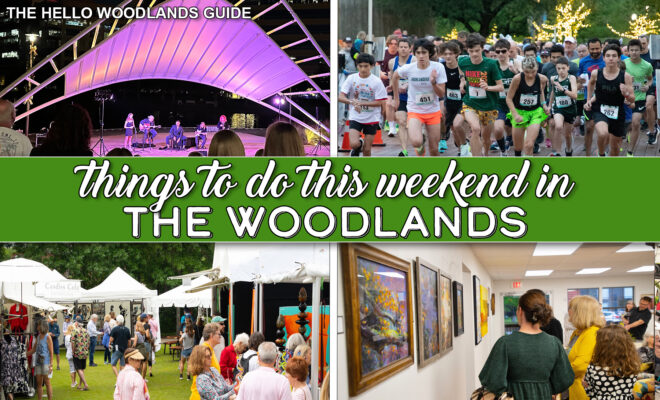 Art & Culture
Things to Do in The Woodlands This Weekend, June 9-11
By |
Looking for something to do in The Woodlands area this weekend? Find out what's happening the weekend of June 9-11, including Wine & Food Week, the Sweet Life Home Tour, YMCA's Splash and Dash, a Dog Adoption Event, Ardest Gallery's Grand Re-Opening, and more!
Friday, June 9, 2023
Wine & Food Week (June 5-11)
The beloved week-long Wine & Food Week returns June 5-11 with "Wine + Food = Art" to celebrate the creativity and passion found in the heart of the wine and food industry. Featuring hundreds of wines, scores of celebrity guests, and a list of fresh culinary faces, get ready to raise a glass to an epicurean masterpiece which for 19 years remains one of the best wine and food events in the region. Get tickets today for this culinary extravaganza—the 19th Anniversary celebration of Wine & Food Week.
Fan favorites are back including Wine Around the World Wednesday; Rose' Way, A Sweet Soiree at The Peach Orchard Venue; Ladies of the Vine Tasting, Luncheon, & Panel Discussion, at The Club at Carlton Woods, and Sips, Suds & Savor. The week culminates with the grand dame — the elaborate Wine Rendezvous Grand Tasting & Chef Showcase at The Woodlands Waterway Marriott Ballroom where acclaimed chefs compete for the coveted Chef of Chefs Award presented by Goya Foods and a $5,000 cash prize. Event information and tickets at wineandfoodweek.com.
Donald Duck Day
Join The Woodlands Children's Museum for Donald Duck Day and meet the delightful Donald Duck. Sing "Happy Birthday" to him while posing for photos on June 9 at 10:30am, 11:30am, 12:30pm, 1:30pm, and 2:30pm. Learn More
Ladies of the Vine Tasting, Panel & Luncheon
Balanced, Bright, Complex, Nouveau, Unfiltered, Haute…all words that are used to describe incredible wines and incredible women. Join the bright women of the wine world, sharing their complex talents and in an unfiltered panel discussion with an intimate glimpse on their personal journey with wine at the Ladies of the Vine Tasting, Panel & Luncheon. The reception starts on June 9 at 11:30 am and doors to the main dining room open at 1:00 pm at The Club at Carlton Woods Main Club House. Learn More
Saturday, June 10, 2023
Live the Sweet Life Home Tour (Weekends in June)
Get a taste of Grand Central Park's sweet life during a tour spotlighting nine professionally decorated model homes weekends throughout June! Model homes will be open 10 a.m. to 6 p.m. Saturdays and noon to 6 p.m. Sundays. Visitors can register to win a $500 gift card at each of the models. The month-long tour ends on a tasty note 11 a.m. to 2 p.m. on Saturday, June 24th with milkshakes at The Finding Place. Learn more at www.grandcentralparktx.com/sweet_home_tour
YMCA Splash and Dash
The 1st race in the Summer Race Series for Kids and Teens is the YMCA Splash & Dash Presented by Texas Children's Hospital The Woodlands on Saturday, June 10, 7:30am at Shadowbend YMCA. Designed for all fitness levels, kids/teens, ages 7 – 15 are invited to Swim/Run for a CAUSE. Boys and girls will compete separately in their age groups. The top three finishers, male and female, in each age group will receive a special award. All participants will receive a goodie bag, T-shirt and finisher medal. A special award will be presented to those that complete all three races in the series. Post race festivities will include music, awards ceremony, refreshments, face art, bubble station and there will be concessions available to purchase. Register Today at https://bit.ly/YMCASplashDash
For more info on the Summer Race Series: https://ymcahouston.org/kids-race-series   
Dog Adoption Event
Come meet and greet furry friends looking for their furever home at the Dog Adoption Event on Saturday, June 10 from 10 a.m. to 1 p.m. at Scooter's Coffee, 26551 Kuykendahl Road, The Woodlands, TX 77375. Learn more about Scooter's Coffee and view locations at https://bit.ly/HelloScooters.
CAMO is a 501c3 nonprofit animal rescue group devoted to rescuing dogs from high kill shelters and the streets. Learn more at camorescue.com.
Ardest Gallery Grand Re-Opening
Ardest Gallery, a local fine arts gallery, is relocating from Magnolia to The Woodlands and hosting its Grand Re-Opening event on Saturday, June 10 from 4:00 – 8:00 pm at 25200 Grogan's Park Drive, The Woodlands, TX 77380. The solo show by award winning Houston artist Robyn Crowell entitled "Femme and Flora," will open the same evening. The gallery currently represents nearly 30 top Texas 2D and 3D visual artists. In addition to its core artists, the gallery hosts ongoing events such as monthly group art shows, Coffee Talk with an Artist, Art to Lunch in partnership with local restaurants, poetry readings, musical performances and art classes/workshops for all ages and skill levels. Learn More
The Wine Rendezvous Grand Tasting & Chef Showcase
The Wine Rendezvous Grand Tasting & Chef Showcase presents guests with the opportunity to slip into their finest attire and be in the company of serious wine enthusiasts and outstanding culinary talent. After the official kick-off toast at 6:45 pm, enter the grand ballroom to enjoy an around-the-world experience through your taste buds.
Start the experience at the Bubbles Cove and enjoy hours of enjoyment followed by the grand announcement of the Chef of Chefs award-winners. Enjoy chef demonstrations, culinary offerings from 35 restaurants, and hundreds of wines. At the closing ceremony, the Winner of the Chef of Chefs Culinary Awards, voted on by an esteemed panel of judges, will take home the Waterford Crystal Chef of Chefs trophy and $5,000 cash prize. The Wine Rendezvous Grand Tasting & Chef Showcase is held at The Woodlands Waterway Marriott Hotel & Convention Center from 7 – 10 pm. Learn More
Plan Ahead: Upcoming Events
Café Con Miguel (June 12)
Each month the Montgomery County Hispanic Chamber and President Miguel Lopez invite business owners and entrepreneurs for business discussions plus feature an authentic Q&A with a business owner at Café Con Miguel. On Monday, June 12 at 8 to 9:30 a.m. at The Cannon The Woodlands, meet other business professionals, have a cup of coffee, listen to a business/life journey from guest Chef Beatriz Martines of Xalisko. Learn more and R.S.V.P. here.
Canopy Caregiver Support Group (June 13)
June is full with programs and events at Canopy Cancer Survivorship Center! Join Canopy every 2nd Tuesday (June 13) for the Caregiver Support Group led by Dr. Bonnie Hubert (in person and virtual). Canopy is a cancer survivorship on the campus of Memorial Hermann The Woodlands Medical Center. Canopy is open to men and women, no matter where you were treated, and for any kind of cancer. If your life has been impacted, whether you were the patient or the caregiver, you have a safe haven at Canopy. Learn more about the support group and view the event calendar here.
Most Discussed Buyer "Outs" Online Class (June 14)
Join Old Republic Title on Wednesday, June 14 at 10-11 a.m. via Zoom for the Most Discussed Buyer "Outs" Class with instructor Pat Strong. Register and pay for Optional Contract CE here.
Symphonic Tribute to Elvis (June 14)
Long live the king. This man and his music need no introduction. He's the polarizing force that popularized some of the greatest music to ever be recorded or performed live. He's the icon that made sideburns and bell bottoms the talk of the town. He's the undisputed king of rock and roll. And now, his music comes to The Pavilion's Main Stage on June 14 with the potent power of the Houston Symphony behind it. Elvis' music is pure rock 'n' roll glory, and the Houston Symphony has long proven capable of taking that kind of glory to the next level. Gates open at 7 p.m. Show begins at 8 p.m. Learn More
The Governor's Small Business Summit (June 15)
The Governor's Small Business Summit – The Woodlands aims to help Texas small business owners and aspiring entrepreneurs reach new heights by connecting them with the resources and information needed to start, strengthen, and grow a business. This event offers a variety of sessions bringing together local, state, and federal resource partners to provide key insights on critical business topics. It's also an opportunity to network with other business owners and meet experts who will share timely, relevant and actionable advice on a multitude of small business subjects. The summit will be held at The Woodlands Waterway Marriott Hotel & Convention Center, 1601 Lake Robbins Drive, The Woodlands, TX 77380 from 8:00 am – 1:30 pm. Learn More and Register Today
Author Livy Hart Book Reading & Signing (June 17)
A summer afternoon with Author Livy Hart, author of "Planes, Trains and All the Feels" at Village Books on Saturday, June 17 3–4:30pm. A free event, but you must register at livyhart.eventbrite.com. Books available now at Village Books! Books for signing must be purchased through Village Books. Learn more about Village Books here.
---
Check back on Hello Woodlands' Calendar Page and the monthly 31 Things to Do list for more events as they come up!
Have an event coming up or want to highlight your business? You can sponsor one of these popular weekend guides! By sponsoring a guide, your company name (organization or event) and logo will be included on the featured photo of the article published on the Hello Woodlands website. Your company name will also be included within the article along with a paragraph sharing more about your business with your logo and a link to your website. Email info@hellowoodlands.com for more information.