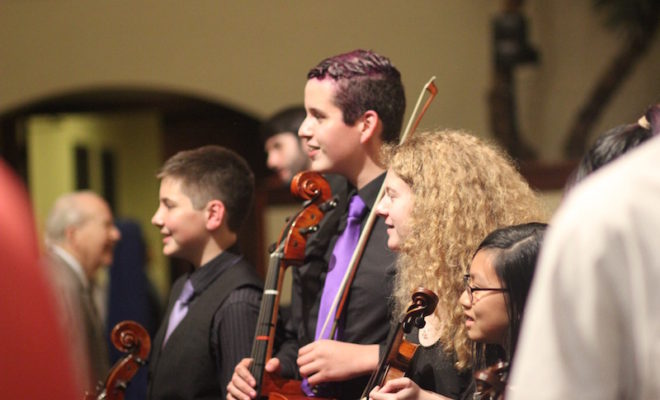 Art & Culture
The Woodlands Symphony and Youth Symphony Announce Auditions
By |
The Woodlands Symphony Orchestra (WSO) and The Woodlands Area Youth Symphony (WAYS) are adding to their ranks, opening up additional positions for community members and students with a passion for classical music.
Auditions are by appointment only and will be ongoing from now through August in preparation for the upcoming season. For adults and young musicians interested in joining the WSO or WAYS, applicants will prepare a solo and demonstrate knowledge of scales appropriate for the level of orchestral proficiency.
The WSO is now established as a regional orchestra with the very best musicians from The Woodlands and the adjacent area. Under the direction of The Woodlands community member Darryl Bayer, the WSO and WAYS have performed in a variety of venues with a wide range of music from Firebird to Final Fantasy, Handel's Messiah, A Midsummer Night's Dream and Mahler's First Symphony.
WAYS, the WSO's youth orchestra, is now partnered with Lone Star College – Montgomery Fine Arts and for the first time will have the benefit of full season. WAYS students will rehearse at a beautiful music facility Monday evenings at Lone Star College – Montgomery, and will participate in multiple campus concerts with opportunities to enroll in lessons, master classes, and community outreach programs. This year, WAYS will join the WSO for two side-by-side concerts including Romeo and Juliet – a full theatrical/musical event in conjunction with UpStage Theatre Company on September 24 at Rob Fleming Park in Creekside Village.
The audition process begins by logging onto www.WoodlandsSymphony.org and filling out the contact and application forms. Also on the website are addition scale and music requirements, a brief overview of the standards for the symphony, and expectations for young musicians.
The Woodlands Symphony and Woodlands Area Youth Symphony are auditioning for all positions from strings, winds and percussion. Both are full symphonies and the common goal is to create a culture of multi-generational love for the classical arts. The Woodlands Symphony is dedicated to honoring musicians in the area that are professional musicians, educators, and members of the community with a passion for creative classical music. The Woodlands Area Youth Symphony was created to give young musicians an environment to participate in a high level full orchestra on a consistent basis.
Darryl Bayer, Artistic Director, can be reached at (832) 257-3048 or e-mail director@WoodlandsSymphony.org for further questions regarding participation in the WSO/WAYS audition process and the 2017-18 season.