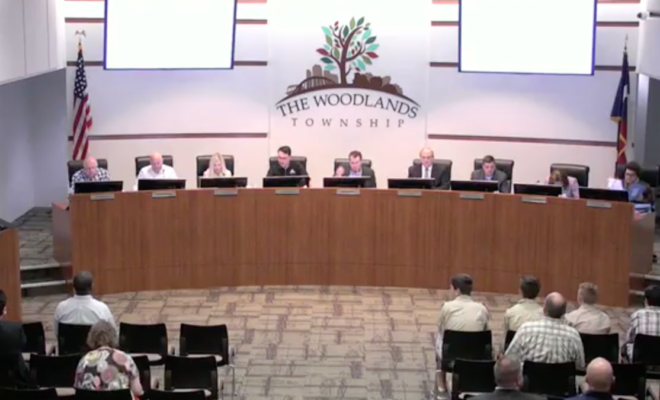 News
The Woodlands Township Board holds meeting on September 20
By |
THE WOODLANDS, TEXAS – The Woodlands Township Board of Directors held its regular meeting on Thursday, September 20, 2018, at The Woodlands Township Town Hall, 2801 Technology Forest Boulevard in The Woodlands, Texas. Watch the board meeting on The Woodlands Township's website at https://woodlandstx.swagit.com/play/09202018-1234.
The Board of Directors took the following actions on the Consent Agenda:
Received Administrative Reports from Township departments;
Approved a Second Amended and Restated Host Venue Sponsorship Agreement for The Woodlands Waterway Arts Festival;
Approved a Host Venue Sponsorship Agreement with Inspire Film Festival;
Approved a Right of Way Easement – Entergy Texas, Inc., Village of Panther Creek Section 7, ROSR E;
Approved a swimming pool heater at Lakeside Park Pool;
Approved a multi-functional printer lease/maintenance addendum with Dahill Office Technology Corporation dba Dahill and related maintenance addendum with Xerox Financial Services;
The Board of Directors then moved on to take the following actions on the Regular Agenda:
Received presentations on the proposed Research Forest Drive and Grogan's Mill Road underpass and on roadway projects in the City of Shenandoah;
Received and accepted an update from CenterPoint Energy on outages;
Received a presentation on Phases Three and Four of the Communication Towers project and requested input from affected neighbors to be solicited for a future meeting;
Rejected the Renewal Proposal from Waste Management of Texas and directed Solid Waste Specialists to draft a Request for Proposals for bidding refuse, yard waste, recyclables and bulky waste collection, disposal and processing services.
The next Board of Directors regular meeting is scheduled to be held at 4 p.m. Wednesday, September 26, 2018. For more information on The Woodlands Township, or to view the meeting in its entirety, please visit www.thewoodlandstownship-tx.gov, or call 281-210-3800.