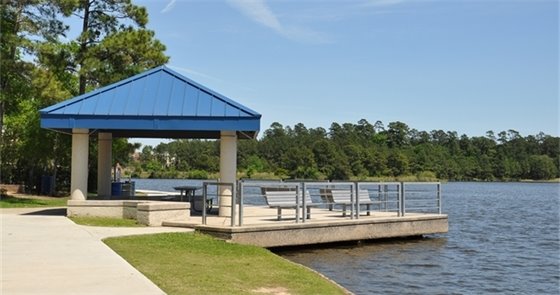 Photo provided by The Woodlands Township
News
The Woodlands Township COVID-19 Update May 1
By |
The Woodlands Township shared the following COVID-19 updates on Friday, May 1, 2020.
Township News
The Woodlands Township Board Holds Videoconference Meeting 
The Woodlands Township Board of Directors discussed opening up the community during its special meeting via videoconference on Thursday, April 30, 2020. Chairman Gordy Bunch discussed the White House Guidelines for "Opening Up America Again" and The Governor's Report to Open Texas. "We're looking forward to getting amenities and facilities opened in the safest manner possible," Chairman Bunch said. "We want to make sure we're as safe as can be and also get our residents back to doing the things they love to do in The Woodlands."
Read the full article on the Township Board meeting here.
Beginning Friday, May 1, 2020, in-store retail, shopping malls, dine-in restaurants, movie theatres, museums and libraries may operate at up to 25% of listed occupancy. Individuals may engage in outdoor sports with no more than four participants at any time. Sole proprietorships may open. Licensed medical professionals (e.g. physicians, dentists) may open.
Some questions have been raised concerning if bars, gyms, public swimming pools, interactive amusement venues (e.g. bowling alleys), massage establishments, tattoo studios, piercing studios and salons could be opened on Friday. Attorney General Ken Paxton released a guidance letter responding to questions from local governments regarding these businesses and asking whether local governments may allow businesses to reopen as defined under Governor Abbott's executive order. General Paxton's guidance indicates that local governments are prohibited from allowing these types of businesses to reopen at this time under the Governor's order. The full letter can be found here.
Township Amenities Re-Open with Limitations
Pursuant to Gov. Greg Abbott's plan for the re-opening of Texas, the Township has re-opened certain amenities and recreational areas as of May 1, 2020.
Township parks are open with limitations, Lake Woodlands and Lake Paloma are open, pathways and trails are open, tennis courts are open with modifications, park restrooms are open and community gardens are open with restricted access. Amenities that are open include: skate spots, the archery range, kayak launches, BMX areas, bocce, horseshoe pits, pavilions, benches, BBQ pits, disc golf at Terramont Park and running/walking tracks.

Although these facilities are open during Phase One, the Township encourages residents to continue to observe safe social distancing and hygiene practices. Wear a face covering whenever possible, wash your hands frequently and use hand sanitizer when out, avoid touching your face and observe a 6-foot distance from anyone who is not a member of your household.
The Township will be opening Riva Row Boat House with kayak and swan boat rentals in the next few days. More information to come.
Dog Parks in The Woodlands to Remain Closed
Dog parks are unfortunately closed at this point. The parks are located in Bear Branch, Cattail, Terramont, Harper's Landing, Tamarac, and Rob Fleming parks. According to the Center for Disease Control (CDC), until more is learned about how this virus affects animals, treat pets as you would other human family members to protect them from a possible infection.
Avoid dog parks or public places where a large number of people and dogs gather.
Do not let pets interact with people or other animals outside the household.
Walk dogs on a leash, maintaining at least 6 feet from other people and animals.
Keep cats indoors when possible to prevent interaction with other animals or people.
Board Stresses Importance of CDC Guidelines of Social Distancing and Facial Coverings
Watch a video as Township Chairman Gordy Bunch encourages wearing face masks
County News
Montgomery County COVID-19 Case Count
Montgomery County Public Health District, in conjunction with Montgomery County Office of Homeland Security and Emergency Management, is saddened to confirm our 13th and 14th deaths related to COVID-19. A woman in her 60s, from Conroe, died in a local hospital. Also, a man in his 90s, from Porter, died in a long-term care facility.
We can also confirm there are now 463 ACTIVE cases of COVID-19. That number includes 50 hospitalizations. 152 people have fully recovered. The number of total positive cases has increased 27 since yesterday to 629.
Details on individual cases can be found here: https://mcphd-tx.org/coronavirus-covid-19/confirmed-cases/.
Montgomery County Office of Emergency Management updates a dashboard for the cases here: https://coronavirus-response-moco.hub.arcgis.com/.
Harris County COVID-19 Case Count
As of May 1, 2020 (4 p.m.), Harris County Public Health (HCPH) has 2,831 positive cases (1,193 active cases). HCPH is also confirming that 1,576 of its patients have recovered. There have been 62 total deaths of COVID-19 in Harris County. None of these numbers include the City of Houston. A full description of the numbers can be found here: https://tinyurl.com/tzymvk5

Cases by zip code in Harris County can be found here by clicking on areas of the map.

The Village of Creekside Park is located in two zip codes: 77375 and 77389 and these also include Magnolia, Augusta Pines/Auburn Lakes/West Rayford Road in northwest Harris County. Today, Harris County is reporting zip code 77375 has 43 cases and 77389 has 36 cases.
Harris County Simplified COVID-19 Assessment Tool for Testing
Harris County Public Health (HCPH) has revamped its COVID-19 online self-assessment tool to streamline the COVID-19 testing process. The online tool can be found at: www.readyharris.org  or www.hcphtx.org (or https://covidcheck.hctx.net). Learn more about the assessment tool here.
Read the full update at https://www.thewoodlandstownship-tx.gov/civicalerts.aspx?AID=3038