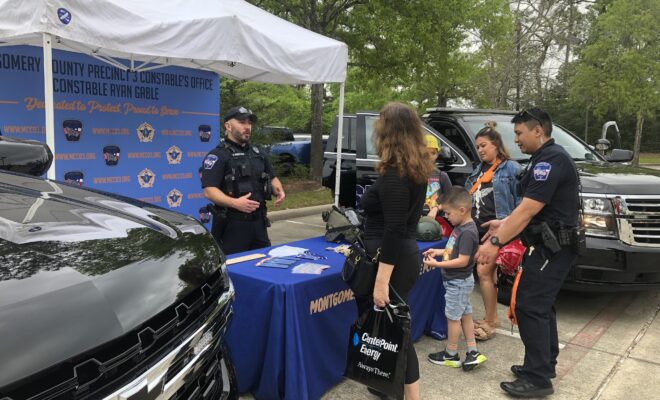 Photo by Tiffany Marascio
Events
The Woodlands Township Neighborhood Watch Hosts Emergency Preparedness Event
By |
THE WOODLANDS, TX – On Saturday, April 2, 2022, The Woodlands Township Neighborhood Watch hosted its annual Emergency Preparedness Event from 10:00 a.m. to 1:00 p.m. at The Woodlands Township offices, located at 2801 Technology Forest Blvd, The Woodlands, TX 77381.
View photos from the event on Hello Woodlands' Facebook Page here.
The free event was open to all residents and businesses. Agencies were set up inside the Township offices as well as the parking lot so that emergency vehicles could be available for viewing. The theme for the event was "Get Ready."
Representatives from government, public safety, utility, and health organizations were on hand, including Conroe ISD Police, Montgomery County Sheriff's Office, Montgomery County Search and Rescue (including a drone specialist), Kailee Mills Foundation, Montgomery County Hospital District, The Woodlands Fire Department, Tri-County Behavioral Health Care, The Woodlands Township Neighborhood Watch, CenterPoint Energy, Texas A&M AgriLife Extension, and more. The event was come and go.
Attendees were invited to take free family emergency document bags packed with preparedness materials. Displays showed preventative plans and tools to have on hand before an emergency, along with crime prevention materials. Participants were also able to sign up for emergency notifications.
Be sure to check the Hello Woodlands calendar for events like these and more: www.hellowoodlands.com/calendar.