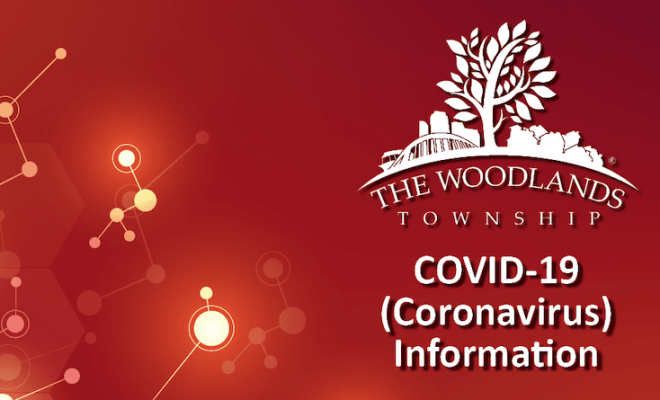 Photo provided by The Woodlands Township
News
The Woodlands Townships COVID-19 Update – April 13
By |
On Monday, April 13 at 6 p.m., The Woodlands Township shared the following updates regarding the COVID-19 crisis.
Today's State News
The highlights of Governor Abbott's press conference today included announcing with several business leaders that Goldman Sach's is providing $50 million for business loans through the Paycheck Protection Program and LiftFund. The Governor noted on several occasions that he would be issuing an executive order later this week with guidelines for reopening Texas businesses. He reiterated that the reopening will be gradual, responsible and done safely – hinting that the first phase of reopening would be for businesses with no-to-little likelihood of further spreading the COVID-19 virus. The Governor is expected to also make an announcement on schools this week. Read Governor Abbott's press release.
Texas COVID Stats
Over 133,000 tests have been administered for COVID-19
13,827 positive tests
1,176 hospitalization connected to COVID-19
286 fatalities connected to COVID-19
2,269 recoveries from positive COVID-19 tests
PPE
4.5 million masks have shipped
175,000 face shields have shipped
2.5 million gloves have shipped
11,000 gowns have shipped
Today's County News
Montgomery County COVID-19 Case Count
Montgomery County Public Health District, in conjunction with Montgomery County Office of Emergency Management, is saddened to confirm the 6th death related to COVID-19 in Montgomery County. He was a man in his 50s, who resided in the Porter area. He was pronounced dead at a hospital in Montgomery County and later tested positive for COVID-19.
There are now 266 total positive cases of COVID-19, up 15 cases from Saturday. Montgomery County reports that 80 county residents have fully recovered. Details on Montgomery County cases can be found here: https://mcphd-tx.org/coronavirus-covid-19/confirmed-cases/. Montgomery County Office of Emergency Management updates a dashboard for the cases here: https://coronavirus-response-moco.hub.arcgis.com/.
Harris County COVID-19 Case Count
As of April 13, 2020 (4:00 p.m.), Harris County Public Health (HCPH) has 3 new cases of COVID-19, which brings the total to 1,508 positive cases. HCPH is also confirming that 417 of its patients have recovered. Harris County lists by quadrants, and the Village of Creekside Park is located in the NW Quadrant, where there are 559 active cases, 226 recovered and 14 deaths. There have been 28 total deaths of COVID-19 in Harris County. None of these numbers include the City of Houston. A full description of the numbers can be found here: https://harriscounty.maps.arcgis.com/apps/opsdashboard/index.html#/c0de71f8ea484b85bb5efcb7c07c6914.
Statistics from Johns Hopkins University
For additional interactive graphics on cases in Harris and Montgomery Counties, please visit the links below:
Two Mobile Testing Sites Coming to Precinct 4
Tomball, Humble to Be Home to COVID-19 Testing Sites Within Week
Harris County Commissioner R. Jack Cagle announced today the opening of two COVID-19 testing sites in Precinct 4 within the week at locations in Tomball and Humble.
Harris County Public Health will open the first testing site in Tomball on Tuesday, April 14. That site will perform testing on registered visitors from April 14-16 and April 27-29. A second Public Health testing site will open in Humble on Monday, April 20. The Humble location will test registered visitors from April 20-22 and May 7-9.
Each site is expected to handle as many as 100 tests per day, with that number increasing daily. The addresses of the sites will be provided to those successfully completing their registration, but will otherwise remain undisclosed to discourage unregistered visitors. Unregistered visitors will not be tested and will be turned away by security officials.
To determine whether you should be tested for COVID-19, please visit https://checkforcorona.com/harris-county#/welcome. Those deemed to be at risk for coronavirus will be given a code and phone number to call. After a telephone consultation, those still deemed to be at risk will be given another unique code and information on where and when they are to be tested. Those assigned for testing should bring a photo ID and any other information requested by the phone screener. Walk-ins will not be tested.
Those with questions may call Harris County Public Health at 832-927-7575 for more information. Commissioner Cagle thanks Harris County Public Health officials for working with Precinct 4 staff to make both sites available as soon as possible.
Read the entire daily update from The Woodlands Township at https://www.thewoodlandstownship-tx.gov/civicalerts.aspx?AID=3008
Source: The Woodlands Township