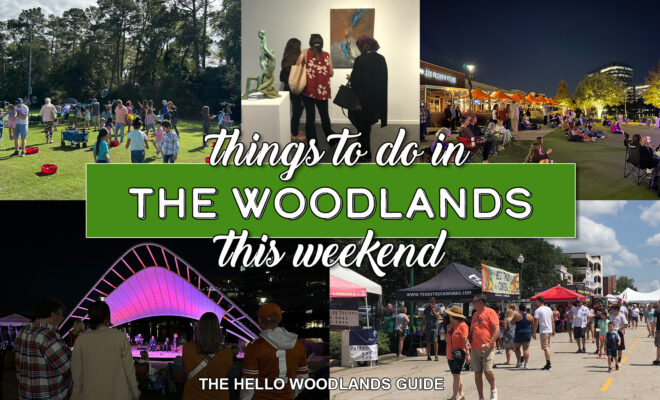 entertainment
Things to Do in The Woodlands Area This Weekend, Feb. 3-5
By |
Looking for something to do in The Woodlands area this weekend? Hello Woodlands has you covered! Here's a list of things to do the weekend of February 3-5, 2023, including a music festival, a hands-on science fair, family BINGO night, and more!
Friday, February 3, 2023
Annie The Musical (February 1-4)
Watch a musical production of Annie at The Woodlands Christian Academy! The middle and high school theatre department has been working for months to put together this amazing show. With four shows to choose from, reserve your seat now! Learn More
Seychelles Med & Laser Spa's Ribbon Cutting Ceremony
Join us for Seychelles Med & Laser Spa's Ribbon Cutting Ceremony with The Woodlands Area Chamber of Commerce! Register for the free event at www.business.woodlandschamber.org/events/details/ribbon-cutting-seychelles-med-laser-spa. Seychelles Med & Laser Spa is proud be a part of the community since 2014 and they are excited to show you their newly renovated space as they welcome Dr. Joseph M. Perlman and his staff upstairs and partner with their sister salon, Waves Salon, to introduce new treatments and providers. Seychelles is located at 25230 Borough Park Dr, The Woodlands, TX 77380. Learn More
Lone Star Luau Music Festival (February 2-5)
The 6th Annual Lone Star Luau Music Festival is the best little party in paradise! CMA of Texas Songwriter of the Year Thom Shepherd and country recording artist Colby McCabe welcome a stellar lineup of Texas Country and Trop Rock artists along with Nashville Songwriters to Margaritaville Lake Conroe for a four day festival of music and fun in paradise! Learn More
Family BINGO Night
Bring your family and friends to this fun-filled monthly BINGO night! Prizes awarded for a good BINGO. Pre-registration required. Fee: $5 per person. BINGO night is from 6:30 -  8:30 pm at the Rob Fleming Recreation Center. Learn More
Ronnie Milsap
Dosey Doe – The Big Barn presents Ronnie Milsap at 8:30 pm. Doors open at 6:30 pm. Ticket price includes three course meal. Learn More
Saturday, February 4, 2023
Backyard Composting Class
Learn from Montgomery County Master Gardeners the simple, cost-effective way to enrich your lawn and garden with compost made in your own backyard at the Backyard Composting Class. Compost is the best way to improve soil's health and ability to hold moisture while managing yard trimmings at the same time. Registration is not required for this FREE class. The class is held at the Township's Outdoor Composting Classroom on Millennium Forest Drive from 10:00 – 11:30 am. Learn More
​SCI://TECH Expo Day
SCI://TECH events are family-friendly, free, and open to the public from 10:00 am to 4:00 pm at The Woodlands College Park High School. Join the thousands of visitors that come to explore the scientific world through hands-on science experiments at the The Huntsman Elementary Science Festival. Watch talented students compete at the Math Bowl, and solve challenges at the PBK Sci.Math.e.Lon. Learn More
Dueling Pianos with Flight of the Keys
Enjoy an evening full of music, laughter, and fun hosted by Sean Cowin's Flight of the Keys at Glade Arts Foundation, 2000 Woodlands Pkwy, The Woodlands, TX 77380 at 8:00 pm. A la carte menu, handcrafted cocktails, and a sommelier curated wine list available. Learn More
"An Evening of Elegance" Annual Rotary Club Gala
Rotary Club of The Woodlands' annual fundraising gala, An Evening of Elegance, will be held at The Woodlands Waterway Marriott beginning at 6:30 pm. This year's theme is "Get in the Game" as the gala takes place a week before the Super Bowl. Guests can "get in the game" by wearing a favorite football jersey or choose to wear a formal gown. Learn More
Sunday, February 5, 2023
Cars & Coffee for a Cause
The Woodlands Car Club car enthusiasts gather at Market Street the first Sunday of each month from 6:30-10:00 am to show off special vehicles within the car community, be a supportive partner with Market Street and the local community, share information about needful nonprofit organizations in Montgomery County, and to give back monetarily as well. The club collects coins/change to donate to the Market Street "Change for Charities" program that will benefit nonprofit organizations in Montgomery County. Learn More
Cypress-Woodlands Junior Forum 40th Celebration
The Cypress-Woodlands Junior Forum is celebrating 40 years of heartfelt service in the Cypress-Woodlands area and the surrounding communities with a cocktail buffet, music, and dancing. The celebration will be held at The Peach Orchard from 5:00 – 8:00 pm. Learn More
Looking for more to do? Discover upcoming local festivals on our spring festivals guide at: www.hellowoodlands.com/spring-festivals-in-the-woodlands-area-2023.
Check Hello Woodlands' Calendar Page and the monthly 31 Things to Do list for more events as they come up!
You can sponsor one of our guides! By sponsoring a guide, your company name (organization or event) and logo will be included on the featured photo of the article published on the Hello Woodlands website. Your company name will also be included within the article along with a paragraph sharing more about your business with your logo and a link to your website. Email info@hellowoodlands.com for more information.