entertainment
Rotary Club's Evening of Elegance Gala set for February 4, 2023
By |
THE WOODLANDS, TX — SAVE THE DATE! Rotary Club of The Woodlands' annual fundraising gala, An Evening of Elegance, will be held on February 4, 2023, at The Woodlands Waterway Marriott. This year's theme is "Get in the Game" as the gala takes place a week before the Super Bowl.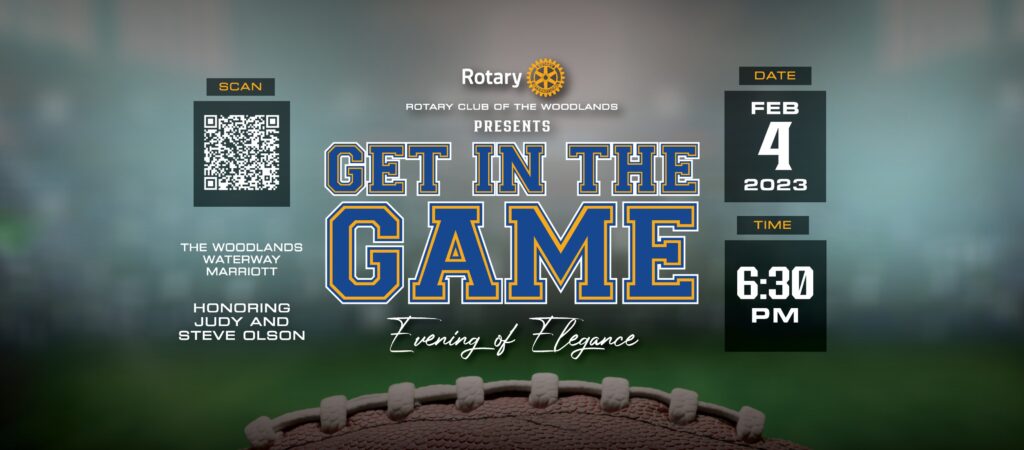 J.J. and Amy Hollie have been selected as this year's gala chairs. J.J. is President and CEO of The Woodlands Chamber of Commerce and a member of the Rotary Club. Amy Hollie is the president and owner of GuideU, a personalized college counseling service for residents of Montgomery County, TX. "Amy and I were humbled and honored when we were asked to lead the 2023 Rotary Gala. We don't take this role lightly and we did not want to accept unless we knew we could lead the committee to a truly successful gala," remarked J.J. "We know how important this fundraiser is for the Rotary Club to achieve its mission, which includes funding Rotary House, Rotary outreach and Rotary scholarships," said Amy. "Personally, they had me at scholarships!"
This Presenting Sponsor for this year's gala is The Richmond Family. "Our family could not be more excited to support the Rotary Gala as they honor Judy and Steve Olson. Both the Olsons and Rotary are pillars in our community and it is our pleasure to support those who have supported so many over the years," commented Zach Richmond.
Each year, a person (or persons) is recognized for embodying and exemplifying the Rotary motto of Service Above Self. Last year, Congressman Kevin and Cathy Brady were honored for their work on the local and national level. This year's honorees are Judy and Steve Olson. "The Olsons have a rich history in The Woodlands and a long list of service to the community. Judy Olson has served on many nonprofit boards, including CASA and in 2019, Governor Greg Abbott appointed Judy to the Stephen F. Austin State University Board of Regents for a 6-year term. Judy is a Paul Harris Fellow and served as president of the Rotary Club of The Woodlands and is currently president of The Woodlands Rotary Club Foundation.
Steve, an avid cyclist, served on the Greenspoint Club board of directors for 5 years. He and Judy are known for generously donating their home at Red Oak Ranch for charity dinners, which have raised nearly $100,000 for charities near to their hearts.
"This won't be your typical evening of elegance," remarked Kay Boehm-Fannin, Vice President of Fundraising for Rotary Club of The Woodlands. "The committee has selected a fun, whimsical theme where guests can 'get in the game' sporting a favorite football jersey or a formal gown!"
The theme reflects the foundation of the Rotary Club, which is service above self. Rotarians "get in the game" through countless community outreach projects, providing for Rotary House, a place to stay for those traveling to The Woodlands for extended medical care, and by providing scholarships to deserving high school and Lone Star College students.
The Rotary Club of The Woodlands was established in 1975. The Rotary motto of "Service Above Self" is based on the Four Pillars: is it the truth, is it fair to all concerned, will it build goodwill and better friendships, and will it be beneficial to all concerned?
On any given day, Rotarians can be found volunteering in our community, whether it is sharing meals with the kids at the Yes to Youth shelter, making home improvements for a family in need, donating blood, mentoring elementary school students, hosting international exchange students, funding polio eradication, or participating in disaster relief and response.
Sponsorships are available now. Please visit www.betterunite.com/thewoodlandsrotaryclubfoundation-2023rotaryeveningofelegance-getinthegame or contact Ann Wolford at awolford@thewolfordgroup.com. The Woodlands Rotary Club Foundation is a 501(c)3 nonprofit organization.