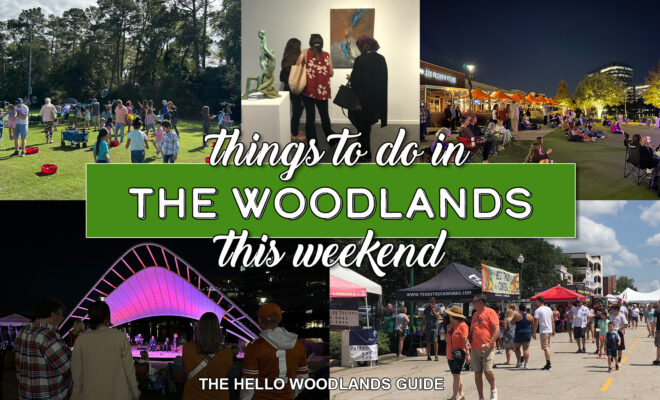 Art & Culture
Things to Do in The Woodlands Area This Weekend, March 31 – April 2
By |
Looking for something to do in The Woodlands area this weekend? Hello Woodlands has you covered! Find out what's happening the weekend of March 31 – April 2, including a color run, a health & wellness expo, Easter events, and more!
Friday, March 31, 2023
Hometown Heroes Awards Ceremony 2023
Mr. George P. Mitchell inducted the first class of Hometown Heroes in 1999, as part of The Woodlands' 25th Anniversary celebration. Since this time, 150 individuals, businesses and non-profit organizations have received this honor. Heroes are celebrated at The Woodlands Celebration of Excellence Gala, which will be held on Friday, March 31, 2023 at The Woodlands Waterway Marriott. Learn more and purchase tickets at www.hometownheroesgala.org.
Experience ELLE Pop-Up with Tiffany Lassiegne
Join Experience ELLE with Tiffany Lassiegne on Friday, March 31 at 7:00 p.m. at Black Walnut Cafe in The Woodlands! You are invited to a breakthrough and turnaround service! Join us for a time of refreshing and saturation in the Holy Spirit. Come expectant! Doors open at 6:30pm, Pop-Up starts at 7pm. Full menu is available for purchase. Learn more and register at www.eventbrite.com/e/experience-elle-pop-up-tickets-577665652517
Montgomery County Fair & Rodeo (March 23-April 2)
The Montgomery County Fair & Rodeo features live concerts, magic shows, animal races, kids' days, a scholarship chili cookoff, golf tournament, livestock auction, non-livestock shows, a scholarship trail ride, and much more. Learn More
Live on the Lawn at Market Street
Enjoy live music on the lawn at Central Park in Market Street with Sarah Kelly Music School from 6:30 – 8:00 p.m., on Friday nights. Blankets and lawn chairs welcome. Learn More
Family BINGO Night
Bring your family and friends to this fun-filled monthly BINGO night! Prizes awarded for a good BINGO. Pre-registration required. Fee: $5 per person. The Township event is held from 6:30 – 8:30 p.m. at the Rob Fleming Recreation Center, 6464 Creekside Forest Drive. Learn More
Saturday, April 1, 2023
Warrior Color Run
The Warrior Color Run has grown to become one of the most anticipated events of the spring! Runners of all ages and ability are invited to join The Woodlands Christian Academy for a morning of colorful fun on Saturday, April 1 at 10:00 a.m. Sponsored by Hunter Family Orthodontics and Parke & Rogers Dentistry, this event is open to the entire Woodlands community and is an opportunity to experience the TWCA culture, campus, and fellowship with students and staff. Sign up today at www.bit.ly/WarriorColorRun2023
Common Ground Band Las Vegas-Style Show
Las Vegas is coming to The Woodlands at Dosey Doe The Big Barn. Annie Lyon and Brian Pollack from Las Vegas join The Woodlands' own Common Ground Show Band for a Las Vegas-style evening of high energy party music. Local artists include Darryl Bayer leading the horn section on trumpet with Gene Kene on keyboards as the music director of this dynamic and exciting nine-piece band. Learn More
Classical Guitar Concert with John Vidovic & Kyle Comer
Enjoy a classical guitar concert with John Vidovic & Kyle Comer at Village Books, 9955 Woodlands Pkwy Suite F, The Woodlands, TX 77382 at 8:00 pm, presented by Guitar Houston. Attendees may bring a bottle of wine. Learn More
Conroe ISD Professional Job Fair
Conroe ISD will hold a Professional Job Fair at Grand Oaks High School, 4800 Riley Fuzzel Rd, Spring, TX 77386, from 9:00 a.m. to noon. Learn More
Building Hope Gala
The Building Hope Gala benefits Habitat for Humanity's mission to provide affordable housing to those in need. This year's Building Hope Gala will have dinner, live and silent auctions, a homeowner testimonial, and a "paddles up" opportunity to raise money for future Habitat homes. The gala is from 6:00 p.m. to midnight at The Woodlands Waterway Marriott Hotel & Convention Center, 1601 Lake Robbins Dr, The Woodlands, TX 77380. Learn More
For the Love of Country Concert
The Texas Master Chorale's For the Love of Country Concert celebrates America in a patriotic musical tribute featuring a chorus and orchestra. The performance will be held at John Wesley United Methodist Church, 5830 Bermuda Dunes, Houston, TX 77069 at 7:30 pm. Learn More
March for Marrow
The 14th Annual March for Marrow will be held at Northshore Park, 2505 Lake Woodlands Dr, The Woodlands, TX from 8:00 to 11:30 a.m. in-person or virtually! The Aplastic Anemia and MDS International Foundation provides education, support, and hope for patients living with aplastic anemia, myelodysplastic syndromes (MDS), paroxysmal nocturnal hemoglobinuria (PNH) and related bone marrow failure diseases. You can support the work of AAMDSIF by simply donating to March for Marrow TX, creating a team or supporting a team and by participating in the raffle. Learn More
Kayak Egg Hunt
Take your traditional egg hunt to the water with this unique opportunity to hunt for eggs by kayak! Eggs will be "hidden" along the waterway with an egg-citing surprise after the event. Four dates and times are available. Kayaks depart from Riva Row Boat House and the hunt is from 9:00 – 10:00 am. Learn More
Mother Daughter Tea
Calling all princesses from across the land, you are invited to a tea party that is sure to be grand! Mothers and daughters can enjoy a royal morning of tea, refreshments, crafts, games, and photos at the annual Mother Daughter Tea. The tea is held at the Rob Fleming Recreation Center from 10:00 am to noon. Pre-registration required. Fee: $50 resident; $60 non-resident; $15 additional sibling. Learn More
Cleft Smiles 5k Family Fun Run/Walk
The Cleft Smiles 5k is a timed, family fun event where participants are welcome to run or walk. Prizes will be presented to 1st, 2nd, and 3rd place finishers! After the run there will be activities including a photo booth, games, music, prizes, bounce houses, face painting, vendor booths, and food trucks. The Cleft Smiles 5k Family Fun Run/Walk will take place at Rob Fleming Park beginning at 8:30 a.m. All proceeds from this event will be used to provide cleft lip and palate surgery to underprivileged children. Learn More
Morning with Mr. Bunny
Meet Mr. Bunny and join in the Easter egg hunt at the Carl Barton, Jr. Park softball fields. Don't forget your camera for photos with Mr. Bunny! This free event is for ages 18 months to 10 years. Egg hunts will be separated into different age groups. All egg hunts begin at 10:15 am. Learn More
Health, Wellness & Fitness Expo
The Health, Wellness & Fitness Expo is a free, family friendly pop-up event in Market Street featuring all things health! Bring your family, friends or workout buddy and visit health and fitness vendors, check out the free health screenings available, or join the kid-friendly activities. The event will take place rain or shine. Learn More
Easter Egg Hunts at Spring Fire Stations
Three Spring Fire Stations, 71, 74 & 75, will have Easter Egg Hunts on Saturday, April 1 starting at 10:00 a.m. for the littlest egg hunters (infants to kindergarten). The hunts for school-age children (grades 1-5) will begin at 11:00 a.m. The locations are: Spring Fire Station 71 at 646 E. Louetta, Spring Fire Station 74 at 23803 Aldine Westfield, and Spring Fire Station 75 at 3975 FM 2920. Don't forget your baskets! Learn More
P-6 Farms Easter Farm Days (April 1-2)
Join P-6 Farms for Easter Farm Days, home to the best Easter Egg Huntin' in Texas! With activities like vintage amusement rides, farm fun attractions, and meeting the Easter Bunny himself, you couldn't ask for a better Spring tradition! P-6 Farms is located at 9963 Poole's Road, Montgomery, Texas 77356 and the Farm Days event is from 10:00 a.m. – 5:00 p.m. Learn More
Woodland Babies Scavenger Hunt
Search for and learn about cute baby wild animals found along our area's forested trails using a trail map, scavenger hunt, and educational signage. The Woodland Babies Scavenger Hunt starts at 11:00 a.m. at the Rob Fleming Recreation Center Tree House #1. Ages 4+. Learn More
Waterway Nights
Enjoy live music by local and regional performers in the picturesque setting of Waterway Square at Waterway Nights from 6:30 – 8:30 pm. Taking place in the spring and summer, Waterway Nights makes for an eventful night out in The Woodlands Town Center. Coolers, picnic baskets, blankets and lawn chairs are permitted. Glass is prohibited. All entertainment is weather-dependent and subject to change. Learn More
Montgomery County Funky Junque Market
Shop over 130 small businesses and fashion truck boutiques at the Montgomery County Funky Junque Market, held at the Lone Star Convention Center, 9055 Airport Rd. in Conroe, from 9:00 a.m. to 4:30 p.m. There will be a huge selection of women and children's boutique clothing, home, garden and holiday decor, gourmet food decors, fashion and handmade jewelry and so much more! Learn More
Sunday, April 2, 2023
Cars & Coffee for a Cause
The Woodlands Car Club enthusiasts gather at Market Street the first Sunday of each month from 6:30-10:00 a.m. to show off special vehicles within the car community, be a supportive partner with Market Street and the local community, share information about needful nonprofit organizations in Montgomery County, and to give back monetarily as well. The club collects coins/change to donate to the Market Street "Change for Charities" program that will benefit non-profit organizations in Montgomery County. Learn More
Rayford Sunday Market
Head to the Imperial Oaks Shopping Center at 2301 Rayford Road for food, fun, and shopping. The market brings together a collection of artisan crafters, small businesses, and food trucks for shopping and entertainment. Markets are from 11:00 a.m. – 4:00 p.m. Learn More
Plan Ahead: Upcoming Events
Easter Events
Easter is next Sunday, and events are happening all over The Woodlands area! Discover local Easter events here: www.hellowoodlands.com/local-easter-events-2023
The Woodlands Waterway Arts Festival
Purchase your tickets now for the Fidelity Investments The Woodlands Waterway Arts Festival, returning April 14, 15 & 16, 2023. Celebrating its 18th year, this renowned event brings 200 fine artists, live music, craft beer, wine and so much more to life along The Woodlands Waterway and in Town Green Park. Produced by The Woodlands Arts Council, a 501(c)(3) non-profit, funds raised from the arts festival directly impact arts students, educators, programs and organizations across Montgomery County! Learn More
---
Check back on Hello Woodlands' Calendar Page and the monthly 31 Things to Do list for more events as they come up!
Have an event coming up or want to highlight your business? You can sponsor one of these popular weekend guides! By sponsoring a guide, your company name (organization or event) and logo will be included on the featured photo of the article published on the Hello Woodlands website. Your company name will also be included within the article along with a paragraph sharing more about your business with your logo and a link to your website. Email info@hellowoodlands.com for more information.