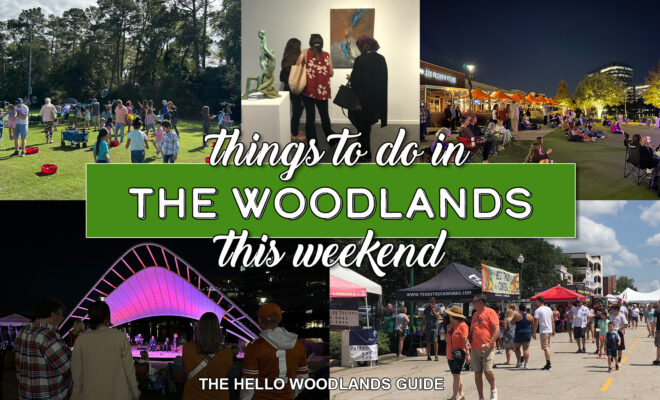 Art & Culture
Things to Do This Weekend in The Woodlands Area
By |
Looking for something to do this weekend in The Woodlands area? Hello Woodlands has you covered! There's something for everyone happening right here this weekend – don't miss out!
Saturday, January 28, 2023
Arbor Day Tree Giveaway
Celebrate nature at one of the longest running events in The Woodlands! The 47th Annual Arbor Day Tree Giveaway, held at Rob Fleming Park from 9 am to noon, encourages residents to plant free seedlings in their yards, community open spaces, and forest preserves. This year, 12 varieties of native seedlings will be available, including both canopy and understory trees. This is a FREE event for The Woodlands residents. Learn More
"On Canal Street" Jazz Concert
Enjoy world-class, award-winning jazz in an intimate setting right here in The Woodlands! Village Books will be hosting the "On Canal Street" jazz concert for one night only. Tickets are available through kimandbill.com. Space is limited.
Houston Center for Photography Workshop
Photographers of all skill levels can enjoy a free class conducted by the Houston Center for Photography at City Place Plaza beginning at 10:00 am. The focus is Composition Basics: Line, Shape and Texture, and all camera types are suitable. Space is limited. Learn More
Student Art Scholarship Display
Student artwork submitted by area high school seniors to The Woodlands Arts Council for Student Art Scholarships will be on display at The Woodlands Mall from noon to 4:00 pm in front of Nordstrom. Ribbons will be placed on awarded artwork. Learn More
Exotic Reptile & Pet Show (Saturday & Sunday)
Buy or browse thousands of reptiles, amphibians, invertebrates, feeders, and supplies in this two day event. Get up close and personal with some of the most exotic animals on the planet at the HERPS Exotic Reptile and Pet Show. The show and sale is open to the public and is held at the Lone Star Convention and Expo Center. Learn More
Sunday, January 29, 2023
Forest Therapy
Forest Therapy is a slow and relaxed stroll of approximately 3-hours and a distance of no longer than 1-mile, through a natural environment. During the walk, Gabriela, Forest Therapy Guide, will help you awaken your senses and slow down to be present, away from your worries, and connect to nature. Forest Therapy meets at the Texas TreeVentures Pavilion, and the walk is from 8:00 to 11:00 am. Ages 5+. Learn More
Rayford Sunday Market Food Truck Feast
Let's hear it for the FOOD! Food Truck Feast Sundays are sure to become your favorite foodie event of the month. There are 25+ Food Truck and Food vendors to tingle your taste buds! The market is held at the Imperial Oaks shopping center from 11:00 am to 4:00 pm. Learn More
Looking for more to do? Discover upcoming local festivals on our spring festivals guide at: www.hellowoodlands.com/spring-festivals-in-the-woodlands-area-2023. Check Hello Woodlands' Calendar Page and the monthly 31 Things to Do list for more events as they come up!
You can sponsor one of our guides! By sponsoring a guide, your company name (organization or event) and logo will be included on the featured photo of the article published on the Hello Woodlands website. Your company name will also be included within the article along with a paragraph sharing more about your business with your logo and a link to your website. Email info@hellowoodlands.com for more information.