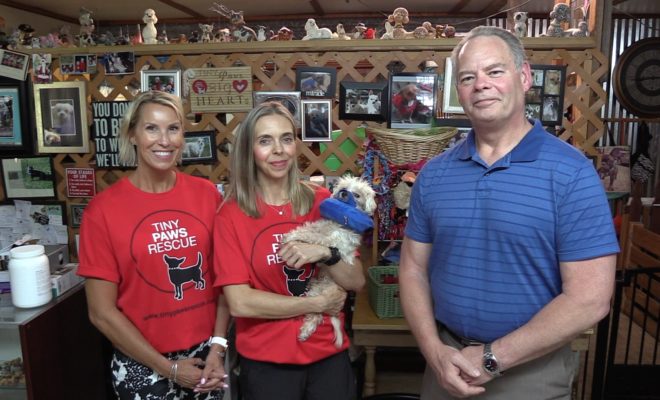 Pets
Tiny Paws Rescue saving small breed dogs
By |
Tiny Paws Rescue is a non-profit, all volunteer organization with foster homes and is dedicated to the rescue, rehabilitation and re-homing of abused, abandoned and neglected small breed dogs.
With the help of Randy Lovelace of Paragon Independent Insurance Agencies, Hello Woodlands had the opportunity to interview Carla McDaniel and Genny Murphy of Tiny Paws Rescue who shared more about the non-profit organization.
Watch the interview on the Hello Woodlands Facebook page:

The Tiny Paws Resale Shop is located at 308 E Main Street in Tomball, Texas and is open Friday and Saturday from 11 to 4 p.m. Donations and proceeds from the resale shop go to directly benefit the Tiny Paws Rescue dogs.
Join Tiny Paws Rescue for their upcoming fundraiser on Thursday, June 14 from 5 to 8 p.m. at ALEX AND ANI in Market Street in The Woodlands as 15% of all sales will be donated to their organization during the event.
To contact Randy Lovelace, who will donate $15 to Tiny Paws Rescue per insurance quote given during the second quarter of 2018, call 281-298-0440 or email rlovelace@paragoninsagencies.com. Every quarter, Randy Lovelace of Paragon Independent Insurance Agencies gives back to a local non-profit organization in our community through his "Referral for a Cause" program. To learn more about Paragon Independent Insurance Agencies and types of coverage, visit ParagonTheWoodlandsTX.com.
Donations made to Tiny Paws Rescue help support the daily care of the dogs whose lives and well being depend on the staff and overhead for their new location. Tiny Paws Rescue does not receive funding and solely relies on donations. The dogs come from shelters, animal control, puppy mills, as well as owner turn-ins and are immediately taken to their veterinarian for a complete physical examination. The dogs are then spayed or neutered, checked for both heart and intestinal worms, receive appropriate treatments and then appropriately vaccinated. Next, Tiny Paws and volunteer foster parents work hard to be sure that their foster dog feels safe and loved while working on house training, crate training, socialization, and more.
Ready to adopt? All of their dogs are spayed/neutered, fully vaccinated, heart worm tested, fecal tested, microchipped, on heart worm preventative and have all other veterinary needs taken care of prior to posting as adoptable.
To learn more about Tiny Paws Rescue and the Resale Shop plus how to get involved, adopt a dog or donate online, visit their website at TinyPawsRescue.com.