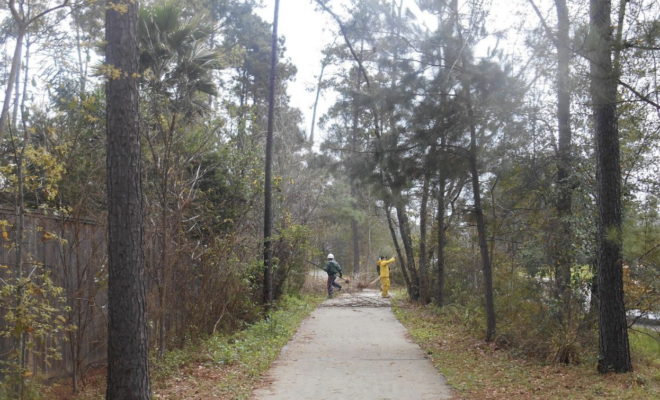 Photo Credit: The Woodlands Township
News
Township addresses concerns on Weather-Related Tree Stress
By |
Throughout The Woodlands Township, there are trees in several parks, streetscapes and open space reserves that are showing signs of stress. With the 2022 drought and recent Christmas weekend freeze, trees and plants in various landscaped beds and public reserves have been challenged. 
The Woodlands Township Parks and Recreation Department will be waiting until warmer temperatures to understand the full impact of the freeze. A cutback too early in the season can prove harmful and may prove fatal to the plant if another hard freeze were to occur. The annual cutback is typically performed in late February to allow for the plant material to make a comeback, and this practice will continue this year.
"The Township Parks and Recreation Department is currently monitoring several deciduous trees that lost their leaves prematurely before fall, and evergreens and nearly evergreens that have discoloration and thinning foliage," says Township Director of Parks and Recreation John McGowan. "We will re-evaluate the stressed trees' health as trees start to green up and grow in the spring. During this time, a decision on removal, pruning and fertilization (in some cases) will be made."
The Woodlands Township encourages residents to please contact the Township Parks and Recreation Department this spring of a tree that has not recovered or come out of dormancy, and a team will perform a tree assessment and removal if necessary.