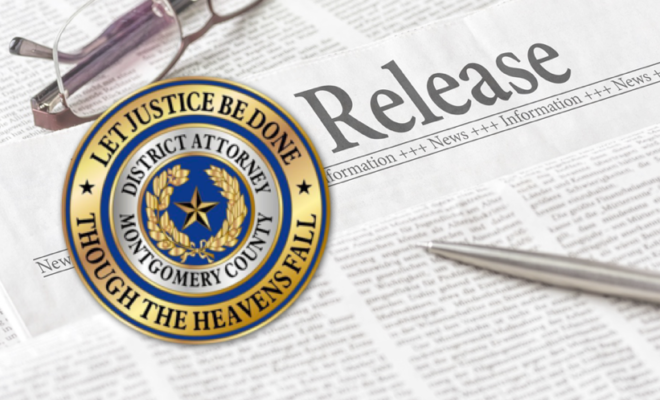 News
Jury sentences Serial Child Abuser to Life in Prison Without Parole
By |
On Wednesday, February 1, 2023, Kelvin Valladarez-Martinez, 46, was sentenced to life in prison for sexually abusing two young girls over a period of several years. Assistant District Attorneys Ryan Fuller and Mary Garcia presented the case in the 221st District Court, the Honorable Judge Lisa Michalk presiding.
Both victims, now grown, testified that the abuse began when they were still in elementary school and happened most mornings before school after their mother left for work. Jurors learned that shortly after one of the sisters outcried to a teacher at school about the abuse, law enforcement began an investigation working in conjunction with staff at the Montgomery County Children's Safe Harbor. Through their investigation, detectives learned that Valladarez-Martinez had been sexually abusing both girls for many years, often while both girls were in bed together. After hearing testimony over three days, the jury deliberated for approximately one hour before finding Valladarez-Martinez guilty of Continuous Sexual Abuse of a Child.
During the punishment phase, prosecutors from the Montgomery County District Attorney's Office asked the jurors to give justice to the victims in this case, reminding them that the emotional scars inflicted by Valladarez- Martinez would never fully go away. After a brief deliberation, the jurors sentenced Valladarez-Martinez to life in prison. Due to the nature of the charge, he will never become eligible for parole.
Prosecutor Ryan Fuller shared, "ADA Garcia and I are in awe of the strength of the survivors. Their brave testimony and steadfast commitment to the truth ensured we got justice in this case."
District Attorney Brett Ligon stated, "These two little girls can sleep with the assurance that this monster dressed up as a man will never hurt them, or anyone else, ever again."
Source: Michael R. Holley, First Assistant District Attorney, Montgomery County District Attorney's Office