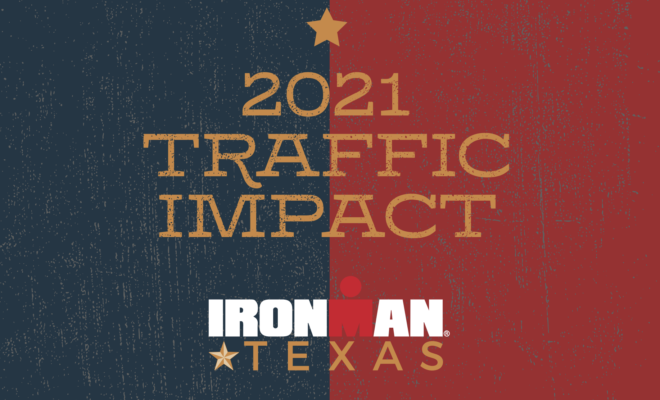 Photo Credit: IRONMAN Texas
Fitness & Sports
Traffic Impact of IRONMAN Texas in The Woodlands
By |
The Woodlands will be hosting the Memorial Hermann IRONMAN North American Championship and athletes from around the world on Saturday, October 9, 2021.
Starting Wednesday, October 6 the "IRONMAN Village" will open in the Waterway Parking Lot where athletes will be checking in. Participants, VIP's, volunteers, and race spectators can shop at the Official IRONMAN Store, visit IRONMAN Partners and Vendors, Information Center, and more. View the Event Schedule
On Saturday morning athletes will begin with a 2.4-mile swim in Lake Woodlands, beginning at North Shore Park and ending in the canal at Town Green Park. The 112 mile bike course navigates through The Woodlands, then enters into Northern Harris County where athletes travel two loops on the Hardy Toll Road. The day ends with a 26.2-mile run taking place entirely within The Woodlands and concluding with a spectacular finish on Waterway Ave. Competitors have 17 hours after the final swim wave begins. View Course Maps
TRAFFIC IMPACT
Roads in and around The Woodlands, Texas will be impacted starting as early as 7 a.m. on Saturday, October 9.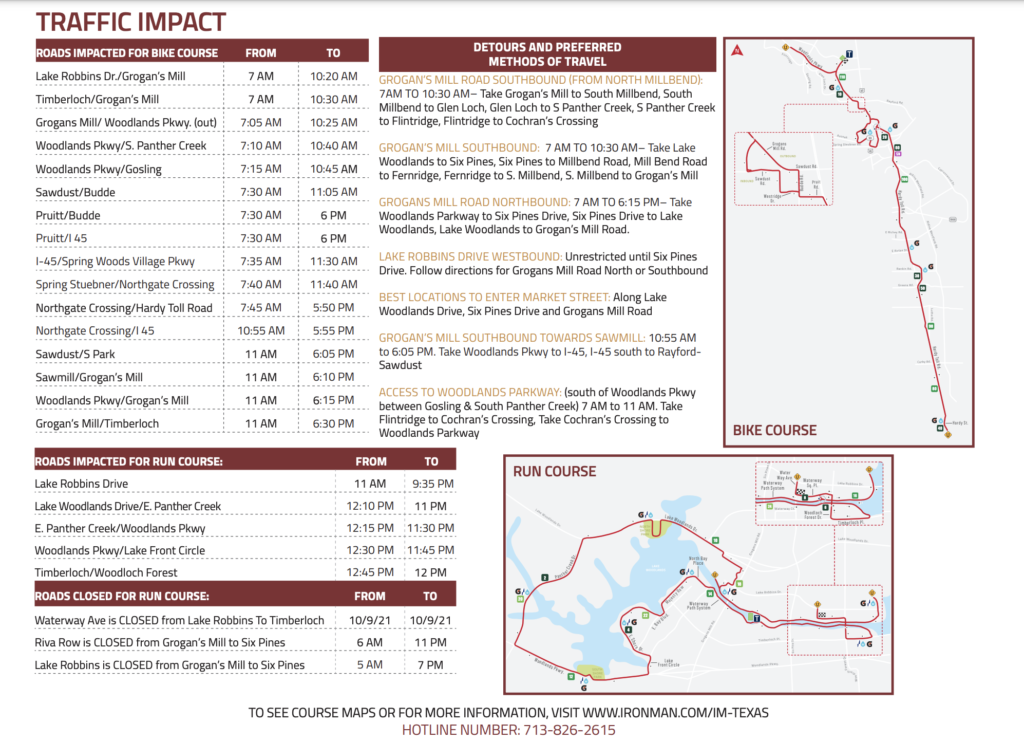 Detours and Travel Routes on October 9, 2021:
GROGAN'S MILL ROAD SOUTHBOUND (FROM NORTH MILLBEND): 7AM TO 10:30 AM – Take Grogan's Mill to South Millbend, South Millbend to Glen Loch, Glen Loch to S Panther Creek, S Panther Creek to Flintridge, Flintridge to Cochran's Crossing
GROGAN'S MILL SOUTHBOUND: 7 AM TO 10:30 AM – Take Lake Woodlands to Six Pines, Six Pines to Millbend Road, Mill Bend Road to Fernridge, Fernridge to S. Millbend, S. Millbend to Grogan's Mill
GROGANS MILL ROAD NORTHBOUND: 7 AM TO 6:15 PM – Take Woodlands Parkway to Six Pines Drive, Six Pines Drive to Lake Woodlands, Lake Woodlands to Grogan's Mill Road.
LAKE ROBBINS DRIVE WESTBOUND: Unrestricted until Six Pines Drive. Follow directions for Grogans Mill Road North or Southbound BEST LOCATIONS TO ENTER MARKET STREET: Along Lake Woodlands Drive, Six Pines Drive and Grogans Mill Road
GROGAN'S MILL SOUTHBOUND TOWARDS SAWMILL: 10:55 AM to 6:05 PM. Take Woodlands Pkwy to I-45, I-45 south to Rayford-Sawdust
ACCESS TO WOODLANDS PARKWAY: (south of Woodlands Pkwy between Gosling & South Panther Creek) 7 AM to 11 AM. Take Flintridge to Cochran's Crossing, Take Cochran's Crossing to Woodlands Parkway
Best places to watch
Swim: Along the Lake Woodlands Pkwy Bridge just East of North Shore Park. Also, along the canal between Lake Woodlands and the swim finish (best accessed from the stairs down to the waterway off Grogan's Mill). At 5 a.m. the transition area opens and at 7:25 a.m. the age-group rolling race starts.
Bike: The streets and neighborhoods are heavily congested during the bike portion of the event. In order to avoid getting stuck out on the course, the best option for the bike start and finish is along Lake Robbins.
Run: Along the waterway (3 loop course), especially near the restaurants close to Waterway Ave and near the transition area. No tents are permitted on the waterway, however North Shore Park is a good place for families/kids mid-day.
View the IRONMAN Texas Spectator Guide here.
For more information about IRONMAN Texas visit Ironman.com/Texas and for maps and course information visit Ironman.com/im-texas
Stay tuned for more information, photos, and updates from IRONMAN Texas!
Source: IRONMAN Texas