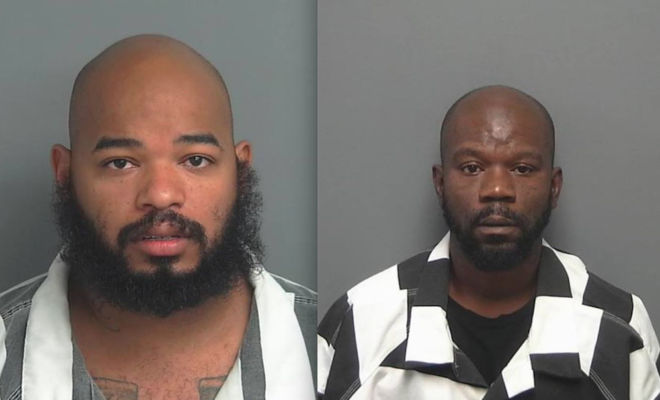 News
Two arrested for Burglary and Drug Possession
By |
On October 4, 2017, at about 12:26 pm, Deputies with the Montgomery County Sheriff's Office were dispatched to the Macaroni Grill restaurant located at 2155 Lake Woodlands Drive in reference to a Burglary of a Motor Vehicle. Deputies arrived and learned the victim's vehicle was locked and the front passenger window had been broken out. The unknown suspect(s) reached into the vehicle and removed a backpack, which contained a school book and a laptop computer.
At approximately 12:37 p.m., Shenandoah Police Sergeant Pullen was on patrol when she pulled into the parking lot of Lupe Tortillas restaurant located at 19437 Interstate 45 S, Shenandoah, TX 77385. Sergeant Pullen observed a black male looking into a vehicle window and had what appeared to be a window punch in his hand. When the male suspect noticed Sergeant Pullen he immediately began walking towards another vehicle being driven by another black male suspect. Sergeant Pullen then detained the two males and conducted an investigation into their suspicious activity. During the investigation Sergeant Pullen located inside their vehicle a laptop computer and three cell phones along with marijuana. The laptop computer that was found in the suspect's vehicle was the same laptop that was stolen from the burglary of a motor vehicle at Macaroni Grill.
Both male suspects were arrested for possession of marijuana and burglary of a motor vehicle. The laptop computer was later released back to the victim.
Source: Lieutenant Scott Spencer, Montgomery County Sheriff's Office, Executive Division