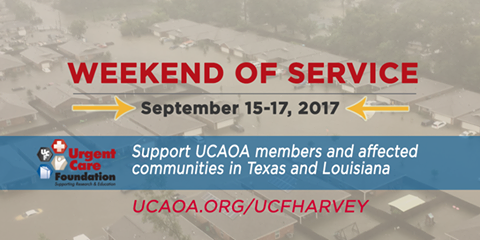 Health
Urgent Care Foundation to hold "Weekend of Service" for Harvey Victims
By |
Nineteen urgent care centers in regions of southeast Texas and Louisiana affected by Hurricane Harvey will participate in a "Weekend of Service" to offer healthcare services and resources to residents irrespective of their ability to pay in full. The event will be funded by the Urgent Care Foundation with donations from vendor partners such as Practice Velocity as well as urgent care centers throughout the country on Friday, September 15 through Sunday, September 17.
Participating urgent care centers, including Davam Urgent Care located at 6022 FM 1488, will provide free or discounted services to flood victims that may have lost everything and are without access to health insurance information. All proceeds from this campaign will assist participating providers with resources that are not covered by insurance.
A complete list of the nineteen urgent care facilities in southeast Texas and Louisiana can be viewed at https://www.ucaoa.org/page/UCFHarvey.
The event will be coordinated by the Urgent Care Foundation, which is contributing $15,000 to fund the event. The Urgent Care Foundation is the nonprofit subsidiary of the Urgent Care Association of America established to support and enhance the urgent care industry through research, education and innovation. The Urgent Care Association of America (UCAOA) is a membership association for urgent care health and management professionals, clinics and those who support the urgent care industry, providing leadership, education and resources for the successful practice of urgent care for its members.
For more information on the Weekend of Service visit https://www.ucaoa.org/page/UCFHarvey.