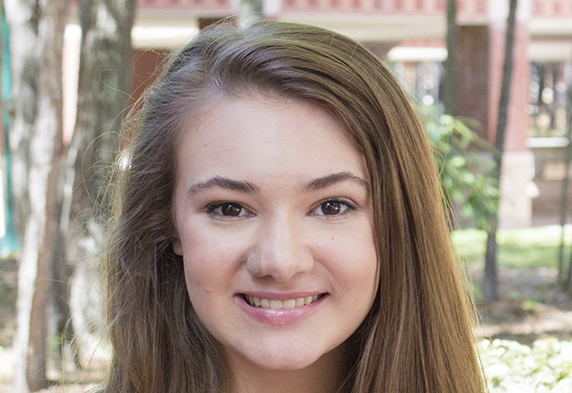 People
Lone Star Student Named All-USA Community College Academic Team
By |
Lone Star College-Montgomery student Savannah Martin is one of 20 two-year college students named to the All-USA Community College Academic Team.
Savannah is being honored for her outstanding intellectual achievement, leadership, community and campus engagement with a $5,000 scholarship, furnished by Follett Higher Education Group.
Savannah will be introduced at Phi Theta Kappa's Presidents Breakfast held during the American Association of Community Colleges (AACC) Convention on April 24, in New Orleans, Louisiana. In addition to scholarship funds, she will be presented with a commemorative medallion. Dr. Rebecca Riley, president at Lone Star College-Montgomery, will also receive recognition for her leadership and a commemorative obelisk.
The All-USA program is widely recognized as the most prestigious academic honor for students attending community college. Each college may nominate two students for showing intellectual rigor and demonstrating academic achievement, leadership and civic growth. The program also recognizes students who extend their community college education to better themselves, their schools and their surrounding communities.
"Savannah represents the caliber of students at LSC-Montgomery and her dedication to scholarship and excellence reflects the ideals of Phi Theta Kappa," said Sarah Palacios-Wilhelm, dean of academic support and Phi Theta Kappa advisor at LSC-Montgomery. "As advisors for the Beta Delta Iota Chapter, Melissa (Heselmeyer) and I are very happy to see her hard work and achievements celebrated."
The 2017 All-USA Community College Academic Team is sponsored by Follett Higher Education Group with additional support provided by Phi Theta Kappa and AACC.
The team of 20 was selected by an independent panel of judges from colleges, community and national organizations and foundations. Judges considered grades, leadership activities and, most importantly, how students extend their intellectual talents beyond the classroom.
Phi Theta Kappa also awards $100,000 additional scholarships through the Coca-Cola New Century Scholars program, sponsored by the Coca-Cola Scholars Foundation and The Coca-Cola Foundation.
Phi Theta Kappa is the premier honor society recognizing the academic achievement of community college students to grow as scholars and leaders. The Society is made up of more than 3.2 million members and nearly 1,300 chapters in nine nations.
Lone Star College offers high-quality, low-cost academic transfer and career training education to 98,000 students each semester. LSC is training tomorrow's workforce today and redefining the community college experience to support student success. Stephen C. Head, Ph.D., serves as chancellor of LSC, the largest institution of higher education in the Houston area with an annual economic impact of $3.1 billion. LSC consists of six colleges, eight centers, two university centers, Lone Star Corporate College and LSC-Online. To learn more, visit LoneStar.edu.