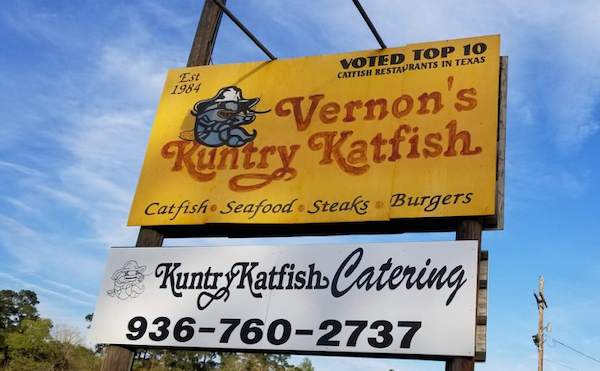 Food & Drink
Vernon's Kuntry Katfish serves Seafood and Southern Hospitality in Conroe
By |
Vernon's Kuntry Katfish in Conroe, Texas is the home for many Southern favorites along with seafood favorites such as shrimp, scallops, oysters. Customer favorites include chicken fried steak, and of course, their famous fried "katfish." Everything on their menu is cooked to order and made fresh every day, with a side of Southern hospitality along with big country portions.
Originally owned by Vernon Bowers, but after he passed away in 2001, his wife Mary Bowers still owns the restaurant and her kids Buster and Debbie run the day to day operations. Vernon's Kuntry Katfish serves home-style cooking just like your Memaw's house for 33 plus years. The family's restaurant has become a community staple of the Conroe area, as the family has always gave back to their community churches and schools.
Vernon's Kuntry Katfish didn't give up when Hurricane Harvey flooded the restaurant with four feet of water. The community came together and joined the Bowers family for benefits for their employees, they continued to get their pay so they could pay rent, their car notes and so they could live while the restaurant was down., The restaurant offered fish,fries and hushpuppies from a tent in the parking lot in exchange for donations and a GoFundMe was launched to support all of the restaurants employees during the 3 month re-construction of the restaurant.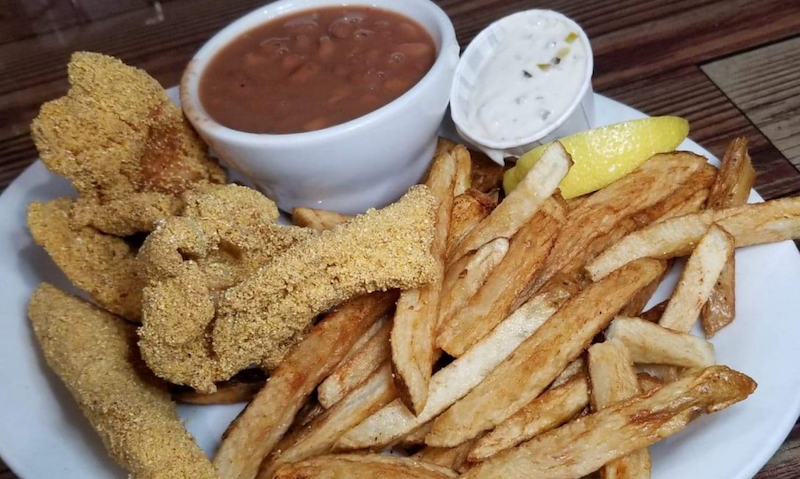 Catfish is what made them famous and one can get their farm raised catfish served fried and hand breaded, grilled or blackened. Signature Katfish dishes are their Grilled Lemon Pepper Katfish or Blackened Katfish severed Kajun Style or a full meal of Fried Katfish with Kuntry Fries, Pinto Beans & Coleslaw. If you want a little of everything, try the Seafood Platter with Two Sides – fish, shrimp, oysters, stuffed crab and scallops.
Popular appetizers include their Southern Sampler – Katfish bites, fried green tomatoes, fried yellow squash & fried pickles. Krab Kakes – 2 jumbo lump crab meat cakes with coleslaw & homemade remoulade sauce. Onion Rings and and Cream Cheese stuffed Jalapenos.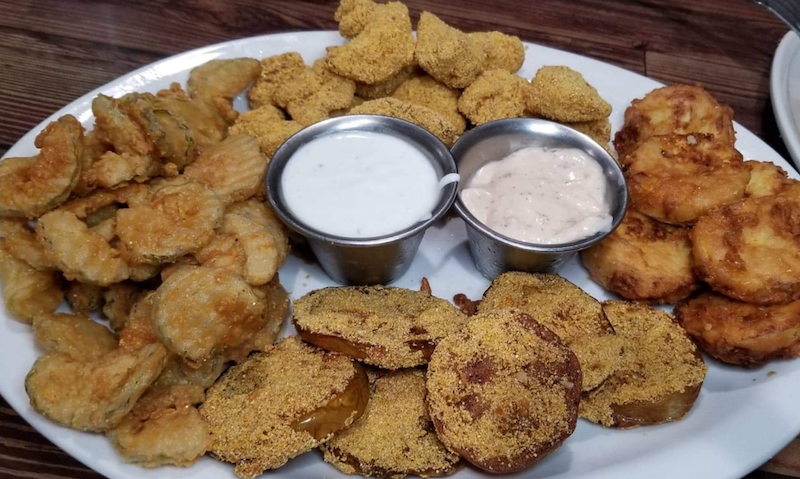 Vernon's has something to satisfy everyone's palette. Chicken and Sausage or Seafood Gumbo, Crawfish Etouffee, Shrimp Creole, blackened shrimp and scallops for some of the creole and Cajun specialities. Southern favorites include deep fried chicken tenders, pork chops, hamburger steak w/ grilled onions and their famous Chicken Fried Steak and Chicken.
Special dishes are 12 Oz Choice Ribeye – Texas Style – Certified angus beef, served with loaded baked potato, salad & texas toast. Mashed potatoes, green beans, salad & texas toast. Blackened Cajun Pork Ribeye – Texas Style – Topped w/ crawfish etouffee served w/ rice pilaf, green beans, and salad. Mashed potatoes, green beans, salad & texas toast. Blackened Cajun Pork Ribeye with Two Sides & Texas Toast – Topped w/ crawfish etouffee served w/ rice pilaf, green beans, and salad.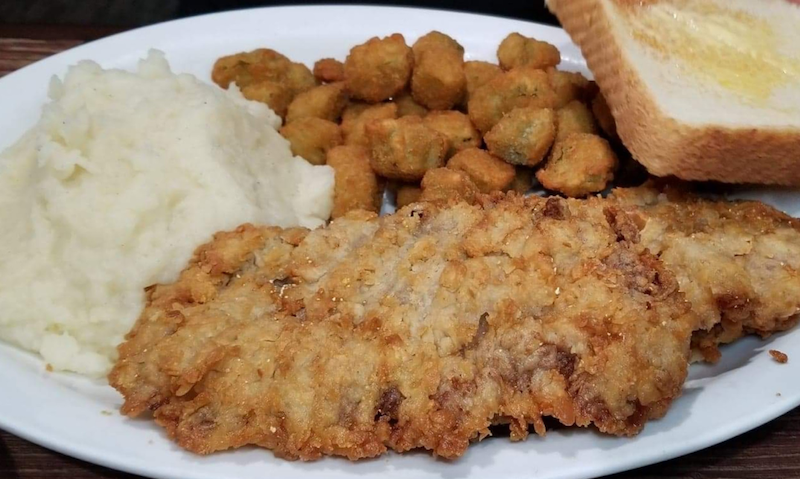 Vernon's even has Po-Boys, sandwiches, chopped beef baked potatoes, Barbecue sausage, burgers and frog legs.
Side dishes galore, Cole Slaw, Tater Tots, Pinto Beans, Kuntry Fries, Potato Salad, Fried Okra, Green Beans, Kernel Corn, Rice with Gravy, Rice Pilaf, Mashed Potatoes, Dinner Salad, Caesar Salad, Stuffed Baked Potato and Onion Rings.
Desserts, banana pudding, brownie supreme, assorted homemade pies, cobblers and their signature Good Pie – a cream cheese base, layers of bananas & pineapple topped with whipped cream, chocolate & pecans.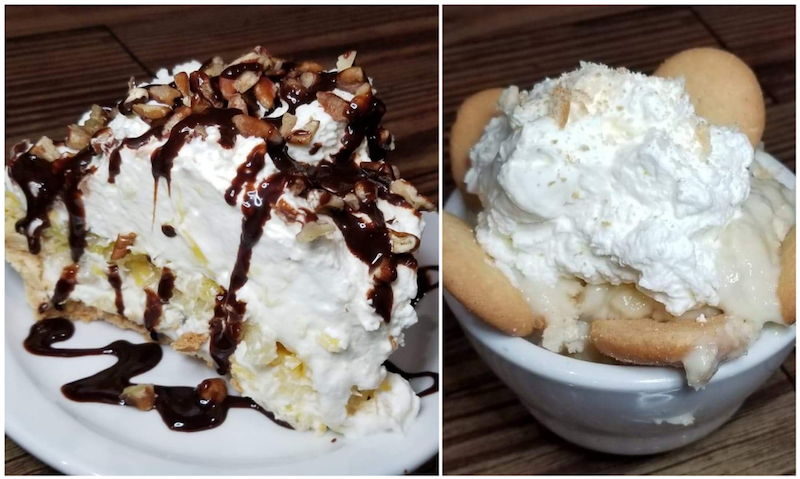 Whether you're having a casual outing with the family or you're grabbing lunch with co-workers, Vernon's Kuntry Katfish is the perfect place to go. Also be sure to ask us about our full-service catering!
The Interview
What made Vernon open a restaurant specializing in fried catfish?
Buster: "The proximity of Lake Conroe, his philosophy was if you didn't catch any fish when you were fishing on Lake Conroe, you can stop in and have some at Kuntry Katfish."
How long has the bowers family been in the Conroe area and what community involvement/ events does Vernon's Kuntry Katfish participate in?
Debbie: Been in Conroe since Dec 1981. Montgomery County Fair Association (MCFA), Conroe High School Booster Sponsor and sponsor to a variety of other schools and church organizations. We also try our best to donate to benefits and fundraisers that we're approached by.
How much did Vernon's Kuntry Katfish change after Mr. Vernon Bowers passed away in 2001?
Buster: "Mr. Vernon bowers passed away in 2001. We've kept the restaurant the exact same, from management to recipes, until Hurricane Harvey happened. We then went through the whole remodel process which truly became a humbling experience."
What positive came out after Vernon's Kuntry Katfish came after the restaurant flooded during Hurricane Harvey?
Debbie: Having to shut down after Hurricane Harvey gave us the opportunity to update and repair the restaurant due to the overwhelming response by the community. The way the community rallied around us was amazing and humbling to see. They pulled us out of the water literally and figuratively speaking. Because of the amazing community support, we were able to come back stronger than ever.
Besides the famous catfish, what else does Vernon's Kuntry Katfish do well?
Buster: Country Fried Ribeye is a customer favorite along with the Blackened Seafood options on our menu."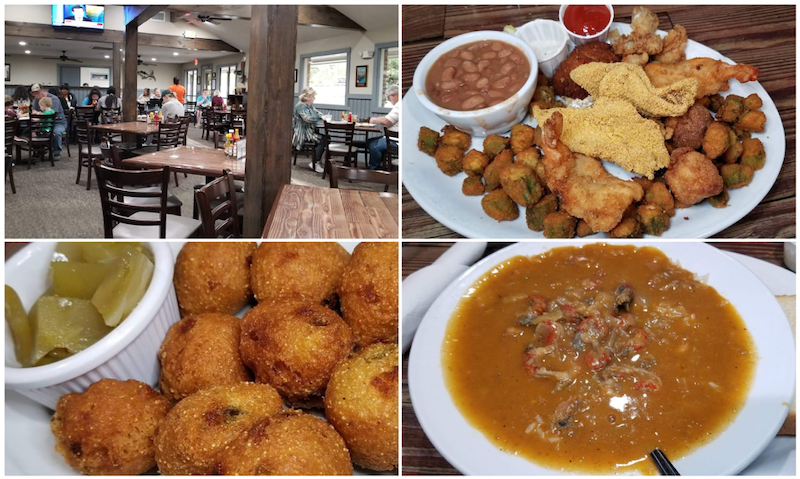 You all have some really good desserts and pies, are they family recipes?
Debbie: Good Pie – This was made at a family picnic by one of our Aunts and Dad (Vernon) kept raving how it was "GOOD PIE!". He of course had to add it to the menu after that. Our Banana Pudding and Bread Pudding are also family recipes.
What do you attribute to the restaurants long term success?
Debbie: Community involvement, Loyalty to our employees and customers
What would be your perfect meal be start to finish at Vernon's Kuntry Katfish?
Debbie: "The Seafood Platter."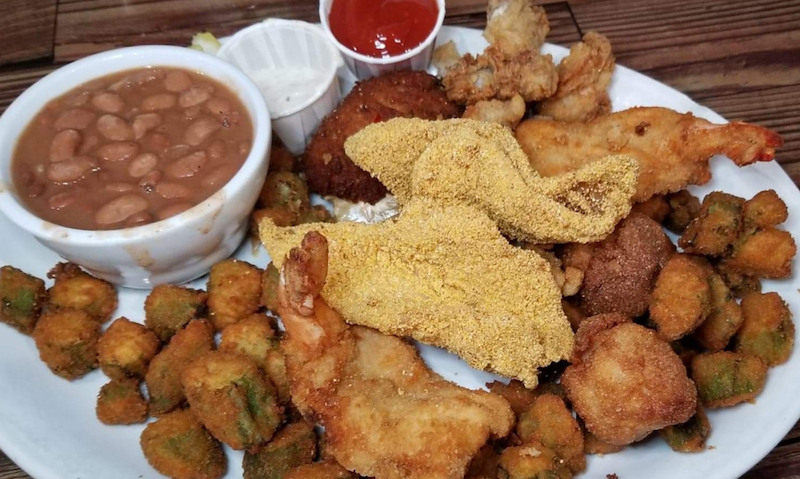 5 Words to describe Vernon's Kuntry Katfish?
Buster: "Friendly, Welcoming, Quality, Family, Delicious"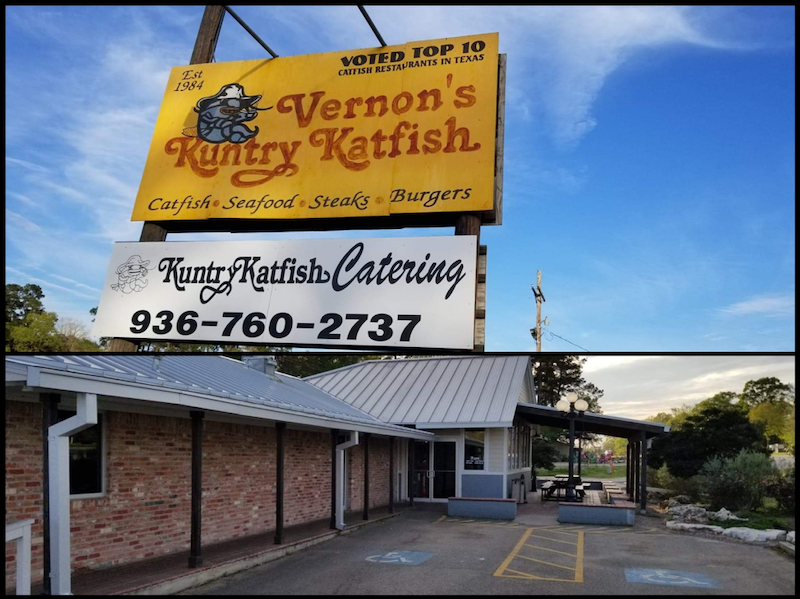 Nick Rama is a food writer, contributor of Hello Woodlands, and shares his restaurant experiences on Nick's Local Eats at NicksLocalEats.com and the Q Up The Burgers Facebook page. Nick enjoys helping the small business owner, supporting his community with fundraising for food banks, and plans tasting events with locally owned mom and pop restaurants.