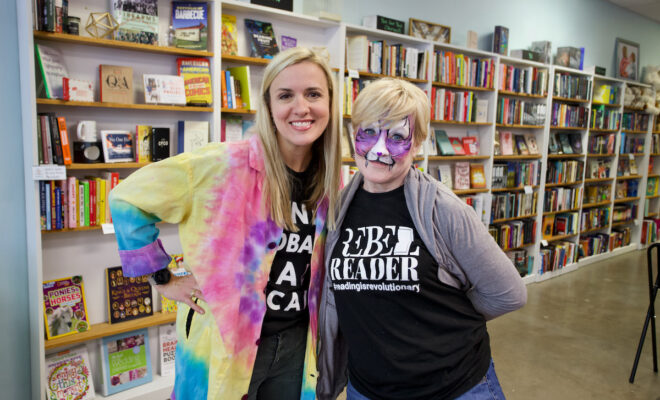 Photo Credit: Jennifer Bruse, Hello Woodlands
Business
Village Books celebrates Independent Bookstore Day with community
By |
Independent Bookstore Day is a one-day national party that takes place every year at indie bookstores across the country on the last Saturday in April. Village Books, the local bookstore located at 9955 Woodlands Parkway in The Woodlands, invited the community to celebrate on Saturday, April 30 with a day of bookish fun including giveaways, discounts, face painting, and the launch of final book in the Halley Harper Series including a fun space experience for kids.
View photos from the event on the Hello Woodlands Facebook page:
An independent bookstore (a.k.a. indie bookstore or bookseller) is a bookstore that is independently owned and not part of a larger chain retailerIndie. Indie Bound, a "local first" shopping movement and network of independent bookstores, shared that "locally owned, independent businesses pump money back into their communities by way of taxes, payrolls, and purchases. That means more money for sound schools, green parks, strong fire departments, and smooth roads, all in your neighborhood. Independent bookstores have always occupied a special place in communities."
Village Books, a community-focused independent bookstore right in the neighborhood, opened in The Woodlands on September 10, 2021 and owner Teresa Kenney now hosts a monthly book club, writing classes, book signings, and special events. On Tuesday, May 24 at 7 p.m. Village Books will be celebrating the launch of Marcus "Garden Marcus" Bridgewater's new book, "How to Grow: Nurture Your Garden, Nurture Yourself". Learn more about Village Books and upcoming events at MyVillageBooks.com. Please join us by stopping by and support your local bookstore!