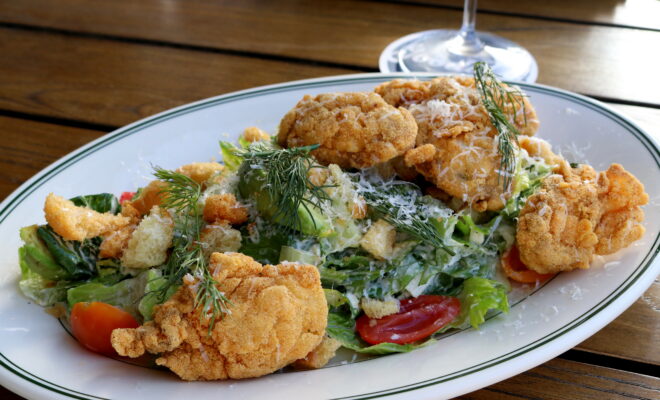 Business
Goode Co. Fish Camp Opens in The Woodlands May 3, 2022
By |
THE WOODLANDS, TX – Goode Company Restaurants, one of Houston's most iconic brands and beloved home-grown family businesses, is adding a new concept to its family of award-winning restaurants: Goode Co. Fish Camp, opening in The Woodlands area on May 3, 2022.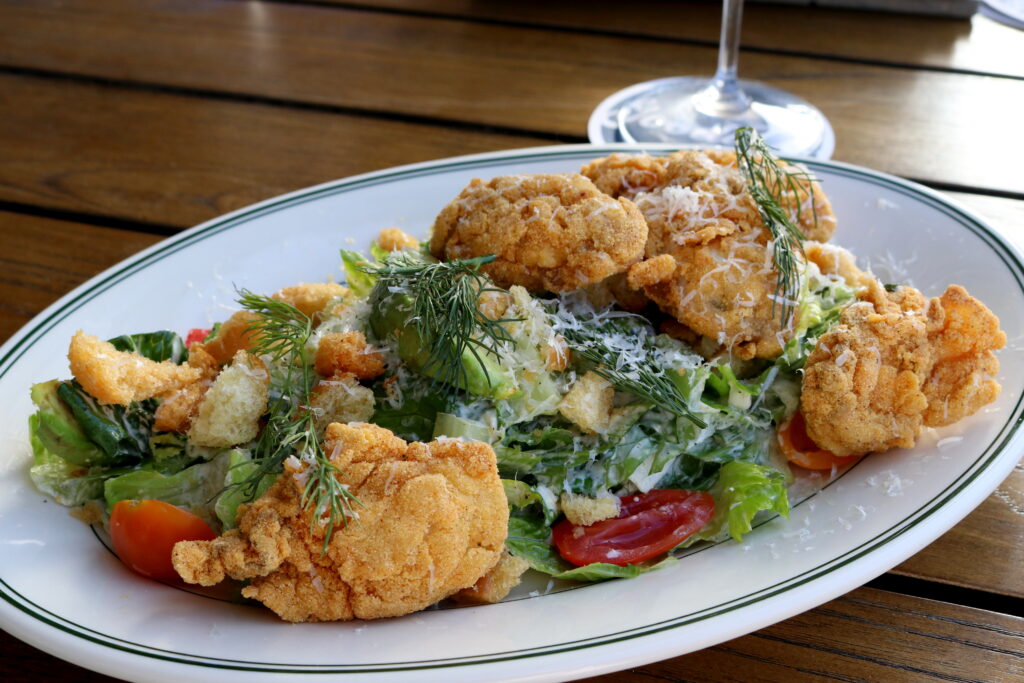 "Like all Goode Company concepts, Goode Co. Fish Camp takes inspiration from my family's heritage, history and love of food and entertaining. This newest concept is especially personal to me because it's inspired by time spent fishing with my dad on Christmas Bay," says Levi Goode, chef and President of Goode Company Restaurants.
"Growing up, we'd go in search of flounder, speckled trout and redfish along the sandy shoreline. After hours in the sun, we'd return to our 'fish camp' – a stilt house standing above the water – to clean the days' catch and cook a delicious meal. Our trips there together and with family and friends solidified my love for the excitement of the catch and the ritual of coming together to prepare and enjoy a hard-earned meal. At the restaurant, we are keeping the fish camp vibe alive, one where oysters crack open as quickly as beer and fresh catch is enjoyed over tall tales."
Goode's treasured memories of this time together and the dishes created on the coast are the inspirations for Goode Co. Fish Camp, an evolution of Goode Company's other seafood restaurants that features a prominent fresh seafood bar, a menu of dishes inspired by eating on the Texas coast, seasonal offerings and elevated cocktails. Goode and his team took lessons learned throughout their 45-year history – including 35 years since the opening of their first Goode Co. Seafood location – and reimagined them in a way that fits the community, the space and the times.
Stepping into the restaurant invites diners to slow down, relax and enjoy a virtual trip to the Texas coast. Inspired by their fish camp on Christmas Bay and affinity for everything coastal, the new Goode Co. Fish Camp celebrates the family's love of seafood and gathering to catch it, cook it and enjoy it. The interiors feature green and blue tones of land and sea, neon sign art, and an eclectic mix of treasures "picked" by Chef/Owner Levi Goode. The walls are also graced with framed photos by photographer Tim Romano from the book "Stilt Houses of Texas" by Mike Medrano. The marble-topped seafood bar is studded with oyster-hued leather barstools, and the dining room has a mixture of table and booth seating that invite diners to relax and stay a while. The covered patio is bordered with lush landscaping and is perfect for enjoying an al fresco seafood feast.
Architect for the project is Browne McGregor Architects, general contractor is Alpine Engineering & Construction, and the foodservice designer is Worrell Design Group.
The menu will grab diners hook, line and sinker. Literally. In the Hook section of the menu, which features snacks/starters, standouts include Fresh Gulf Oysters by the half-dozen and dozen, served on-the-half-shell and also roasted with Herbsaint garlic butter & herbed breadcrumbs; tempting Seafood Towers; Crispy Boudin made with boudin fresh from Goode's butchery that is stuffed with Jack cheese, lightly breaded and flash fried and served with Creole mustard sauce; Goode Company's famous Campechana de Mariscos; the San Luis Pass Deluxe Fish Fry overflowing with shrimp, catfish, oysters and hushpuppy; and Homemade "Payday" Garlic Bread ~ house-baked baguette slathered in cheesy garlic butter.
Moving to the Line section of the menu, guests will find a variety of soups, salads, po-boys, sandwiches and fried specialties. Christmas Bay Gumbo with shrimp and crab over seafood rice; Fried Oyster Salad with romaine, shaved fennel, smokey slab bacon, heirloom tomatoes and Herbsaint-Parmesan dressing; Fish Camp Shrimp Remoulade Salad with Jimmy's Gulf shrimp dressed in red remoulade on iceberg with avocado, heirloom tomatoes and olive oil croutons; Gulf Coast Po-Boys – fried or grilled – in shrimp, catfish or oyster varieties (or choose the Peacemaker Po-Boy, a combo of shrimp and oyster); the company's famous Damn Goode Burger; and SOTX Hot Chicken Sandwich ~ crispy chicken breast tossed in homemade chile oil with comeback slaw and Crystal Hot Sauce mayo are just some of the options.
Fish Camp Specialties and stellar side dishes are featured in the Sinker portion of the menu, including Wood-grilled Fish Camp Steak – chef's selection grilled over mesquite with béarnaise and steak butter; Gulf Day Boat Fish with ember-roasted tomato and okra, salsa verde and charred lemon; Texas Striped Bass oven-roasted with salsa verde, herbed Parmesan breadcrumbs and lemon butter; and Hearth-roasted Yellowfin Tuna topped with Gulf shrimp in Veracruzana sauce with tomatoes, olives, jalapeños and capers. Center table-worthy Sides include Fish Camp Crab & Shrimp Rice; Crispy Brussels Sprouts with tomato-bacon jam; Crispy Crab Boil Potatoes with salsa verde and Crystal Hot Sauce aioli; Creamed Kale with bacon breadcrumbs; and Comeback Slaw.
No meal is complete without something sweet, and the Baked Goode(s) section does not disappoint. Choices include the award-winning Brazos Bottom Pecan Pie, a recipe created by Goode's grandmother; Chocolate Cream Pie; Margarita Pie, Fish Camp's version of key lime pie; and, of course, Texas Sheet Cake.
Cold beer is a fish camp tradition, and the restaurant's bar features a wide variety of ice-cold options, including local brews in bottles and on tap. Joining them on the menu are a selection of classic cocktails and signature drinks including Fish Camp Punch with light and dark rums, fresh pineapple, passion fruit, tiki bitters and fresh lime; Draft Ranch Water with blanco tequila, fresh lime juice and Topo Chico, served in a Topo Chico bottle; Frozen Lemon Elderflower G&T with gin, elderflower tonic syrup, lemon juice and seltzer; and Hand-shaken Piña Colada with light and dark rums, coconut syrup and fresh lime and pineapple.
Fish Camp's Bar Bites menu includes shareable items such as Chilled Seafood Towers with Gulf oysters, jumbo Gulf shrimp, smoked Gulf fish dip, Campechana extra, and crab fingers; Smoked Gulf Fish Dip with chile oil, scallions and homemade fire crackers; Blue Crab Fingers with mojo verde; "Quick Pickle" Gulf Shrimp Cocktail with housemade fire crackers and hot sauce; and the soon-to-be-famous Gulf-Tex Express with four Gulf oysters and four cocktail shrimp on ice, served with a High Life Pony.
"When guests enter the doors of Fish Camp, we want them to feel like they are being welcomed into our family's special place. And they are. Welcome to our coastal haven!"
Goode Co. Fish Camp is located at 8865 Six Pines Drive, Suite 100; telephone 281-947-9120. The restaurant is open Sunday to Wednesday, 11 am to 8:30 pm; Thursday, 11 am to 9 pm; Friday and Saturday, 11 am to 10 pm. For more information on Goode Co. Fish Camp, visit www.goodecompany.com.
Founded more than 40 years ago by Jim Goode, Goode Company is renowned for its tried-and-true recipes with homemade and handcrafted offerings ranging from fresh Gulf seafood and authentic Tex-Mex to perfectly mesquite-smoked barbeque. The restaurant group led by Chef/President Levi Goode owns and operates numerous restaurants in the Houston area and boasts some of Houston's most iconic dishes from its concepts – Goode Company Barbeque, Goode Company Seafood, Goode Company Kitchen & Cantina, Goode Company Taqueria, Goode Company Armadillo Palace and Goode Company Fish Camp. Goode Company is a family-owned and operated business specializing in handcrafting the finest, authentic Texas fare. For more information on Goode Company restaurants, please visit www.goodecompany.com.