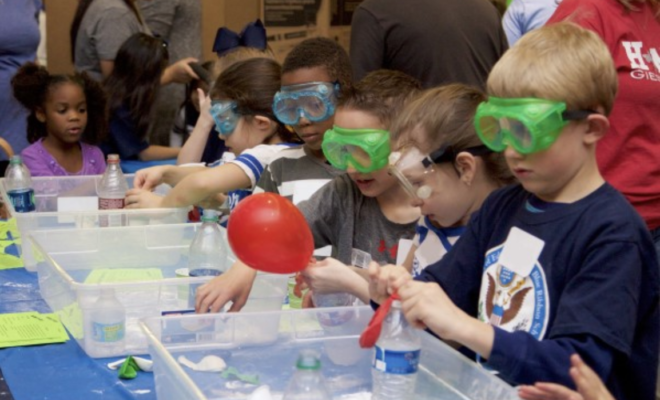 News
Volunteers Needed for 29th Annual SCI://TECH Science Fair
By |
Conroe, Texas – Education for Tomorrow Alliance (EfTA) is signing up volunteers for the 29th Annual SCI://TECH Exposition, Where STEM Gets Its Roots. On February 1, Education for Tomorrow Alliance (EfTA) and the Conroe Independent School District (CISD) will host the largest science fair in Texas. About 400 judges are needed to support more than 1,700 student participants in the Chevron Phillips Chemical Senior High and Entergy Junior High Science Fairs. SCI://TECH is a collaboration between Education for Tomorrow Alliance, Conroe ISD, and area private schools that engages nearly 5,000 K-12 students in 13 science, technology, engineering, and math activities over four weekends with the support of community volunteers.
On Friday, science fair volunteers are needed to judge life and physical science categories at the Lone Star Convention Center. Shifts start at 7:45 am, 9:30 am, and 2:00 pm and last about three hours each. No experience is needed, and training is provided on-site. Volunteers can register online at www.efta-us.org/volunteer. It is a great opportunity to interact with and show support for local students. Please sign up to encourage bright young minds! For more information, contact Monica Bomkamp Enia at office@efta-us.org or 936-273-7087.
For a full list of SCI://TECH events, including Saturday's free family Expo Day featuring the Huntsman Elementary Science Festival from 10 am to 4 pm, please visit www.efta-us.org/events.
Education for Tomorrow Alliance is a nonprofit organization dedicated to cultivating partnerships that advance student success in Montgomery County, Texas. With innovative programs focused on science, technology and career preparation, EfTA is the portal through which business leaders can access and strengthen local education. Learn more about SCI://TECH or Education for Tomorrow Alliance's other programs at www.efta-us.org.