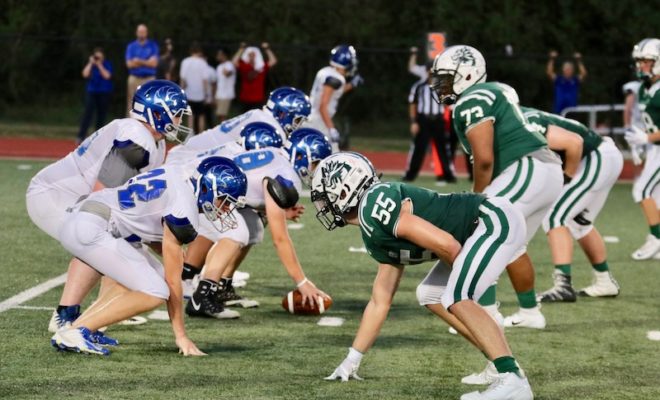 Fitness & Sports
A Winning Week for The John Cooper School Dragons
By |
It was a winning week for The John Cooper School Dragons Varsity Football, Volleyball, and Cross Country teams.
The Varsity Football team won their first game of the season on Friday, August 31 with a 42-13 win against Frassati Catholic School.
From Coach Brent Landrum shared, "I am very proud of this team. From the starters to the subs, they completely dominated this game. That was great to see. We've been where Frassati is, young program and learning, and they will get better. It just takes time. We will face a stiff challenge this coming Friday when we travel to Magnolia's Legacy Prep. They lost in the TAPPS state finals last year and they return a talented team. We will have to play perfect football to win. I think this group has it in them though. As for this past Friday night, I was very impressed with our play on all three sides of the ball. Special teams had a great night. The crowd was awesome as well."
View photos taken at the game on the Hello Woodlands Facebook page:
Offensive statistics for the game include:
Passing: Evan Minarovic was 6-7 for 171 yards and 4 TD passes
Rushing: Cameron Reed had 2 carries for 31 yards, Evan Minarovic had 1 carry for 8 yards and a touchdown (TD), Matt Krehbiel had 1 carry for 9 yards and a TD
Receiving: Logan Leax had 1 catch for 71 yards and a TD, Daniel Gerber had 2 catches for 55 yards and 2 TD's, Matt Krehbiel had 2 catches for 30 yards and 1 TD, Thomas Elkhoury had 1 catch for 14 yards
Defensive stats: Matt Krehbiel had 8 tackles and one interception, Cameron Reed had 7 tackles and one sack, Jake Peterson had 5 tackles, Will Corson had a fumble recovery
Next games for Dragon Football will be held on September 7 at Legacy Prep at 7 p.m., September 14 vs. Bay Area Christian at 7 p.m. and September 21 vs. Fort Worth Country Dayat 7 p.m.
The Varsity Volleyball team continued their winning streak with a win during their first home game against St. Pius and then against Frassati Catholic. The season record is currently 14-2. Upcoming games for Dragon Volleyball will be held on Sept. 4 at Bay Area Christian, 6 p.m., Sept. 6 vs. Lutheran High North, 5:30 p.m., Sept. 11 at Northland Christian, 6 p.m. and Sept. 13 vs. St. Agnes, 5:30 p.m.
The Varsity Cross Country Boys finished 1st and Girls 2nd at the 21st annual Cooper Dragon Invitational held at Burroughs Park on Saturday September 1.
"After Hurricane Harvey canceled the event a year ago, it was great to finally host the event again," said meet director Matt Bohan. "With over 1,000 runners hitting the 3200-meter course throughout the morning, the day was a huge success. We would like to thank the many volunteers from the parent body and from Cooper's Interact Club for spending their Saturday morning with us," Bohan added.
The Cooper boys took the Championship title scoring 19 points. Mitchell Shannon took home the first place medal with a time of 10:05, the third best time ever run on this course. Scoring points for Cooper were Eli Araya (3rd), Will McDermott (4th), Erik Burns (5th) and Cadan Hanson (6th).
"We are really proud of the boys' effort today," said Coach George Dohner. "They came out with a purpose and did a great job."
The girls' team had seven runners in the top 30 spots and took second place behind SPC-rival, Kinkaid. Katie Drake once again led the team with a third place finish in 12:18 and was followed by Madison Breaux and Ava Minarovic who battled for 15th and 16th place. Amber Navarra finished in 20th followed by Uche Oguchi at 24th, Rebecca Melin at 28th, and Caroline Courtney at 30th.
"We had some girls really step and gave Kinkaid a bigger challenge than they were expecting. This is going to be an exciting year in SPC and we can't wait to see what these girls can do," said Coach George Dohner.
The Cooper Boys' Junior Varsity team took home the JV Championship trophy and the Girls' Junior Varsity team won second place in their event.
Next up for Dragon Cross Country will be on Sept. 20 at the Willis Wildcat Invitational at Misty Meadows Girl Scout Camp at 5:30 p.m. and Sept. 29 at Nike South Invitational at Bear Branch Sports Park at 8 a.m.
Upcoming Junior Varsity games and sporting events at home and nearby:
Thursday, September 6 – 5:30 p.m. Varsity Volleyball vs Lutheran High North
Thursday, September 13 – 5:30 p.m. Varsity Volleyball vs St. Agnes
Friday, September 14 – 7 p.m. Varsity Football vs Bay Area Christian