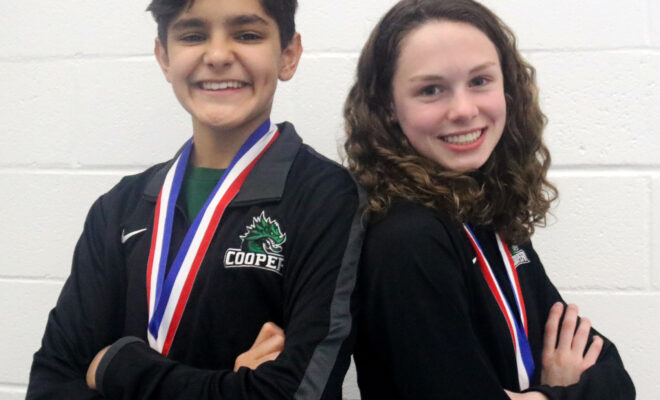 Fitness & Sports
Winter Championship Play Concludes, Dragon Divers SPC Champions
By |
THE WOODLANDS, TX – Winter championship play has concluded for athletes at The John Cooper School with Dragon divers becoming SPC champions.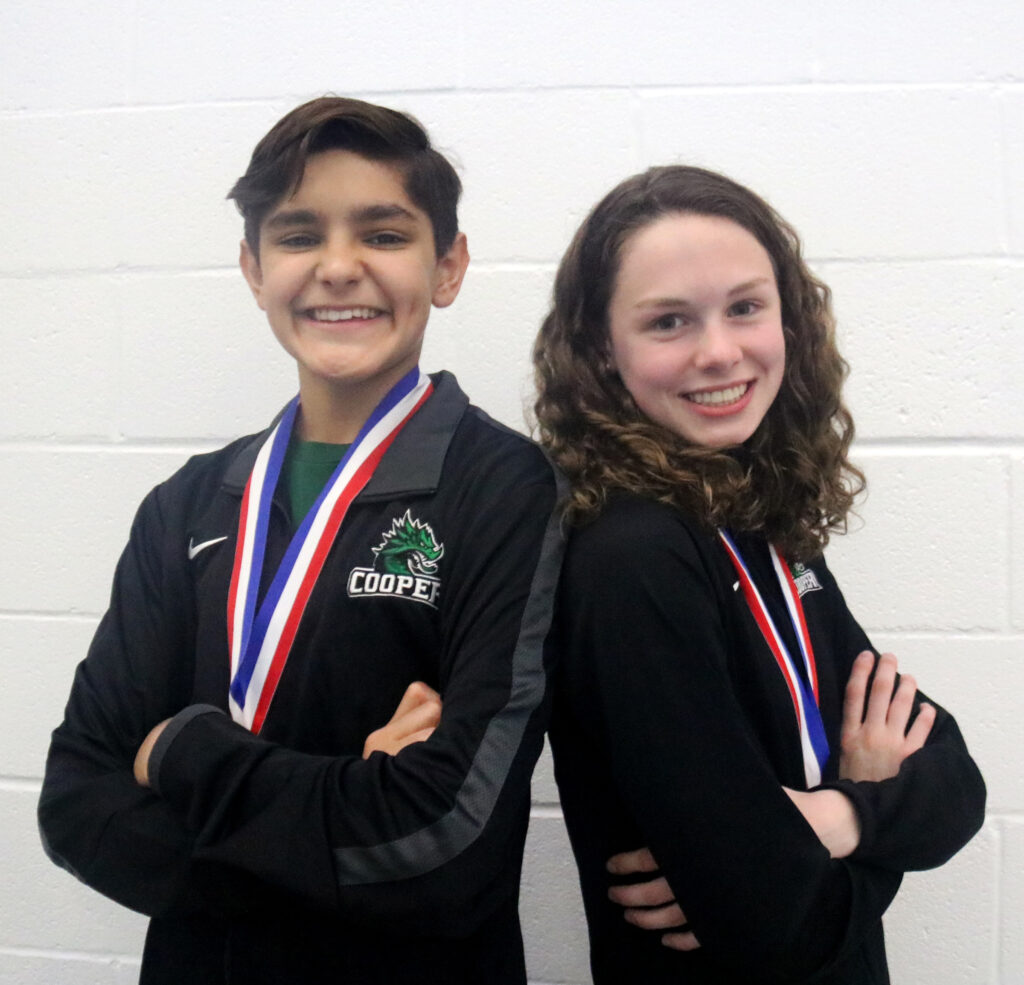 VARSITY SWIMMING & DIVING
2/11 at SPC Championships, Arlington ISD Athletic Complex
Girls 4th • Boys 6th
Seven Dragon All-SPC Athletes
"Our divers wrapped up their undefeated season with a pair of SPC victories," said Coach Sara Bany. "Sophomore diver Morgan Robson is our 2022 Girls Champion and Freshman diver Diego Burgos is our boys 2022 SPC Diving Champion. There was no question from the beginning that they were the best divers there. Morgan won her event by 157 points and Diego won his by 147 points. Congratulations to both of you!"
"I could not be more proud of the swimmers and divers at SPC this weekend. The swimmers showed so much heart as they fought hard all day for their races. They swam better than they have all season and did the absolute best that they could have. We finished the meet with 7 All-SPC athletes."
Morgan Robson • 1st 1M diving
Diego Burgos • 1st 1M diving
Girls 200 Medley Relay • 2nd – Caitlin Lanigan, Tillie Claggett, Monica Ianeva, Malia Davis
Monica Ianeva • 2nd 200 IM
Victor Guerrero • 3rd 50 free
Other point-scoring finishes included:
Malia Davis • 4th in the 500 free, 5th in the 200 free
Caitlin Lanigan • 4th in the 50 free, 6th in the 100 fly
Monica Ianeva • 5th in the 100 breast
Tillie Claggett • 7th in the 100 breast
Girls 200 Free Relay • 7th – Tillie Claggett, Kyleigh Jeter, Laney Shea, Monica Ianeva
Girls 400 Free Relay • 5th – Malia Davis, Kyleigh Jeter, Caitlin Lanigan, Tillie Claggett
Victor Guerrero • 6th in the 100 fly
Henry Shea • 7th in the 100 fly, 6th in the 100 back
Zhi-Hahn See • 8th in the 50 free, 8th in the 100 back
Boys 200 Medley Relay • 4th – Zhi-Hahn See, Victor Guerrero, Henry Shea, Alexander Harris
Boys 200 Free Relay • 5th – Zhi-Hahn See, Alexander Harris, Henry Shea, Victor Guerrero
VARSITY BOYS SOCCER
Finished 7th in SPC
2/10 SPC opening round vs Trinity Valley • 4-3 W

Goals by Danny Williams and Adam Elsolh

2/11 vs Casady • 5-1 L
2/12 vs Episcopal High School • 6-1 L
"The team finished in 7th place overall in SPC," said Coach Bryan Sherman. "I'm very proud of how we competed all season and I know we had some moments the boys will carry with them for a long time. It's unfortunate we weren't able to play our best soccer the last two games, but overall the team had a great season."
VARSITY GIRLS BASKETBALL
2/10 SPC opening round vs Hockaday • 65-28 L
2/11 vs Trinity Valley • 22-21 L
"To wrap up our season, the girls were excited to compete in the SPC Championships," said Coach BJ Feuerhelm. "While the results were not what we had hoped for, the girls continued to fight like they had all season long. I'm extremely proud of what this group has accomplished and they have continued to build the reputation of this hard-working, team-driven, and dedicated program."
SPRING SPORTS
VARSITY BASEBALL
2/8 at Lutheran South • 2-1 L

Pitcher Vaughn McKeever went four innings: one run, seven strikeouts

2/10 at Second Baptist • 15-1 L
Next up for Dragon Baseball:
2/14 at Woodlands Christian Academy, 7 p.m.
2/17-19 host SPC vs TAPPS Challenge
VARSITY SOFTBALL
Next up for Dragon Softball:
2/18-19 at SJS Classic Tournament, St. John's
2/24-26 at FBCA Tournament, Fort Bend Christian Academy
3/3 at Incarnate Word, Memorial Park Softball Field
3/4 vs. Second Baptist, 5 p.m.
VARSITY TENNIS
2/11 at Chancellors Tournament

Mahi Khurana • 2nd Boys A Singles
Marielle Sauber • 3rd Girls A Singles
Nora Alizadeh/ Brie Leavitt • 3rd Girls A Doubles
Presley Sansbury/Tristan Dakai • 3rd Girls B Doubles
Parker Gregory 3rd Boys A singles
Next up for Dragon Tennis:
2/18 at EHS MET Tournament, Metropolitan Racquet Club
2/28 girls team at St. Agnes, Memorial Park Tennis Center
3/4-5 at TTC Private School Championships
VARSITY TRACK & FIELD
2/12 at The Woodlands Christian Academy Meet
"It was a strong opening despite the cold and wet weather," said Coach Scott Holland. "No team points were kept, and unlimited entries were allowed, so we were able to get a look at many of our athletes. Three meet champions, six additional Top 3 medals earned with 16 personal bests and a school record tied. Looks like a great season on the horizon."
Boys' Results
Connor Dove • 1st Place Shot Put
Andrew Wilkerson • 1st 800m
Michael Stupek • 1st 300m Hurdles
Nico Signorelli • 2nd Pole Vault (Personal Record) Ties School Record 12' 6"
Amir Rizvi • 2nd 200m (Personal Record)
Grey Mendenhall • 2nd 1600m
Vishnu Swaminathan • 3rd 800m
Aditya Pakal • 5th 1600m
Carson Hanson • 5th 400m
Alex Everson • 7th 400m
Girls Results
Abby Mendenhall • 2nd 800m (Personal Record)
Sienna Williams • 3rd 300m Hurdles
Alexis Seymour • 5th 300m Hurdles
Megan Day 5th • 800m (Personal Record)
Milla Signorelli • 5th 400m
Amber Navarra • 6th 800m (Personal Record)
Annabelle Boyd • 7th Shot Put
Julianne Hon • 7th Pole Vault
Next up for Dragon Track & Field:
2/17 hosts Cooper Triangle Meet with Concordia Lutheran and Frassati Catholic
2/25-26 at Dick Phillips Relays, Episcopal High School
2/26 at TWHS Invitational, The Woodlands High School
VARSITY GOLF
Next up for Dragon Golf:
2/22 at Kinkaid Invitational, Blackhorse Golf Club
3/3-7 at St. John's Invitational, Wolfdancer Golf Club
The John Cooper School is a PK-12 independent, college preparatory day school that has been serving The Woodlands and greater Houston area since 1988.
For more information, visit www.johncooper.org.