Business
WISE Conference Donates $5,000 To Local Charities
By |
The Woodlands, TX (October 13, 2016) — Each year, the WISE Conference planning committee chooses at least one Montgomery County charity to acknowledge at the conference and give a portion of the proceeds.
With the ongoing growth in the area, it is organizations like the WISE Conference that bring awareness and support to local nonprofits that continuously use the donation that make the difference.
"We want to bring attention to what these well-deserving charities do for children and families, and we are proud to donate to Special Needs Sibs and Focus Academy this year," said Dawn Candy, the 2016 WISE Conference coordinator. "The WISE Conference is more than a women's business conference – we feel that it is our obligation to give back to those who could use a helping hand, and we will continue to support the community."
The $2,500 donation to each charity will help improve the facilities, children and families they serve as well as give educational scholarships.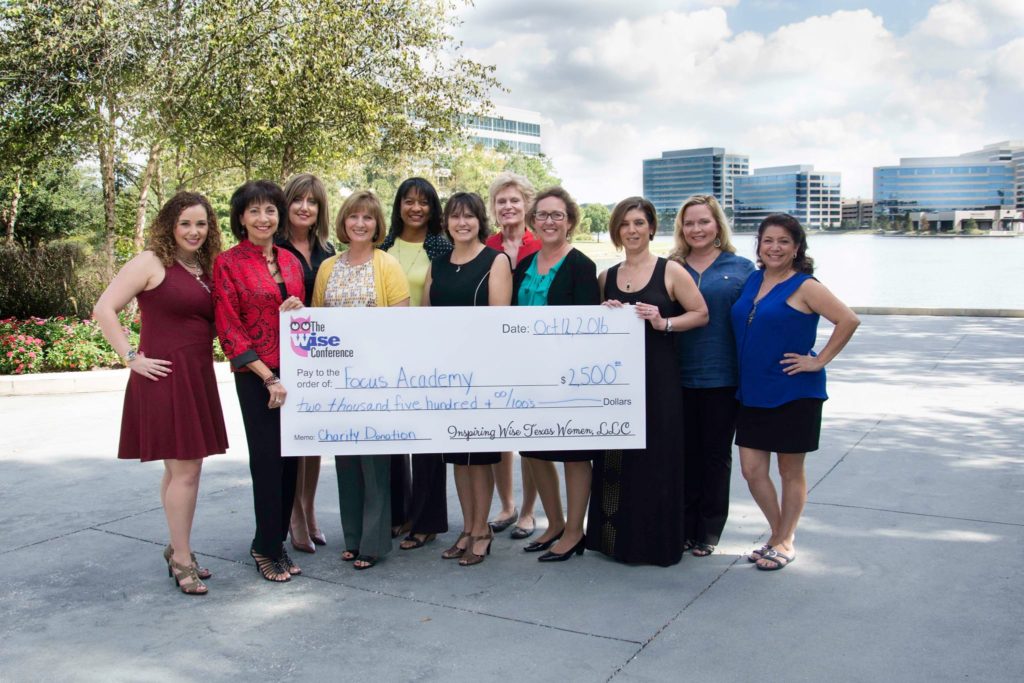 About Special Needs Sibs:
Special Needs Sibs serves the typical siblings of all ages within local special-needs families with monthly customized meet-ups and scholarships. Its model is based on self-directed learning, intrinsic motivation, and in-the-flow activities as decided by sibling leaders. SpecialNeedsSibs.org has a "zero budget" mentality. Our co-facilitators cover all costs ourselves. For more information about Special Needs Sibs, please visit https:// www.specialneedssibs.org/.
About Focus Academy:
Focus Academy is a school dedicated to transforming "quirky" individuals, in grades 3 through college, into productive and happy adults. The program accommodates individuals with a diagnosis such as ADHD, Aspergers, Tourette's and similar challenges. For more information about Focus Academy, please visit https://www.focusacademyhouston.org/.
About the WISE Conference:
The WISE Conference is a cooperative effort between The Woodlands Chapter of WOAMTEC, MCABW and Business Women's Forum. WISE—Women Inspiring Supporting Empowering caters to professionals with a desire to learn more about work-life balance. WISE is committed to the empowerment of women through personal and professional development. WISE is also focused on giving back to local charity organizations in our community. For more information about the WISE Conference, please visit, https://thewiseconference.com/ and follow the story on Facebook at https://www.facebook.com/TheWISEConference.