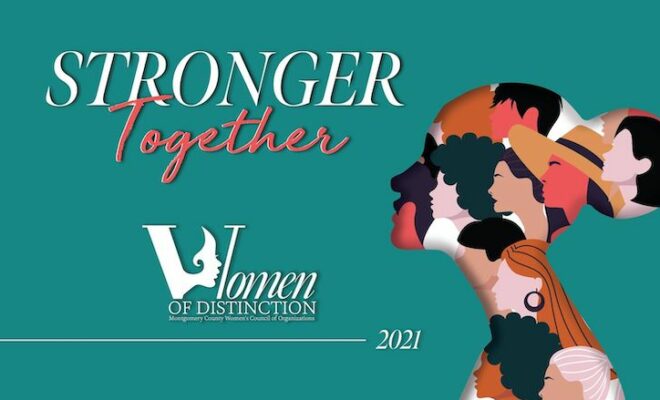 Photo Credit: MCWCO
People
Women's Council of Organizations announces 2021 Women of Distinction
By |
Each year, the Montgomery County Women's Council of Organizations (MCWCO) members honor their nonprofit organization's individual "Woman of Distinction." Each woman is recognized for the numerous hours, unyielding commitment, and loyal dedication she has provided the organization. This is MCWCO's way of giving back to the community and local nonprofit organizations.
The Annual Luncheon was once again cancelled, but board members Jace Grainger and Amanda Wood created a video to recognize and celebrate these fabulous women volunteers of the 31st Anniversary of the Montgomery County Women of Distinction. Watch the video below honoring these women for their commitment and dedication to our member organizations in Montgomery County.
2021 Women of Distinction
American Heart Association
Bridgewood Farms
Missy Reese – CASA of Montgomery County
Constance Borders – Children's Books on Wheels
Donna Soape – Cypress-Woodlands Junior Forum
Natalie Goertz – Executive Women's Alliance
Jennifer Steen – Family Promise of Montgomery County, Texas
Lauren Newman – Hands of Justice
Deborah Austin – Habitat for Humanity of Montgomery County, TX
Jo Anne Johnson – The Will Herndon Research Fund
DeAnn Guidry – Interfaith of The Woodlands
Jennifer Sheehan – Junior League of The Woodlands, Inc.
Ann Wolford – Leadership Montgomery County – Texas
Marguerite Ference – Love Fosters Hope
Kym Harris – MCABW
Meals on Wheels Montgomery County
Memorial Hermann
Kathy Pepper – Montgomery County Food Bank
Lory Kaye – Montgomery County Republican Women-MCRW-Texas
Patricia Lindley-Dominguez – Montgomery County Women's Center
Darcy Bass – National Charity League-Bluebonnet Chapter
Marcy Lennox – National Charity League, Inc., The Woodlands Chapter
New Danville
Julizza Gomez – The Giving Gown Foundation
Sue Turney – Rotary Club of The Woodlands
Nina Marino – The Woodlands Charities, Inc.
Amanda Wood – The Woodlands Republican Women
Dawn Candy – WISE Conference
YES to YOUTH – Montgomery County Youth Services
Congratulations to all the honorees that have been selected as Women of Distinction for 2021!
Learn more about Montgomery County Women's Council of Organizations and the Women of Distinction at www.mcwod.org.
Source: MCWOD