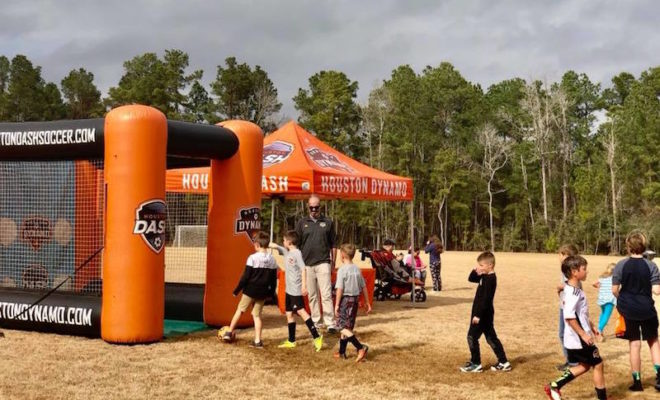 Fitness & Sports
Woodforest Begins Phase 2 of Soccer Sportsplex
By |
Montgomery, Texas – The second phase of Woodforest's Stampede Sportsplex is underway, adding a number of amenities to the park's recently opened soccer fields.
Phase 2 will include an ADA playground and picnic area, a concession building with restrooms and a shade pavilion, an awards plaza and a lighted basketball court. Lights will illuminate a new parking lot, drop-off area and driveways. Accessible pathways will lead to an offsite trail system.
"The new soccer fields have already become an integral part of Woodforest and the local community," said Virgil Yoakum, general manager of Woodforest. "The new additions will add a number of conveniences that will make utilizing the new facility even more enjoyable."
The Montgomery master-planned community celebrated the completion of Phase 1 of the Stampede Sportsplex — three soccer fields managed in partnership by the Woodforest Owners Association and the Houston Dynamo/Dash Youth Soccer Club — with a grand opening ceremony in January.
Stampede Sportsplex is located at 290 Deerbourne Ridge Drive within Woodforest. The new facility adds to an already extensive list of amenities offered by the community, including the 27-hole championship Woodforest Golf Club, a 16-acre tennis and aquatic center, dog park, spray park and several neighborhood parks.
For more information about Woodforest, visit www.woodforesttx.com.