Photo: The Woodlands Christian Academy
People
Woodlands Christian celebrates Class of 2021
By |

On Tuesday, May 11, Woodlands Christian hosted a senior celebration in honor of the Class of 2021. Gathered in the state-of-the-art Ruth Auditorium, parents, faculty, and staff joined in the momentous occasion. Together, the 61 seniors at TWCA earned a record-breaking total of $8,966,728 in merit-based scholarship offers from schools all across the United States.
During the celebration, high school principal, Stephen Clark, announced the Valedictorian and Salutatorian, Joshua Mueck and Aubrey Hollas. Joshua was recently named a National Merit Scholar and Aubrey a Commended Scholar. They both plan to attend Texas A&M in the fall.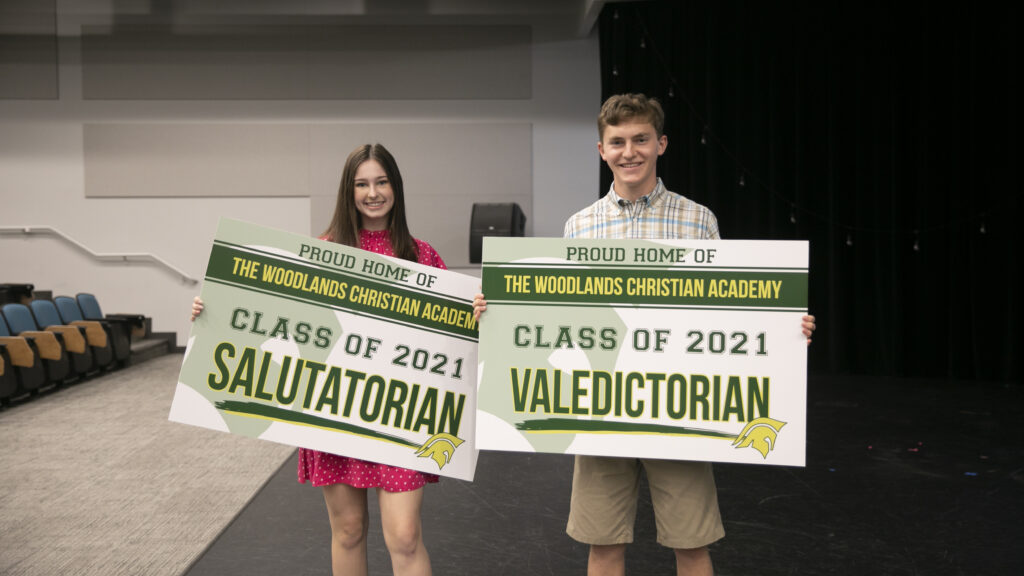 Additionally, Caleb Bigler was awarded the 2021 Ronald Reagan Leadership Medal. This award is given to one senior who demonstrates the three traits exemplified by our 40th President: drive, humility, and service before self.
Three seniors – Bryce Burton, Andres Herrero-Loza and Leafe Sanders were honored for their hard work and service to the community as they earned the distinguished title of Eagle Scout this year.
College advisor, Amy Rowe said, "We are so blessed to have seen you mature into intellectually curious, vibrant, passionate and hardworking young adults over the past four years. We are beyond proud of your efforts. You've worked hard for this time of celebration."
Woodlands Christian offers a rigorous academic program, which includes test preparation services and one-on-one college advising. One hundred percent of seniors are admitted to four year colleges. Woodlands Christian is now enrolling grades PreK – 12th for the 2021-2022 school year.
The Woodlands Christian Academy is an independent, Christ-centered college preparatory school that integrates learning with Biblical faith and spiritual growth, and challenges students to reach their highest potential – intellectually, creatively, physically and socially – for the glory of Jesus Christ. For more information visit twca.net.
Advertisement