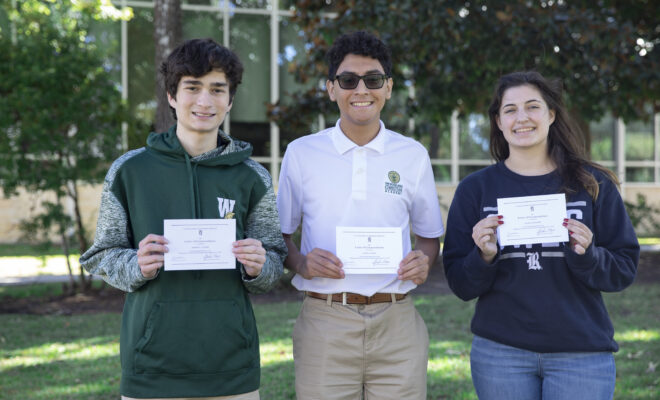 Photo Credit: The Woodlands Christian Academy
News
Woodlands Christian Seniors earn National Scholar Recognition
By |
Three students from The Woodlands Christian Academy have been named Commended Students in the 2022 National Merit Scholarship Program. David Garcia, Illiana McIntyre and Dominic Spahr placed among the top 50,000 scorers of more than 1.5 million students who entered the 2022 competition by taking the 2020 Preliminary SAT/National Merit Scholarship Qualifying Test (PSAT/NMSQT®).
Additionally, six students — Sebastian Bryngelson, Riley Bunch, Caden Cyr, Ava Fuentes, David Garcia and Mia Torres — earned academic honors from the College Board National Hispanic Recognition Program. Gio Awasum was named a College Board National African American Recognition Program Scholar. These students had to have a GPA of 3.5 or higher and have excelled on the PSAT/NMSQT or PSAT 10, or earned a score of 3 or higher on two or more AP Exams; and are African American or Black, Hispanic American or Latinx, Indigenous, and/or attend school in a rural area or small town.
"I am beyond proud of these students. To earn recognition from College Board is no easy feat and colleges use this distinction to identify academically exceptional students," said Mrs. Amy Rowe, Director of High School Academic & College Advising. "Our College Board Scholars are also representing historically underrepresented groups. With this achievement, they are helping close the diversity gap on standardized college entrance exams."
Woodlands Christian offers a rigorous academic program with college preparation starting in 8th grade and SAT/ACT test prep for 9th-11th grade. One hundred percent of graduating seniors are admitted to colleges or universities. Woodlands Christian is now enrolling grades PreK – 12th for the 2022-2023 school year.
Advertisement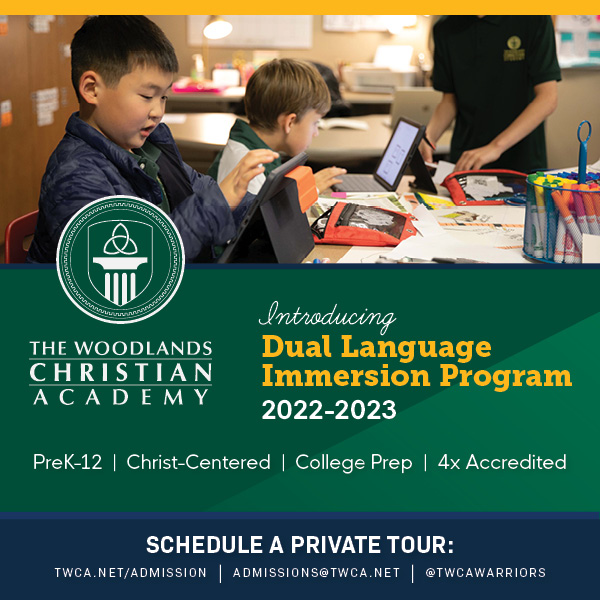 The Woodlands Christian Academy is a PreK – 12th grade college preparatory school that integrates learning with biblical faith and challenges students to reach their highest potential – spiritually, academically, physically and socially. For more information visit twca.net.